Role of Religion and Religious Leaders in Farmer-Pastoralist Conflict in Plateau State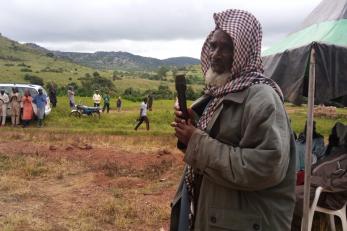 January 17, 2017
An Inter-Religious Peacebuilding in Northern Nigeria (IPNN) Qualitative Research Report
Mercy Corps Nigeria conducted qualitative research on the role of religious leaders and their impact on reducing violence by examining its Inter-religious Peacebuilding in Northern Nigeria (IPNN) program. The team implemented this program, funded by the GHR foundation, from 2013-2016. The research, conducted in four program sites and a control site in Plateau state, Nigeria, concludes that although resources are the primary focal point of conflict, religious differences create an environment conducive to conflict.

Over 94% of the study's respondents saw the religious identity of their conflicting community as being directly linked to the conflict. Such views were reflected in the low levels of trust and strained inter-communal relations. However, the respondents reported that the level of trust is improving, thanks in no small part to the role played by the religious leaders supported by IPNN.

The research also found that religious leaders have a high potential to positively influence long-term peacebuilding. This is due, in particular, to the role of religious leaders in changing attitudes and behaviors. In fact, 68% of the respondents said they would stop trading with the opposing group if their religious leader advised them to do so.

In the research, community members in the IPNN sites confirmed that they go to their religious leaders for advice regarding land, business, and to help resolve disputes with the conflicting community. In contrast, respondents in the control site said that land disputes are addressed by the traditional leaders only, with religious leaders playing a much smaller role in peacebuilding.