Mud Brick Stabilization for Low-cost Housing Construction in Borno State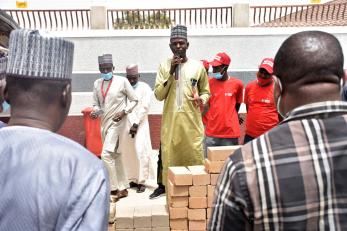 September 16, 2022 • UPDATED September 20, 2022
Shelter needs remain high since emergency shelters provided for IDPs have a short life span of six months and do not provide beneficiaries sufficient protection from the environment. They are highly prone to wear and tear, and require periodic replacement to provide privacy, dignity, and security.
The housing typology surveys conducted by Mercy Corps in selected local government areas of Northeast Nigeria from 2018 to 2019 showed that mud bricks are among the abundantly used, self-produced and economical construction material. However, overall, the mud bricks observed in the field have poor quality and do not last long under the heavy rains. Mercy Corps sees the critical need to take care of the mud bricks used in recovery efforts to ensure ongoing self-recovery and self-building efforts are sustainable.
Recommendations made to the Government of Nigeria as well as development and humanitarian organizations based on the findings of the research include leveraging available, low-cost yet suitable materials by using mud bricks for low-cost housing construction, the need for further research to explore soil samples from other locations and to determine the weathering effects of the stabilized mud bricks, amongst others.