Saving Lives and Preventing Suffering for Households in Borno State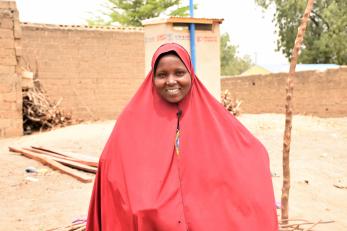 October 07, 2022
For more stories from the field, download the full impact report ▸
The over a decade long conflict between the Government of Nigeria (GoN) and non-state armed groups in Borno, Adamawa and Yobe (BAY) states of North-East Nigeria resulted in widespread insecurity, damaged infrastructure, tattered local economies, loss of livelihoods and gross violations of human rights. 
The Relief Web reports that this conflict coupled with the COVID-19 pandemic has left a projected 8.4 million people across the three states in need of humanitarian assistance and protection in 2022. Among them, 4.2 million people live in Borno state alone. The state also has around 1.6 million Internally Displaced Persons (IDPs) out of the 2.2 million persons displaced across the three North-Eastern BAY states.
The Intervention
Addressing Diverse and Acute Primary Threats (ADAPT) To Human Security in North Eastern Nigeria program is funded by USAID's Bureau for Humanitarian Assistance (BHA), with the goal to save lives and prevent human suffering among displaced, returnee and host households in Borno State.
The program provided multi-sectoral humanitarian support to Borno state over a 12- month period to meet the urgent, multisectoral humanitarian needs of 146,768 vulnerable displaced, returnee and host populations across the state. 
The program focused on the food security, nutrition, shelter, Water, Sanitation and Hygiene (WASH), Multipurpose Cash Assistance (MCPA), protection, and humanitarian analysis sectors. Sector by sector focus was geographically specific where appropriate. MPCA, shelter and settlements, and WASH interventions were provided for newly displaced or returnee caseloads across Borno state – with focus on Monguno, Ngala, Bama, Damboa, Dikwa and Gwoza Local Government Areas (LGAs).
ADAPT Program Impact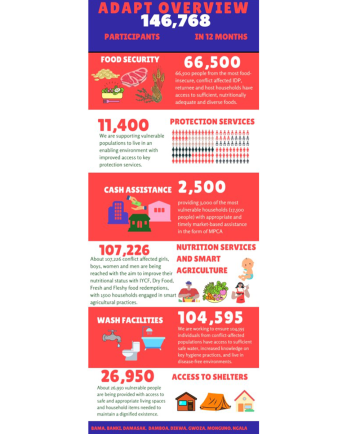 Participants Share their Stories 
Leaking roof and dilapidated structures: Dignity restored through home renovation
Mercy Corps came to our rescue and clothed us with dignity.

Yagana Mohammed,

ADAPT's Shelter Program Participant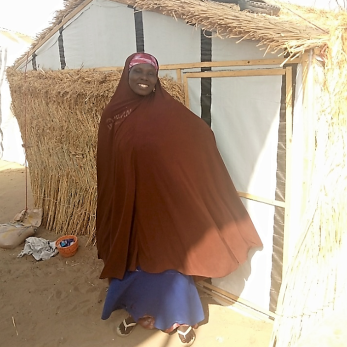 Yagana Mohammed had her prayers for shelter intervention answered when she participated in the ADAPT's shelter program in Monguno town. 
Yagana fled from her home because of conflict and had to live with her family of nine in a dilapidated structure made of old zinc roofing sheets and some spent wood. It was a shelter constructed by her late husband and all her efforts to have it renovated by other partners in the Stadium IDP camp where she lived, failed. 
The embarrassing situation changed when the ADAPT shelter program provided her with shelter replenishment kits to cover her leaking roof and to shield the structure from the weather.
 
In her words, "I am so excited to be among the participants of this intervention. We are so grateful to the Almighty and to Mercy Corps for providing us with this wonderful structure…God bless Mercy Corps!!!"
Empowerment through Knowledge Births Breastfeeding Champion and Mentor for Other Women
I wondered why my babies always get sick, but now I know, thanks to Mercy Corps.

Falmata Kaigama ,

ADAPT Program's Mother-to-Mother Support Group Participant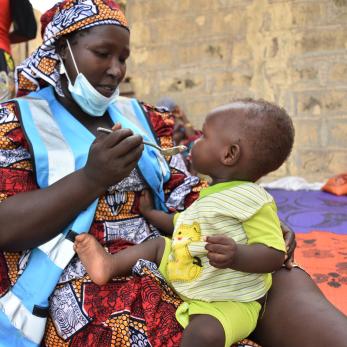 When the nutrition team of the ADAPT program started the mother-to-mother support group in Gwoza, Falmata Kaigama was reluctant to join. She thought that there would be nothing new to learn about childcare. Like most women in rural communities in Nigeria, she had depended on knowledge passed down to her from generations before hers.
 
 "I usually wonder why my babies always get sickly, that first meeting corrected my ideology. I learnt that giving water to a newly born baby was not helping the child's health." Says Falmata who was convinced by a friend to attend.
 
Falmata has since risen to become a lead Mother in the support group structure and is currently using any opportunity she has, to educate women in her community with the knowledge gained. She also mentors a lot of women by showing them practical examples on how breastfeeding can improve a child's health.
Nutrition Assistance: Breath of Fresh Air for Mohammed and Other Participants
I can now eat and feed others too. This food assistance is truly a lifesaver.

Caption: Mohammed Umar,

Food Assistance Participant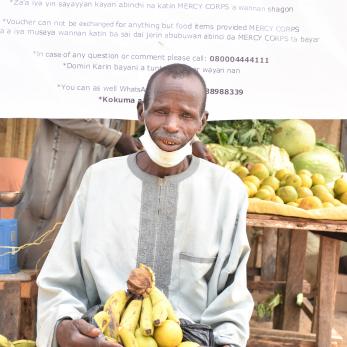 Getting his redeemable food voucher was a breath of fresh air for Mohammed Umar and his 14 dependents, food assistance participants on the ADAPT program.
Mohammed who is in his late sixties fled his community in 2014 due to insurgency and returned in 2018. He however struggled to cater to the needs of his family because his farmland had become inaccessible due to its proximity to insurgent routes.
The availability of this food assistance has so far improved not just his life, but also the lives of many families in the communities of implementation as they can get healthy, nutritionally adequate, and diverse foods, periodically to meet their urgent food needs.
 
"With this Mercy Corps' card, I can collect meat, fruits and vegetables this week and next week I will be able to collect maize, rice, spaghetti, yam and even seasoning cubes", he tells us. 
Relief for Maimuna Who No Longer Has to Walk Long Journeys for Water
We never had it easy until now, I used to get water from a very far place.

Maimuna,

Hybrid Borehole Beneficiary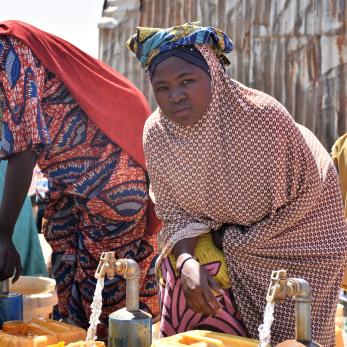 Long walks to the water point of the Internally Displaced Persons (IDP) camp where she lives characterized Maimuna Muhammed's day as she had to meet her family's daily water needs. With a baby strapped to her back, the mother of 5 made the trip four times at dawn and another four times at dusk to fill her drum with water.
 
Relief was however birthed when Mercy Corps through the USAID funded ADAPT program, drilled and installed a hybrid powered Borehole system. This also made it easy for other households within the camp to have access to clean portable water from a closer source.
 
"I heard that the borehole can be powered by either the sun or a diesel engine generator, so that on days that the solar system is faulty, the backup generator will still be able to pump water. All I can say is that Mercy Corps is thinking of our problems and solving them even before they occur," she says in Hausa.
Watch the Documentary of the Impact, Lessons Learned, and Recommendations from the USAID Funded ADAPT Program