Building Resilience for Conflict-affected Families in Yobe State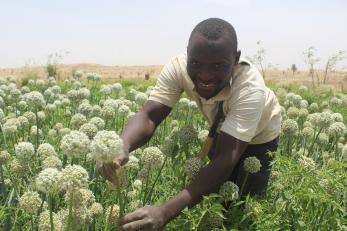 September 06, 2022
Download the full impact report ▸
For over a decade, Northeast Nigeria has faced a humanitarian crisis as a result of insurgency by non-state armed groups.
According to the Nigeria Humanitarian Response Plan 2022, some 8.4 million people in the north-east states of Borno, Adamawa and Yobe (BAY states) will need humanitarian aid in 2022. Of this number, 2.2 million people are internally displaced, 1.5 million are returnees who lack essential services and livelihoods, 3.9 million are members of communities affected by their hosting of internally displaced people. Out of this number, about 5.5 million people are being targeted to receive critical services from humanitarian partners.
This humanitarian crisis in Northeast Nigeria remains one of the most severe in the world, with Yobe state being one of the most affected. The protracted conflict has weakened state systems and left communities to face aftershocks with many households pushed into poverty.
The Intervention
In response to these challenges, the European Union (EU) through Mercy Corps and consortium partners, Danish Refugee Council (DRC) and Cooperazione Internazionale (COOPI) designed and implemented the Building Resilience in Complex Crisis (BRICC) Program in collaboration with the Yobe state government and the private sector to address many of the aftershocks resulting from the humanitarian crisis. This was done using a multi-sectoral intervention and graduation approach consisting of unconditional and conditional cash transfer, financial inclusion, agriculture, social cohesion and asset, youth livelihood, citizens' engagement in governance processes and social protection.
The EU funded project, which was implemented in Yobe state in 30 communities across six LGAs of Damaturu, Potiskum, Geidam, Gulani, Yunusari, and Gujba, impacted the lives of over 33,000 participants.
EU BRICC Program Impact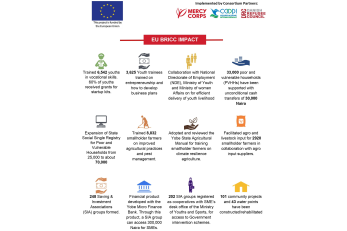 Participants Share Their Stories 
I am ill, but cash assistance helped me buy a sheep. Now I own a livestock business.

Bukar Maidugu,

Unconditional Cash Transfer Participant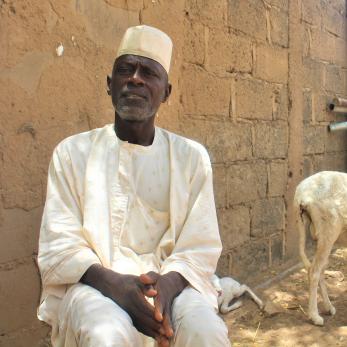 Constant worry about living up to his responsibility plagued Bukar Maidugu. The father of five used to farm but had to stop because of land restrictions and disturbing pain from arthritis. His wife's petty trading business of onions and other cooking items was unable to meet their needs which included his hospital bills.
Bukar's story however turned around for the better when he received the unconditional cash from the EU BRICC project. He began a livestock business by purchasing sheep as well as additional items for his wife's business. The sheep birthed a lamb, which he hopes to sell when it grows, in addition to more lambs the sheep will bear. The cash assistance has been essential for families like Bukar's.
"I was staying in Damaturu before I retired to Murfa. Since I have been staying here for 5years, I haven't been able to buy a fowl, but with this support, I now have a livestock business and my wife's business is running," Bukar said in appreciation.
Saving is important as it can be used to start a business and care for your family.

Mallum Bukur,

Savings and Investment Association Participant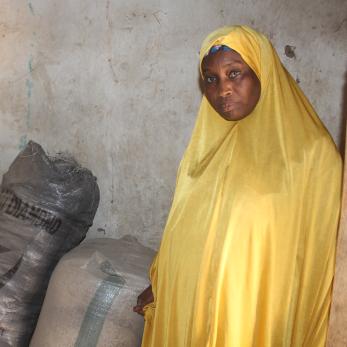 Uncertainty loomed over the future for 50 years old Mallum Bukur a widow with five children who had to cater for her terminally ill father-in-law while striving to run a small business from her home in Murfa, a host community to refugees from Gujba and Damaturu Metropolis fleeing the Boko Haram conflict. Though not directly affected by the conflict, her family had to run away when warnings of impending attacks were received.
Certainty about the future was however birthed for Mallum upon encounter with the EU BRICC project's savings and investment (SIA) group. Her group started with 15 members and currently has 18. Many other women in her community have benefitted from the group, with some of their savings going into other investments like the cow they purchased to rear and sell during the festive season. Mallum was also a recipient of the unconditional cash transfer.
"Since I started the SIA, I have gone into business. I now sell seeds. The money also came at a time when my daughter was sick. We are forever grateful to Mercy Corps, it is not easy to give someone 30,000 Naira and support them with savings," Mallum said in appreciation.
Life was very tough as we used to rely on support to cater for our families.

Ali Adamu Gurgu,

Community Resilience Group member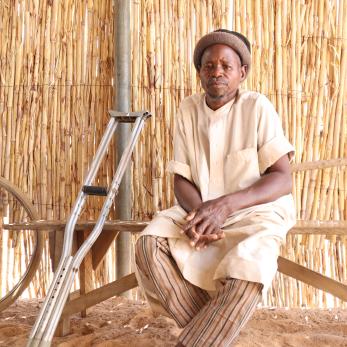 Ali Adamu's story is that of dignity restored through the EU BRICC project. As a person living with disability, he mostly had to rely on alms to cater for his family – this also is the case for many persons living with disability in Yobe state.
With financial assistance from Mercy Corps through the unconditional cash transfer, he restarted a block producing business that had stopped because of insufficient funds. The well he drilled for his block industry also serves as a source of water for his community making him able to give back to his community. He hopes to expand his business in future and sink another borehole.
The BRICC project gave him a chance to serve as a Community Resilience Group (CRG) member, where he is able to contribute solutions to issues in his community, and provide updates on happenings during consultative meetings for the  project. "In most cases, you'd hardly find people like us in meetings. I am grateful to the EU and Mercy Corps for the support," says Ali.
I don't have to rely on other people to feed me now.

Rahama,

conditional cash transfer participant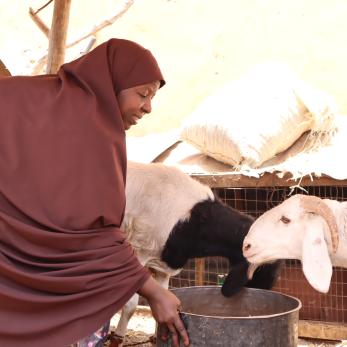 Rahama who lives with her 6 children in Dogo Tebo, a community known majorly for livestock rearing, was left without enough funds to run her business because of the impact of the conflict. She also had to withdraw one of her children from a private school to a public school. This was the case for many other recovering families struggling to fend for their children.
Under the livestock component of the BRICC project, Rahama received goats, which has greatly improved her living condition and helped her to become self-reliant as it caters for her family and supports her other business – a bridal business. She currently has goats, sheep and poultry birds in stock.
"Livestock is not like foodstuff or money that gets finished after days. It serves as an asset. I don't have to rely on other people to feed me now. I am soliciting that the funds be increased so that other farmers can benefit from this," Rahama said.
Watch the story of the impact, lessons learned, and recommendations from the EU BRICC Program LGA closeout event.
Stay connected to our work.