Forging a Path to Peace for Farmers and Herders in Adamawa State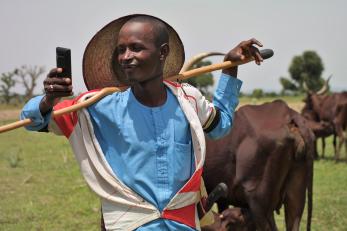 August 23, 2022
For more stories from the field download the full impact report ▸
While clashes are often understood in ethnoreligious terms due to the spread of unreliable information, competing claims to land, water, and other natural resources are at the root of growing tensions between farmer and herder communities in Nigeria. Indeed, pressure on natural resources has increased due to demographic growth, expanding human settlements, privatization of land, year-round farming practices, environmental degradation, and climate change.
In the absence of mutually agreed upon solutions, disputes over crop damage, livestock theft, and water pollution have increasingly turned violent. Traditional conflict resolution mechanisms have been pushed beyond their breaking point and trust in authorities is at an all-time low due to widespread inaction, impunity, and a perceived bias.
The Intervention
In order to contribute to the mitigation of conflict over natural resources, the International Organization for Migration (IOM), Search for Common Ground (Search), and Mercy Corps designed a comprehensive and integrated approach entitled "Contributing to the mitigation of conflict over natural resources between farmer and herder communities in Adamawa state, Nigeria (EU COMITAS)".
The project is funded by the European Union (EU) Instrument contributing to Stability and Peace (IcSP) that responds quickly and flexibly to conflicts and crises. The COMITAS project is empowering communities to prevent and respond to violence by strengthening collaboration on Natural Resource Management, fostering trust through community dialogue, and promoting positive perceptions through reliable information and peace messaging.
Implemented in five Local Government Areas (LGA) (Demsa, Numan, Lamurde, Girei, and Mayo Belwa, across 10 wards in Adamawa state, these are some of the impacts achieved on the program.
EU COMITAS Program Impact
Mercy Corps has trained 124 local authorities on interest-based negotiation, mediation, and natural resource planning. Post-training evaluations show increased knowledge of the participants is 34%.
Through interest-based negotiation and mediation training, program participants have contributed to an overall reduction in violent conflict by 29%. - 120 conflicts were resolved between farmers and herders from June 2021 to March 2022.
The project's natural resource management awareness-raising activities emphasize how the diversity of perspectives broadens the methodologies for implementing and sustaining conflict mitigation solutions.
Farmers' and herder's daily livelihood engagement has improved due to a reduction in crop destruction, killing of cattle, and contamination of watering points by using toxic pesticides.
Communities are now aware that climate change is not only "the act of God" but there are underlining human activities that activate it.
Local authorities have used knowledge and expertise through facilitated dialogues, to support the Natural Resource Management Committees (NRMCs) to develop 10 concrete natural resource Quick Impact Projects (QIP).
10 resource-sharing agreements were jointly developed and adopted by government and community stakeholders to promote more collaborative use of land and water resources.
Participants Share Their Stories
One Body, Many Parts: Farmer-herders Forge a Path for Dialogue in Gengle Ward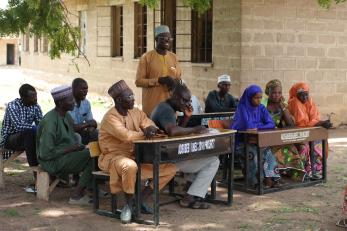 Oliver Timothawus sits as the chair of the seven-man committee looking into the issue of natural resource management. "I recall in 2018, the farmer-herder violence led to the relocation of herders out of my community.  Before the coming of the COMITAS project, farmers and herders in my area did not see 'eye-to-eye' on how to use or share resources. This led to several losses of lives and properties, on both sides. We couldn't even attend the same markets to transact our legitimate businesses. The various training and awareness activities have been an eye-opener for me and many others. It is in interest of all of us to coexist together to live in peace".
Understanding that there is also an emotional side of the conflict, Oliver and his team support reconciliatory dialogues for farmers and herders to heal from years of violent conflict.  Some of the agreements facilitated by the committee have led to reopening of scores of cattle routes previously blocked at the height of the conflict. Appreciative of this gesture from the farmers, the herders have also agreed to put a stop to young underage boys shepherding cattle, which is also a reason for the frequent encroachments into farmlands.
Mightier Than the Sword: Restored to Teach the Dream Again Following Resolution in Bille, Demsa LGA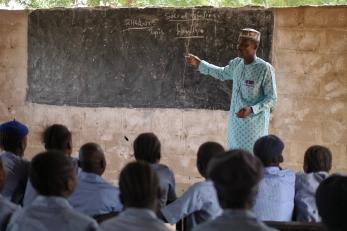 Yahaya's story is nothing short of the conflict transformation happening in the community of Bille. Just barely a year and a half ago, Yahaya was internally displaced from Bille, the place he called home to a neighboring community in Mayo Belwa LGA of Adamawa State. He is just one example out of thousands of victims who have been displaced by violent resource-based clashes between farmers and herders. The violent clashes between farmers and herders in Bille, beyond the internal displacements, led to loss of lives, properties and livestock. This led to reprisals in the form of raids and ambushes which lasted for over five years.
"Before the crisis, I had lived in Bille for 20 years. I had friends amongst the farmers, and we played soccer together, ate together and even inter-married. Unfortunately, all these changed suddenly after the clashes. We became sworn enemies; when they met us, they killed us and when we met them, we killed them. We stopped attending the same markets and I eventually abandoned my primary source of livelihood, teaching. I did not step into this community until about a year and a half ago when the Fulani herders were invited to a reconciliatory activity under the EU-COMITAS project. At first, we all had hesitations and were afraid to come without weapons or security."
Connecting the Dots Amid Conflict, "Mr. Tough Guy" Becomes Peace Advocate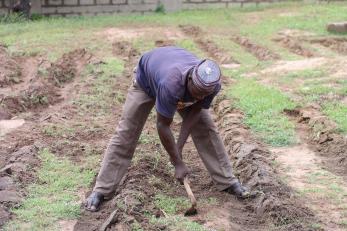 Ham's first encounter with the EU-COMITAS project was in June 2021, during the Mercy Corps organized Interest Based Negotiation (IBN) for farmers and herders in capital city of Yola. According to Ham, this encounter was a turning point in how his relationship transformed towards the herders.
He continues, "At the workshop, Mercy Corps trainer drew a diagram with 9 dots in a box and asked us to connect the dots. We all spent considerable time attempting to do that and eventually felt it was impossible. He later demonstrated that the only way to connect the dots is if you think outside the box."
The simple analogy of connecting the dots was then likened to the conflict Ham and the other participants were experiencing.  "The reflections on connecting the dots changed my life. I realized that the problems in my community could be resolved if we opened up to new and innovative ideas".
In that workshop, the farmers and herders all reached a point where they could express their grievances towards each other. "We were in agreement that we all were guilty of taking the laws into our hands because we were aggrieved that justice was not forthcoming in most cases between the farmers and herders".
After the workshop, Ham returned to his community a transformed man. According to him, "My behavior towards herders and the factors driving the crisis in general, began to gradually shift. I now have established better relationships with others through the negotiation skills I have learnt. I am no longer a difficult person and open to peace and tolerance."
The "Game Changer": Flipping the Script for Peace with Hadiza's Story
Although Hadiza is an adviser in a female religious group in her community and a member of a herders' group, she could not make contributions to the development of her community due to cultural and religious restrictions that impede women participation in community governance.  However, over time things began to change due to introduction of the EU-COMTAS peace building project in Kpasham community, Demsa LGA of Adamawa State.
Hadiza, 35 years, mother of four and owner of 70 animals say her life was greatly impacted by COMITAS as she can now stand and speak in public, unlike before her involvement in COMITAS activities she would be frightened by the mere thought of that happening.
"COMITAS has broadened my perspective on the farmer-herder conflict and provided me with the opportunities to also contribute to the solutions.  With the permission of my husband, I left my village on an EU-COMITAS sponsored study visit to Kano State, where I saw how farmers and herders live in peace and how they are able to collaboratively work through the dry season to ensure there is constant fodder and water for both parties, thereby reducing conflict. With this new knowledge, we will bring it closer home. There is hope that we can also emulate this."
Strange Bedfellows: Absalom and Hassan Mending the Broken Fences in Gereng Ward, Girei LGA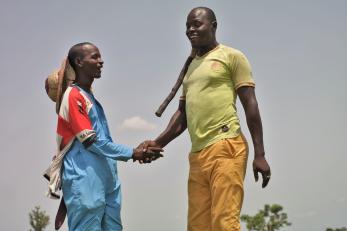 Absalom Agabus, a 36-year-old farmer and father of 3, also from Gereng recounts that "About seven years ago, some herders let loose their cattle into a cultivated farmland, causing destruction.  The farmers reacted aggressively, and things escalated into a full blown crisis between farmers and herders. That incident led to the death of over 70 people on both sides and the destruction of livestock, houses, and other valuables. From that day forward, the farmers and herders of Gereng became sworn enemies and would never be caught within the same location".
This was the situation of the conflict in Gereng community before the start of peace building activities supported by the EU-COMITAS project. Through their participation in EU-COMITAS activities, Hassan and Absalom have now forged a peace alliance, sharing their ugly conflict experiences but also recounting times of peace. Peace is a situation both Hassan and Absalom yearn for, not only for themselves but also their communities. This is something, just a few years ago, each thought was impossible. "COMITAS sensitized us to collectively think of ways to peacefully and mutually share our depleting natural resources. We all have a collective responsibility of safeguarding these resources. We are now able to live together, transact business together and eat from the same bowl" says Absalom, who is also the Natural Resource Management Committee (NRMC) Chairman in Gereng.
Watch the Touching Story of Girei Community