Achieving Economic Autonomy for the Marginalized Nigerian Youth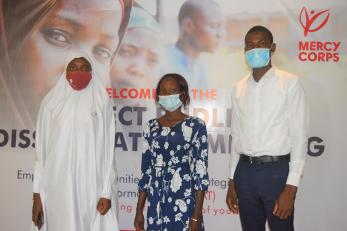 July 13, 2021
Over 13.9 million Nigerian youths are currently unemployed (NBS 2020) and have limited access to the skills and networks they need for meaningful livelihoods to influence community and government decision making. Mercy Corps, with a vision for a Nigeria in which all people are empowered, engaged, resilient, and secure, seeks to empower young people as part of its strategic objective for the country.
This research paper explores the initiatives of the organization towards economic empowerment and financial autonomy of boys and girls in Kano, Kaduna, and Lagos states as well as the Federal Capital Territory (FCT) of Nigeria. Specifically, this research adopts an outcome harvesting approach to explore results from two Mercy Corps interventions—Educating Nigerian Girls in New Enterprises (ENGINE) and Empowering communities through strategic actions for transformation (ECOSAT) implemented between 2017 and 2020.
Evidence from this research shows that well designed economic empowerment programs targeted at marginalized youth have the potential of influencing the financial autonomy of young people through effective partnerships that create an enabling environment for financial inclusion and market systems approaches.