USAID funded COVID-19 response strengthened resilience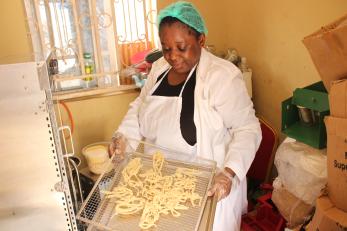 August 09, 2022
The Federal Government of Nigeria in March 2020 announced a total lockdown and restriction of movements and businesses as a measure to contain the spread of COVID-19.
For Gladys Dalung, the founder of Afrieden Foods, the lockdown period reaffirmed her belief that food processing could be profitable. The food products she produced and stored did not only sustain her and her son, but became a source of income during the period.
"The COVID-19 pandemic caused a lot of people to look for things at convenience, and I decided to inform them that we sell processed peeled beans."  
Gladys' journey to becoming a food processor
Gladys is a single mother of one, whose dream of becoming a commercial food processor was not actualized early in life because of economic factors. She became an orphan at the age of 22. She had little guidance and no help, attempting to save from a meager income of N17,000 from her menial job.
"I struggled to survive in an urban area with a high cost of living, a salary that could barely pay my bills and two younger sisters and four step siblings looking up to me for survival."
Gladys resigned after seven years of being employed by a law firm in 2012 due to the lack of steady payment of salary. She left to pursue her dream in food processing. Then came the challenge of securing a production space, and NAFDAC Certification to enable her to sell her products freely in the open market.
"I got so frustrated that in 2017, I decided to quit processing and try out exporting the raw materials to other countries to avoid the rigors of NAFDAC. I was at my lowest at that point, but the passion ignited for food manufacturing refused to die in me."
"I kept coming back to it when family and friends made orders and agreed to pay me a decent fee to package raw foods and spices for them. I then decided to start teaching others what I knew about food products using the train one - train all farmers in Jos, Plateau State but could not sustain the project."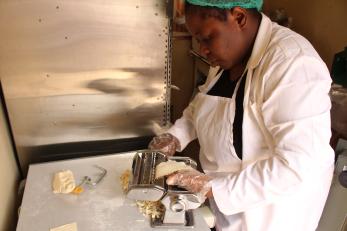 Business loan for expansion
In 2020, after years of trial and errors, rising and falling due to lack of funding and the necessary support to properly start up, Gladys applied for and secured a N5 million NIRSAL loan with the aim of expanding her business. However, the money could not buy all the machines she needed. Gladys expanded her pepper paste production to meet international standards as she was already registered as an exporter.
"From that money, I was able to secure my first NAFDAC number and decided that I will commit 100% to one product (pepper paste) and will use it to raise money for the other products. Then I decided to look at the products on my plan that complimented the pepper which I can take up and fully develop that won't cost me so much and decided to focus on my spiced bean flour."
A new dawn with USAID funded cowpea processing equipment
In March 2022, Gladys was announced as one of the beneficiaries of the cowpea processing equipment support under the USAID-funded COVID-19 response program. The response program was an additional grant for the Feed the Future Nigeria Rural Resilience Activity, implemented by Mercy Corps, in collaboration with IFDC and Save the Children.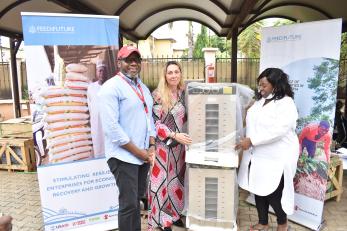 She also participated in the Microenterprises Business Modeling workshop which was facilitated by the Rural Resilience Activity in collaboration with the Standards Organization of Nigeria (SON), where she was educated on the principles of food processing, packaging, and branding.
"I was shocked when among the machines I was given, I got a 32 tray dehydrator! It was an answered prayer to my deepest heart's desire. I was in shock and in tears, and praised God for USAID and the American people."
"Through the Rural Resilience Activity's intervention, I was able to reposition my brand by rebranding and re-pivoting the entire production line, which led to the proposed unveiling of my rebranded product lines launch while simultaneously securing NAFDAC registration."
The hope this orphan girl has received is already making a huge impact in the lives of small scale farmers as my production capacity has increased by 35%.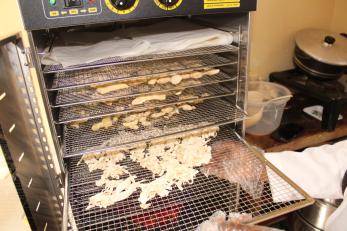 As a result of the support she received from the Activity, there is a high demand for Gladys' products. According to her, increased frequency of production gives not just hope to her, but also supports small scale farmers and staff, who are 80% women, all of whom now have more financial freedom.
"Thank you for giving hope to a lot of us, because supporting me is not just supporting a person, you are also supporting people who are dependent on me, you are supporting the youths - I have about 7 staff members. This is encouraging because you know that you are not just feeding people, but you are empowering people for life," said Gladys Dalung, the founder of Afrieden Foods Nigeria.
Stay connected to our work.