Women's group becomes vehicle to break culture of taboo and non-inclusion of women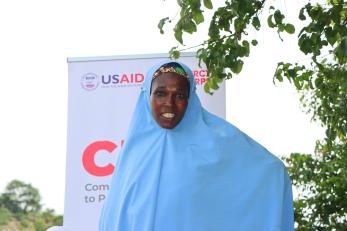 July 28, 2023
"Before the intervention by Mercy Corps, it's like a taboo for the tribal leader to seek advice from women but now, we have shown our relevance through involvement in many peacebuilding efforts that have helped prevent violence." Amina Saidu
Before her encounter with the Community Initiative to Promote Peace (CIPP) program, Amina Saidu, a 35-year-old mother of 7 from Josho community, Bokkos Local Government Area in Plateau State, knew nothing about women groups.
Recalling this, Amina  said, "Wake Daya was my first contact with any women group. It was the first group created for women in Josho by African Radio Drama Association (ARDA) one of Mercy Corps partners on the Community Initiatives to Promote Peace (CIPP) program."
The idea of forming the group originated from the necessity to involve women in conflict resolution, peace-building endeavors, and the prevention of violent extremism. This would be achieved by enhancing their ability to address conflict-related matters strategically and with a focus on finding solutions. The Community and traditional leaders were utilized to identify women who were already actively involved in significant positions within the CIPP target communities. These leaders were invited to the initial program meeting to gain their support and gather their input on the most effective intervention approach. Amina was nominated to lead the women group but for someone who knew next to nothing about women groups and how they functioned, her nomination posed a new challenge to her. The challenge of learning to lead other women, who like her did not know much about women groups.
"After my nomination as the leader of the group, I knew I had a lot of work on my shoulders. At first, we were shy, we barely expressed our opinion on issues around peacebuilding during meetings. This was due to cultural beliefs that prevented women from being involved in such discussions."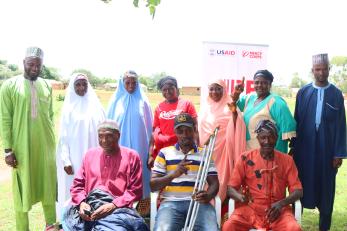 Identifying the gap caused by the cultural belief that women were meant to be seen and not heard, the CIPP team developed a program on radio to educate women about their role in addressing the ills within their community. Amina stated that this proved to be effective as their consciousness was awakened. "After a series of radio episodes on the role of women in peacebuilding, discussions on the effect of drug use and sensitization on election violence, we saw the dangers of keeping quiet, our community suffered a lot due to the conflict between farmers and herders in 2018."
Beyond the realization of their role in peace building, Amina and her team took active steps to get support that will further their cause.She said, "I led a meeting to the office of the traditional, religious and vigilante leaders to show our readiness to support and contribute to peaceful coexistence. The meeting was fruitful as we got their buy-in and support which helped us keep watch and noticed the high use of drugs by the youths. We became concerned and organized a sensitization meeting for other women in the community to enlighten them on the need to pay attention on the activities of the youth."
"Due to this, I noticed proactiveness in the women's effort to reduce this menace. Community women gradually began to share indicators of violence to me; I report some of the issues beyond me to the Ardo" - Amina Ardo 
This has helped to build trust due to the relevance of some of the information shared which has helped save the community on several occasions.
The success achieved has brought to fore the importance of the women's group and also encouraged attendance and participation in meetings. Members of the group always look forward to meeting days where issues that affect women are discussed with possible solutions.
This has also attracted other women who have shown interest in joining the group. Speaking about this, Amina said, "We are ready to co-opt them to help strengthen the efforts of women in peacebuilding."
Using advocacy to address issues is a strategy that has worked for the CIPP program and with the progress made with the Amina and the women's group, efforts will continue  to involve more stakeholders outside our communities of implementation and to strengthen  engagement.
About CIPP
Mercy Corps is implementing the Community Initiatives to Promote Peace (CIPP), a five-year peacebuilding program funded by United States Agency for International Development (USAID).
CIPP's aim is to prevent violent conflict in the most at-risk communities across Katsina, Kaduna, Plateau, Kogi, Kano and Benue states in Nigeria's North-West and Middle Belt regions. CIPP works with community leaders, women, government officials, and state-level actors to improve their ability to peacefully manage disputes. CIPP also works to strengthen Early Warning and Early Response (EWER) mechanisms for timely response to violent conflict, and facilitate collaboration among communities with government agencies, civil service organizations, and local leaders to address root causes of conflict.
CIPP is implemented in partnership with Pastoral Resolve (PARE), Interfaith Mediation Centre (IMC), Savannah Centre for Diplomacy, Democracy and Development (SCDDD), and the African Radio Drama Association (ARDA).
Stay connected to our work.