Sarah's story: Water security becomes a catalyst for renewed love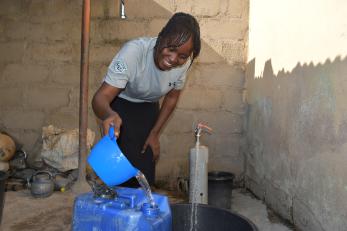 December 13, 2022
Water is a basic human need and is very necessary for survival. As declared by the United Nations General Assembly, safe and clean drinking water is not only a human right, it is essential to the full enjoyment of life and all other human rights.
This proved true for Sarah Gabriel, mother of one and a resident of Barazana/Vinikilang community, Girei Local Government Area, Adamawa state.
Managing her young family included cooking, washing clothes and doing other household chores that required water. This was however difficult for Sarah whose family had to buy water daily from water vendors because of the lack of safe, clean water in her community.
"We faced a lot of challenges and had to buy water from local sellers. On some days, water was unavailable from them, and we would have to queue up at commercial points, sometimes to no avail," said Sarah.
To conserve water, her family had their baths with half buckets of water. Using a whole bucket was considered wastage, given the cost and stress it took to get water.
"It even caused quarrels and fights between my husband and I, because on some days he would use a whole bucket of water to bathe," said Sarah.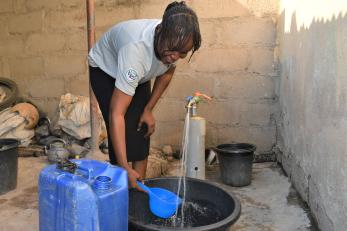 Recounting their thoughts when the USAID funded Small-Town WASH Activity engaged the community on the process of constructing a borehole in the community, Sarah said, "The first time we were approached by Mercy Corps, we had doubts but were surprised to see them fulfill their promise."
Sarah and her husband connected water from the borehole to their home with an underground pipe and now enjoy daily access to water. This saves them the money previously spent on purchasing water.
"The water is free. We do not even need the local sellers anymore," Sarah said smiling.
She revealed that it has also helped to improve the relationship between her and her husband.
"Now the love between my husband and I has increased because fights caused by water wastage have stopped. We can bathe with multiple buckets of water, flush after defecation, and wash our clothes anytime."
On sustenance, Sarah said "We will do all we can to maintain the water facility so that we can continue to enjoy access to water."
She urged visitors to the community to rest assured that the challenge with water has ceased. "Because of Mercy Corps, we no longer have issues with water. You can even relocate to our community," she squealed in delight.
She also expressed hope that development will attract business opportunities, peace, and unity.
"I am grateful to Mercy Corps, only God will reward and bless you." Sarah said in appreciation.
Stay connected to our work.