Sustaining farming livelihood for rural women through saving groups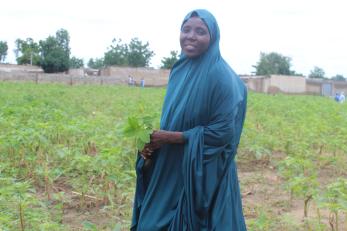 November 24, 2021
As local communities in Northeast Nigeria strive to recoup their livelihood, rural women in Borno state are paving the way for their peers to rejoin agriculture through joint community aids.
In support, Mercy Corps European Union Funded Borno Maida Early Recovery program implemented a rural livelihood intervention to ease up the journey for 5,000 farmers across northern and southern Borno. In an intervention that included education on good agriculture practices and business development, the farmers received improved seedlings, biofertilizers, and teachings on how to form Village Savings and Loans Associations (VSLA) to expand their farming investments and provided linkage to financial institutions. For sustainability, these farmers were accessed through cooperatives already in existence in their community, fielding into the local structures for development.
Fariya Farmers Association (FFA) is one of the cooperatives in the Old Maiduguri community of Jere Local Government Area, that benefited from the program. FFA consists of 15 members - all women farmers.
Fatima Abdulhamid, a 40years old mother of nine is a member of FFA whose life was greatly impacted by MAIDA through the rural livelihood intervention. Fatima is an indigene of Old Maiduguri and was raised in the farming trade by her father before she was married off to her husband, who is also a farmer.
Recounting her childhood days on the farm and how climate change has affected the vocation, Fatima shared how this has greatly impacted the number of yields her family produces, despite having the support of her eight children. It was after she attended a series of training and workshops from the program, that she decided they needed to make a change.
"Growing up, I remember a year we lost our farm produce to a seizure in rainfall. We planted the grains as usual after the first rain, full of hope, they germinated but the rains did not come back until after 25 days. We lost the whole farm and had to start all over again," said Fatima.
This exposed Fatima to a formal setting for the first time, having not gone to school. She always had a challenge filling the attendance sheet and she admired and envied those from other communities that were able to write their names and sign consistently. The VSLA group she joined gave her so much knowledge on farming, savings, and investment that she always looked forward to such gatherings to learn something new – regretting not having any education.
Fatima's experience led her to enroll her children in school with the support of her husband. Her first child, Zara, who was about to be married off, changed her decision and enrolled in adult mass literacy classes as she was already advanced in age. She spent four years in the literacy school and wrote the high school leaving certificate examination and passed. She has gotten admission into Borno State School of Health and is studying Nursing.
Over a short period of time, Fatima's cooperative grew by a hundred percent because of the impact seen on its members. The VSLA was taken seriously by these women with savings made from their proceeds of sales after harvest. They also use the savings to support each other, often times in buying trading materials for farming items not in season. When any member's daughter is to be given out in marriage, they give a sum of 150,000 Naira to support, so she is able to buy wares for the bride-to-be.
Speaking further on how MAIDA has changed her life, Fatima shares that she is now a proud member of her community. "When my daughter got admission into the school of health, I was amazed and excited though we were not prepared for it financially. I was skeptical at first when she said she was taking the exams having spent four years only learning in an adult literacy school. I was encouraged by friends in Old Maiduguri whose kids were in school to allow her, and she passed. Members of our VSLA gave me the needed registration fee of 35,000 Naira out of the group savings which I paid back in two installments. Today, she is doing well in school. I am happy and proud to be a mum of the first nurse-to-be from our community of farmers," she said.
Stay connected to our work.