Creating solid structures for sustainability with the Water Consumers Association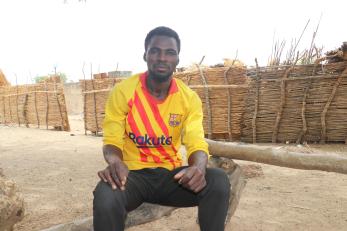 May 02, 2023
For residents of Dikumari community, Damaturu Local Government Area (LGA), Yobe state, the establishment of a 50,000 liter water facility by the Small Town WASH Activity within the community meant a lot of things. 
For some, it meant more time for productive activities as time spent looking for water would be channeled productively, for some it provided an opportunity to realize their dreams of business expansion that had been hindered by lack of access to water, for some it meant more money for the family as the monies previously spent to purchase water would either be saved or spent on other needs, and for others it is dignity restored as they would no longer have to beg their neighbors for the water needed to meet their needs.
With this new improvement also came the challenge of maintenance of the water facility to ensure its longevity. This challenge provided an opportunity for the Activity to improve the capacity of residents to encourage ownership, foster coordination and ensure sustenance.
To ensure this, the Activity supported the formation of the Water Consumers Association (WCA) to oversee the operation and maintenance of these facilities.
Saidu Saleh, 30, a resident of the Dikumari community is one of the  members of the Water Consumer Association (WCA). He reveals that the establishment of the WCA brought coordination to water activities and promotion of good hygiene practices in his community, adding that the revenue generated from water has been used to resolve water-related challenges. 
These funds have helped the community pay for maintenance services. This has brought about a lot of changes in the community, because they no longer have to wait for an organization to fix or repair the water point whenever it is faulty.
"We collect five naira for 25 liters on average, and we make one thousand five hundred naira per fetching point, which we have about four of. We were able to pay for borehole maintenance and repair with the money we generated. We have the resources to build another fetching point if we choose to do so."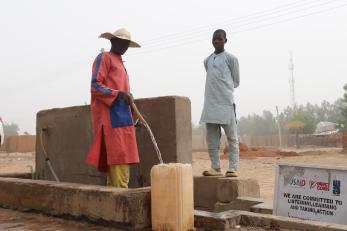 STWASH builds sustainability by leveraging ongoing relationships and using locally-led and participatory processes to inform facility designs and implementation strategies. WCA is a community-based organization that was formed to ensure that the community's water supply and sanitation facilities are what they truly desire, built properly, completed on time, and managed properly. The committee is formed through the nomination of community members. STWASH, through the Rural Water Supply and Sanitation Agency (RUWASA), trained these selected individuals on how to coordinate borehole activities, maintain and repair facilities, and collect water tariff from house to house for tank and stand points.
The WCA assists the Village Hygiene Promoters in organizing monthly advocacy campaigns for personal hygiene, promotes sanitation and coordinates water and sanitation facilities. They also assist the community members to learn how to improve their health through better hygiene habits.
When asked about the WCA's sustainability plans, Saidu responded that as long as the community members continue to comply by paying their water fare, the community will be able to manage the structure for a long time. He also confirmed that there have been significant changes in the community since the borehole's construction.
"It was a very good idea to establish the WCA to manage the community's affairs, and I hope that what we have done here can be applied to other communities to ensure long-term sustainability," he said.
Stay connected to our work.