"Life without water is full of crisis" - a small town's journey to serenity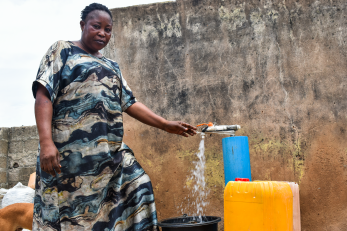 August 04, 2023
The value of water is about much more than its price. Water has enormous and diverse value for households, food, culture, health, education, economics, and the integrity of our natural environment.
Esther James, a 41-year-old mother of four, resides in Vinikilang, a small town located in Girie LGA of Adamawa state, Nigeria. Whenever she recalls the heartbreaking incident of a 15-year-old boy who fell into a swamp under the bridge in 2022, her eyes fill up with tears. This swamp located under a bridge within the community has for years served as the only source of water.  
Sadly, her own children were with the boy at the time, as they had gone to fetch water together. Did he slip? They screamed for help, but it was too late, and the boy who happened to be her neighbor's youngest brother could not be saved. The occurrence of such incidents in Vinikilang is not new, and it has instilled the fear of similar incidents happening again, among the inhabitants. Esther finds herself haunted by these memories and worries about the safety of her community.
Continually risking their lives and overcoming various hurdles, the community persistently sought access to the swamp water, which, unfortunately, was far from safe. Besides the challenge of safety, the water in the swamp was also heavily polluted, posing a significant threat to the health of those who relied on it and exposing young children to waterborne diseases such as diarrhea and cholera.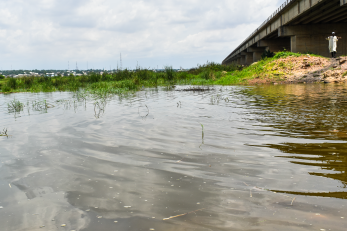 In addition to the challenge of safety and pollution, the road leading to the bridge over the swamp is an expressway, and because of the high speed with which motorists ply the road, there was a risk of getting hit by passing vehicles. There was also the challenge of drowning. The community's water challenge had a profound impact on individuals like Esther, who could not go to work every day, as they spent most of their time searching for water.
Residents however had no choice as the swamp beneath the bridge appeared to be the only free source of water available. Esther describes the swamp as her only source of  water for drinking and performing household chores.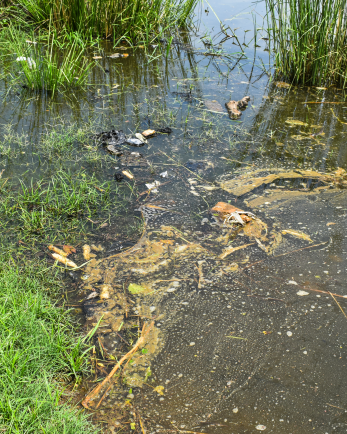 Before the construction of the Small Town WASH borehole in Vinikilang, Esther and other women would walk for over three kilometers to fetch water from the swamp under the bridge. The majority of the children in the community stopped going to school so as to help their mothers fetch water. According to Esther "There was no source of water on which we could rely, we kept on sending our children to the swamp to get water even though we lost so many kids as a result. Life without water is full of crisis."
Water was a luxury for families who could not afford to buy from water vendors daily due to the  cost. Because most of their income was spent paying rent for their homes, they resorted to seeking free water sources. In their desperation, these families were willing to go to any length to obtain water, leading them to send their children to the swamp.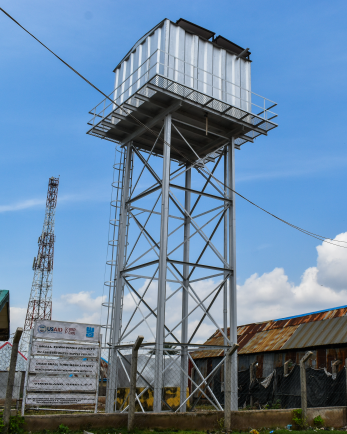 To ensure access to safe drinking water, the Small-Town WASH Activity constructed a borehole and installed a 50 cubic capacity storage tank providing water for over 1,000 individuals in Vinikilang small town. This is one of the many water schemes provided by the Small-Town WASH Activity for communities in Adamawa state, Nigeria.
Esther tells her story as she enjoys fetching water from a tap stand located right in front of her home. "When STWASH constructed this borehole, it was a dream come true for us. Life is sweet now, we feel safe drinking this water, because the water has improved our well-being, and our children no longer have to risk their lives to get water," she said.
Esther's gratitude lies mostly with the children in the area who can now attend school instead of being burdened with the task of fetching water. "When there was no water, my children and most of the children in the community had to stop going to school to help their mothers in fetching water from the swamps."Thankfully, they are now returned to school, and we finally feel safe. This water came near our homes and solved all the problems we used to face before."  Esther said, expressing her relief and contentment.                       
Sustainability
STWASH delivered training and sensitization on water management and maintenance of the systems for long-term sustainability. Once the boreholes are ready for use, they are handed over to the community, which becomes responsible for their maintenance. The community is also encouraged to take ownership of the project through the existing institutions such as the Water Consumers Association (WCA), Volunteer Hygiene Promoters (VHP), and the Local Area Mechanics (LAMs) to repair minor faults.

About Small Town WASH
The Nigeria Small Town WASH Activity (STWASH) is a 5-year USAID funded program being implemented by Mercy Corps in partnership with WaterAid in Borno, Yobe and Adamawa, Imo, Delta, and Abia states. The program's aim is to strengthen the capacity and accountability of key institutions to provide and sustain access to water and sanitation services for 140,000 individuals in small towns across Northeast and Southeast Nigeria.
Stay connected to our work.