Small-Town WASH Activity improving access to WASH in Vinikilang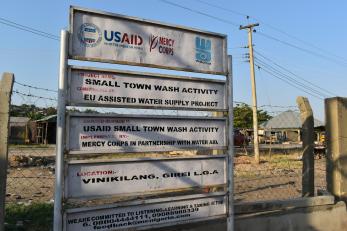 February 15, 2023
Nigeria has some of the largest gaps in access to water, sanitation and hygiene (WASH) services in the world. Unmet WASH needs are most critical in the north eastern states of Borno, Adamawa, and Yobe (collectively the BAY states), where the decade-long conflict has led to widespread displacement, destruction of already weak or semi-functional infrastructure, and impediments to service provision.
UN-OCHA data showed critical unmet WASH needs in the BAY states, which contributes to poor health outcomes, increases safety risks for vulnerable populations, creates barriers to education and employment for women, and impedes agricultural and livelihood activities.
The report showed a high number of cholera cases in these states, with Borno state accounting for more than half of all cases reported in Nigeria.
Participants stories
Clean water: The Small-Town WASH Activity is transforming generational history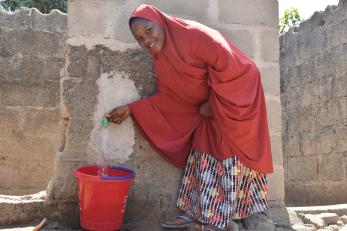 This facility will serve not just my children but also my grandchildren.
"We thought we were forgotten and did not know anyone outside our community thought about us. I am surprised that Mercy Corps thinks about us and I am moved to tears by the gesture. Thank you Mercy Corps." - Fatima Yunusa.
Fatima is a petty trader who makes Kunu, Zobo (local Hausa drinks) and Ginger drinks and sells them for profit. She uses a lot of water for her business, but because clean water was not accessible, she had to buy water from vendors. This costs about ₦500 from her daily profit of between ₦1500 and ₦2000. The cost of water can be more in the dry season.
Spending 25% of her daily income on buying water left her with little to cater to other needs. To salvage this, she shared the cost with her husband who also earned little from his transport business.
They also had to deal with the challenge of not enough water to wash, bathe, cook and clean the house. On some days, they went without cleaning and bathed once in the day, to conserve water.
Fatima's experience however changed with the USAID funded Small Town WASH Activity's intervention in Vinikilang, Adawama state. The Activity constructed a 50,000 liter capacity water borehole facility which supplied water to different fetching points within the community. Fatima and other residents were also able to connect pipes from the borehole to their houses with underground pipes.
As part of the engagement process, the Activity supported community leaders to establish a Water Consumers Association (WCA) to provide leadership and oversee the effective operation and maintenance of the facilities. They were trained on hygiene promotion and bookkeeping, to ensure accountability for any monetary contributions made towards the maintenance of the facility.
Reducing the water burden for women and fighting open defecation in Vinikilang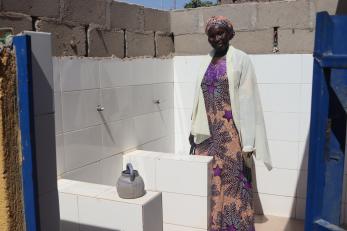 "When I'm in the market, I'm at peace as I do not have to worry about how to get water in the evening. The difference is that we are sure that the water we get is clean. The water we used to get was coloured. This we can drink and cook with. No more delays because there is no water. We are healthier now as we no longer have cholera from bad water." - Rahilla Drambi, Chair of the WCA Women Advisory Council.
On a typical weekday in Vinikilang community, most households began their day by waiting on the streets for water vendors. These vendors who sell from jerry cans in hand pushed trucks, get the water from boreholes which are a good distance away, and sell to residents. Those who could not afford it, either made do with water from the hand dug wells or walked the distance to the boreholes themselves. 
For women, the burden of doing house chores, most of which required the use of water was worsened by this challenge. With limited time to do chores after the trip to get water, they mostly did without it, resulting in unkempt and unhealthy environments.
Recalling the experience, Rahilla, a resident of Vinikilang, said, "Because we had to travel long distances to get water, it delayed us with our business. We also had to get water and do house chores before going to the farm. At this time, it is usually midday and with the sun out, we had little time left to farm. In the evenings, we were usually too tired to go get water and our homes were dirty."
This situation took a positive turn when the USAID funded Small-Town WASH Activity began implementation in Adamawa state. Vinikilang was one of the communities identified for intervention.
The Activity engaged the Community Leader and other influencers to form the Water Consumers Association (WCA) to provide leadership and oversee the management of the facilities. Their capacity for hygiene promotion and practices was strengthened, and they were trained on effective operation and maintenance of the facilities.
Besides the challenge with access to clean water, there were no public toilets in the community. This made open defecation a norm, as most people either had to go home from their farms or places of businesses to defecate, or defecate in the bushes/farms. Most resorted to the latter, contaminating the environment.
The Small Town WASH Activity constructed a water tank with a 50,000 liter capacity and built toilets in schools, motor parks and markets.
This has greatly impacted the lives of residents as most have connected the boreholes to their homes and can now easily access clean water. With the new toilets in the motor parks and markets, open defecation has significantly reduced.
Improving productivity of businesses in Vinikilang small town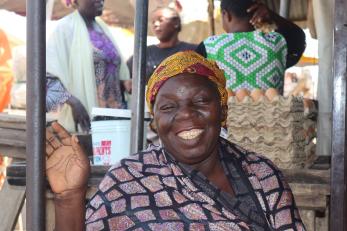 "I am happy about the toilets constructed here at the market, because now I don't have to go back home whenever I need to use the toilet or inconvenience people at the neighboring houses". - Comfort Jeremiah
A trader for over 40 years, Comfort Jeremiah sells food items and is one of the traders at Vinikilang market who has had to endure having to close her shop in the middle of a business day and return home in order to use the toilet, which slowed down productivity.
An alternative to this was to resort to open defecation in a nearby field outside the market or knock on the doors of neighboring houses, which eventually became an inconvenience.
The USAID-funded Small-Town WASH Activity constructed 4-compartment toilets in the market to address the menace of open defecation in Vinikilang community of Girei Local Government Area (LGA), so that traders will conveniently conduct their business dealings at the market.
Small-Town WASH also drilled a borehole at the nearby motor park, which serves as a source of water being used in the toilets.
About STWASH
The Nigeria Small Town Wash Activity (STWASH) is a 5-year program funded by USAID and implemented by Mercy Corps in partnership with WaterAid in Borno, Yobe and Adamawa states. The program's aim is to strengthen the capacity and accountability of key institutions to provide and sustain access to water and sanitation services for 140,000 individuals in small towns across NE Nigeria. The program will facilitate the economic recovery of crisis-affected communities and strengthen the capacity of state governments in providing essential WASH services, while creating and sustaining an enabling environment for Small Towns Water Supply and Sanitation Agencies (STWSSAs) and Water Consumers Associations (WCAs) to operate.
Stay connected to our work.