Sharing lessons for stabilizing peace in Northeast Nigeria
June 21, 2021
Mercy Corps and consortium partners, Center for Civilians in Conflict (CIVIC), Centre for Humanitarian Dialogue (HD) and Okapi Consulting in a learning event that marked the end of the Northeast Conflict Management and Stabilization (NE-CMS) program, shared insights into the complexities and lessons learned that comes with managing conflict sensitive programming in Northeast Nigeria.
The prolonged crisis in Northeast Nigeria is because of distinct complex root causes, which, if left unaddressed, will continue to undermine long-term peace and stability. The broken social contract amongst the government, traditional leaders, and citizens has often been used as one of the primary drivers of recruitment into and support for non-state armed groups, which continues to be a critical grievance of local communities.
With the aim to improve security and reduce support for violence in Borno state, the program implemented an array of peacebuilding, good governance and civil-military relationship building interventions to support the government's effort to ensure lasting peace in communities hard hit by the insurgency.
The NE-CMS program worked with local communities across Borno State to build their capacity to hold the government accountable for effective service delivery; engage youth as positive change agents; and create safe spaces to manage social and political tensions.
The program started as a pilot in August 2016 and transitioned into a second and third iteration that ended in May 2021. Through conflict assessments and a series of dialogue on the mitigation and prevention of conflict across communities, the NE-CMS program has tackled a range of socio-cultural conflict.
Leveraging on the expertise of the consortium partners, below are key impact highlights from the unique initiatives led by each partner on the program.
Enhancing governance and peace building in Borno state through community participation
Mercy Corps' mandate was on improving governance, promoting livelihoods for young people and women as a means for reducing insurgency motivations, promoting social cohesion and social protection, youth empowerment, and local conflict management. With collaboration with local partners - Herwa Community Development Initiative, Christian Association of Nigeria (CAN), Jama'atu Nasril Islam (JNI), and Women in New Nigeria (WINN) Mercy Corps supported a series of cultural and religious events across 20 communities. This provided a means of building social cohesion and a platform through which communities could discuss their religious and cultural differences and identify solutions for lasting peace.
The establishment of Youth Support Networks and Women Councils to serve as safe spaces where youth and women can learn new skills, build confidence, and generate unique solutions to community peacebuilding challenges. Mercy Corps provided training and mentorship to these platforms, utilizing peer-to-peer techniques for addressing conflicts, advocating for the needs of youth and women within the broader community, and implementing local initiatives that contribute to youth and women's empowerment, inclusion, and community development.
Through the establishment and empowerment of Good Governance Committees, community members have been provided with the skills to engage state authorities through dialogues and advocacy, which have produced tangible rehabilitation projects that address local community needs.
The place of narratives in promoting peace
Centre for Humanitarian Dialogue's work focused on expanding the dissemination of an alternative narrative document to reach key stakeholders in Borno state, with the aim of reducing the vulnerabilities to Boko Haram messages.
Authored by a team of 40 Islamic scholars and clerics in Borno State, it provides a codified response to the key arguments made by violent extremists, which addresses the local socio-cultural contexts that often influence acceptance of extremist messaging. Using the resources developed from this document, the program sensitized communities and facilitated dialogue, to support community action against the support for violence.
During the advent of COVID‑19, when face-to-face meetings became a challenge for holding physical sensitizations, Humanitarian Dialogue worked with its community partners - the Borno Peace Champions (BOPCHA) and Women in Dialogue (WID) to open a sensitization page on Facebook (Borno Peace Forum) through which COVID‑19 and peace messages were disseminated.
The gains made on alternative narratives indicate that it provides a tool for communities to continuously seek middle grounds and hold difficult conversations towards resolving intra and inter-communal conflicts and deep issues fueling the crisis.
Radio as a peacebuilding tool in the Lake Chad Basin
Leveraging on the alternative narrative document developed by Humanitarian Dialogue, Okapi Consulting started a radio program to reach a wide audience across the lake chad basin with alternative narrative messages against the support for extremist ideas. Messages were broadcasted in Kanuri, Kanembu and Buduma 6 hours a day on shortwave across the Northeast and four countries in the Lake Chad Basin (Cameroon, Chad, Niger and Nigeria). One radio station under Okapi's network is able to reach approximately 9-11 million Kanuri-speakers across four countries. The programmes also provide a platform for 2-way communication between the military and civilians.
Amidst direct threats from Boko Haram, Okapi produced and broadcasted 54 alternative narratives programs encouraging more space for debate about different interpretations of Islamic texts; 108 radio programs aimed at strengthening social cohesion were broadcast, and 594 radio programs designed to improve social cohesion were broadcasted.
"Without communication, peacebuilding cannot work; peace is built brick by brick – it's not an event but a process."
Fostering positive civil-military relationships
In response to the program's goal to foster a good relationship between the government, military and civilians, while ensuring their protection, Centre for Civilians in Conflict (CIVIC) provided capacity development training for Nigeria military personnel on protection of civilians (POC) and civilian harm mitigation (CHM). They also established and trained 100% civilians led platforms that are championing advocacy efforts towards POC and CHM. This advocacy has cascaded upwards for the adoption of the National Policy for the Protection of Civilians. They are currently carrying on an engagement with the Civil Society Legislative Advocacy Centre (CISLAC) to support members of the Nigerian National Assembly interested in legislation to further codify Protection of Civilians (POC) in Nigeria.
*** Despite considerable progress made on the program, the impact of COVID‑19 and heightened insecurity has caused so much apprehension in the communities, posing a challenge for sustaining gains made for ensuring lasting peace. However, reflecting on the work done on the program, the following opportunities were presented as recommendations for producing positive results for future security and peacebuilding programming for fragile contexts such as Northeast Nigeria.
Opportunities for adaptations and future programming
Deeper training, mentorship, and trust building initiatives that could further program goals and sustain program impact.
Bolster engagement with existing peacebuilding forums, including North East Development Commission (NEDC) to strengthen dialogue platforms.
Assess the current state of intercommunal relations and how the conflict has affected inter-communal relations and community perceptions on the preconditions for reconciliation with individuals associated.
Deeper engagement with women and youth thereby strengthening and supporting social inclusion and participatory governance approaches, radio programming and alternative narratives.
Regional Radio approach: The Northeast Nigeria crisis is interconnected with Lake Chad Basin crisis. Therefore, interventions need to be regional to address the interconnect issues fueling the support of insurgency.
Learning from experience: by letting concerned parties to the conflict speak through radio, the people are given a chance and a voice to speak their truth.
Download this brief for a detailed account of the program's impact.
Voices from the field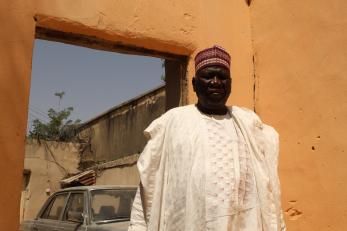 "Mercy Corps was one of the first NGOs to come into my community, they trained us on how to approach the government and other voluntary organizations to help us address our needs and we are really better off thanks to the skills we were given," Abba Butu Munguno, Chairperson, Good Governance Committee of the State Low Cost Community, Borno state.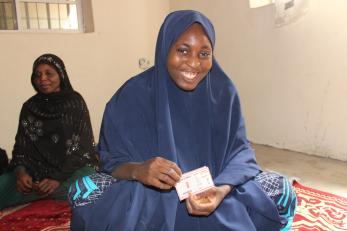 "I have changed for the better because of all the skills I have gained, people now identify me as a leader and reach out to me for help. I am more confident in what I can do than before," 22-year-old Fatima Dauda is a leader of the Women Council in her community, Gwange, in Borno state. She used the advocacy skills she gained from Mercy Corps to advocate for a dam for her community, and is training other women on different vocational skills to improve their livelihood opportunities.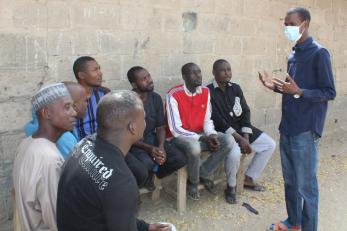 "Thanks to the support from Mercy Corps, it has not only made me popular in the community but I am also well-known for being a leader. I plan on passing down everything I have learnt to others so there can be more leaders. Youth voices are important because we are the future and the elders would not always be there to lead. We can do more if we are given more opportunities to lead," said Zanna Hassan, a youth leader in Gwange community, who is aspiring to become a government leader in the future.
Download this impact report to read more stories from the communities. 
Stay connected to our work.