International Women's Day 2023: Sharing equitable action for gender equality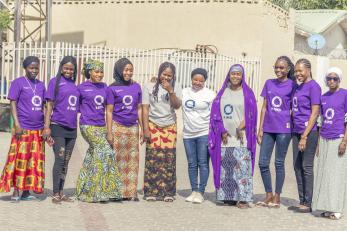 March 13, 2023
International Women's Day is celebrated every year on March 8, to call attention to the issues affecting women and encourage commitment for advancing women's rights. This movement for women's rights started in the 1900s when global uprising for the call for women's rights, fair labor laws and suffrage became widespread. Sadly, long after the first known commemoration of this event, the world has only slowly edged towards achieving the global commitments agreed on.
The U.N. global theme for year 2023 (#IWD2023) is, "DigitALL: Innovation and Technology for gender equality." According to World Bank, the theme is aligned with the priority theme for the upcoming 67th Session of the Commission on the Status of Women (CSW-67), centered on "Innovation and technological change, and education in the digital age for achieving gender equality and the empowerment of all women and girls".
Over the years, Mercy Corps has been working with innovative models that leverage technological changes, and education in the digital age for achieving gender equality and the empowerment of all women and girls.
Young women with limited access to resources and assets, including technology and financial assets are excluded from digital education, advisory services, digital financing, and e-commerce. Mercy Corps programming actively uses technology as a platform to reach vulnerable and excluded groups, especially women and youth, and provide access to opportunities that promote improved incomes for women and youth within households and communities where we implement.
Job tech involves the use of technology to enable, facilitate, or improve people's productivity to access and deliver quality work. A background on job tech and young women shows that embracing digital economy can provide increased access to work by reducing some of the existing barriers to employment presented by more traditional roles. This sector also provides an opportunity for increased gender equality as more innovative organizations come in, disrupting sectors that are traditionally male.
In a virtual event held on March 6, Mercy Corps Nigeria hosted a learning and awareness session to spotlight programs that have promoted women development through the application of innovative tech interventions across different intervention sectors. Team members and representatives from partners, Solar Sisters, ARDA Development Communication Inc and HerVest shared lessons learned and approaches that worked for connecting women and girls to digital solutions.
Some of the gender-responsive approach applied by Mercy Corps Nigeria include:
The use of talking books for promoting access to nutrition services in Borno state. Amplio talking book device was successfully launched and is being used during mother-to-mother nutrition support group sessions, under the Mercy Corps' Addressing Diverse and Acute Primary Threats (ADAPT II) to Human Security in Northeast Nigeria Program, to strengthen Social and Behavior Change (SBC) among women.
Connecting young champions to storytelling through social media and mobile journalism, on the Girls Improving Resilience through Livelihoods and Health (GIRL-H Program).
Radio programming for women peacebuilding champions and listening groups on the Community Initiatives to Promote (CIPP) program, provides women an opportunity to actively participate in peacebuilding. 
The use of radio programming for digital literacy and financial education for women and girls.
Providing underserved populations with access to COVID-19 vaccine, through a WhatsApp chatbot named SHEHU. 
The use of digital technology, tech jobs and mobile financial solutions on the Feed the Future Rural Resilience Activity is connecting smallholder farmers and women-led businesses to various tech opportunities.
At the end of the events, attendees all resolved to advocate for the integration of a gender-responsive approach to innovation, technology and digital literacy for the advancement of women and girls. They did this by taking a pledge to follow up with their commitment.
Mercy Corps Nigeria team members join the global campaign for IWD2023, tagged #EmbraceEquity. The campaign theme is to get the world talking about why equal opportunities are not enough, and call for equitable action for true inclusion. For gender equity to be achieved, interventions need to go beyond advancing equality, but ensuring that everyone gets the appropriate support/resources they need to address their circumstances and contribute equally to development. For more on equity, click here.
How can you support? Take the pledge and take action.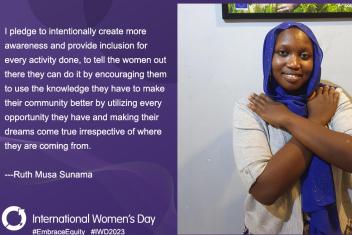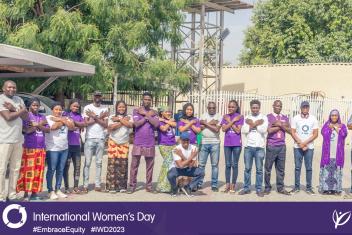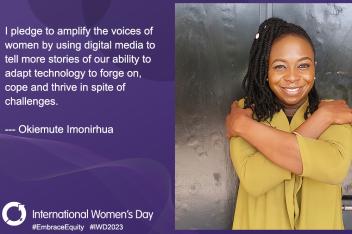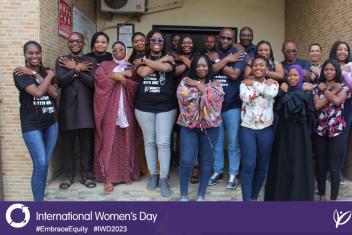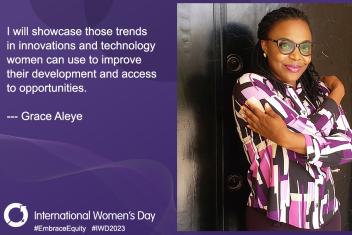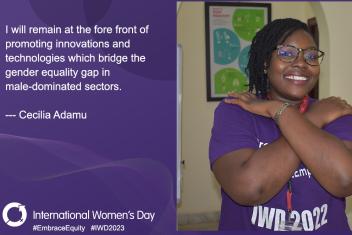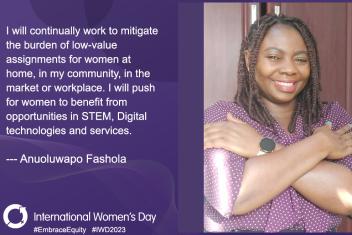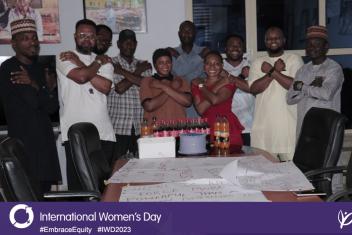 Stay connected to our work.