Savings group becomes a lifeline for conflict affected women
Amina's story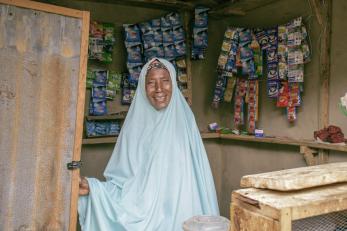 May 23, 2023
When a crisis hits your community, your entire life could unravel before your eyes. This is the case for Amina Inuwa, a 50-year-old mother of ten children. Everything was fine for her, and she lived with her husband and children. She ran a store where she sold cold drinks and other household necessities, as well as a grinding machine with which she earned money. Amina embodied the ideal African woman, with a profitable business, children, and a spouse. She had no idea how much loss and destruction the Boko Haram insurgency would bring to her and her family.
"We ran for our lives, leaving everything behind," Amina recalled. "When we returned, everything we had had been burned down by the insurgents," she added.Her world had been altered in the blink of an eye, "We lost everything; I had no source of income, and getting food to eat became a struggle," Amina remarked as she recounted how the insurgency impacted her life.
Amina attempted multiple times to resurrect her lost business and fend for herself, but getting back up proved difficult because of insufficient funds. "I had no money to start, and nobody within my reach had any money to lend me," she explained.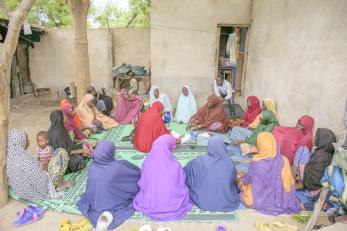 When the USAID-funded THRIVE consortium began implementation in Amina's community, things began to improve. The integrated program provides life-saving interventions in seven sectors, with the development of "Early Recovery and Market Systems (ERMS)" being a significant component. The initiative encouraged members to create savings groups in which they pooled their resources to help one another.
"At first, I attempted to enroll in the food assistance program, but I was not fortunate enough to be chosen. I gave up after feeling a little let down, but one of the community volunteers approached me and advised that I sign up for the savings program, which I did. I even offered my home as a meeting location," Amina stated.
Amina and several other group members quickly discovered that the savings group was a lifeline. She obtained a loan of 6,000 naira from the group and began selling provisions in front of her house. She has  paid off the loan, and her business is thriving. "I use the money I make from the shop to pay my weekly contribution to the group and also to care for my family," Amina said, beaming.
The savings group has not only helped Amina and her fellow members financially but has also provided them with a sense of belonging and purpose. It has given them hope for the future and a renewed sense of confidence in their ability to overcome adversity. They are no longer just victims of the conflict but active participants in rebuilding their community.
Amina's savings group has saved roughly one hundred and fifty thousand naira (NGN150,000) , and the pool has aided several members of the group in various ways. Members can give any amount they can afford on a weekly basis, and  like small drops of water, they are slowly and steadily creating  a river. "This group is here to stay, and we plan to stay long after the THRIVE program is over.On behalf of myself and the thirty other members of the group, I want to thank the THRIVE program for bringing this initiative to us," Amina said.
Amina's story is a testament to the power of community-driven initiatives and the impact that development programs can have on people's lives. The THRIVE consortium's integrated approach to development, which focuses on early recovery and market systems, has helped to create a sustainable solution to the challenges faced by Amina and her community.
As Amina and her savings group continue to thrive, they serve as a beacon of hope for others in their community who are still struggling to rebuild their lives. Amina's story shows that with the right support and resources, anyone can overcome even the most daunting challenges and emerge stronger and more resilient than before.
About the THRIVE Program
Transitioning Households to Recovery from Vulnerability (THRIVE) is a 2-year program funded by USAID to provide context-specific humanitarian assistance with the goal of initiating early recovery in Jere Local Government Area, Borno state.
THRIVE works in four wards Mairi, Mashamari, Dusuman, and Maimusari in Jere Local Government Area (LGA), Borno state to deliver a multi-sectoral, integrated and coordinated response, informed by participants, that leverages experience and best practices to address the multi-faceted needs and aspirations of vulnerable people. Its area-based approach advances participants from lifesaving assistance to life-building support.
THRIVE is implemented as a consortium by the Catholic Relief Services (CRS), Mercy Corps, Women in the New Nigeria (WINN), Salient Humanitarian Organization (SHO) and Justice Development Peace Committee (JDPC).
Stay connected to our work.