Safe drinking water: Catalyst for new business opportunities and improved wellbeing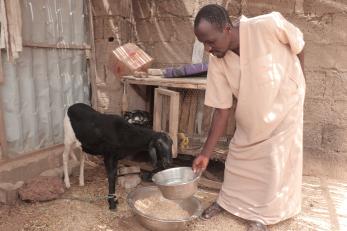 May 03, 2023
37-year-old livestock farmer Umar Babayo, lives with his family in Dikumari community, Damaturu Local Government Area (LGA), Yobe state. Describing his situation before the Small Town Wash intervention, Umar stated that getting water for use around the house was always a challenge.
Umar was burdened by the cost of buying water from vendors who supplied water to households within the community. The vendors who sell from hand pushed carts, would fetch water from the facilities located far from most homes and then sell to residents.
Umar, a small scale farmer was however not always financially buoyant to purchase water from the vendors, as such he and his family would walk the roughly 10-kilometer distance to the oil station where the water facility within the community is situated, to get water. Occasionally, they would also get water from the Yobe State Teaching Hospital (YTH), Damaturu, located in the community, both of which were sited far away from his home.  Narrating the ordeal in Hausa, Umar said, "Life in my community was really difficult without access to water."
"I had to spend 300 naira to buy one truck of water, and this water lasts only a day or two for my entire household. Water from a vendor is usually very expensive and never enough to do all of the household chores."
Relief came when the USAID funded Small Town WASH Activity identified Dikumari community for construction of a water facility. The Activity engaged the community leader and other influencers in the community, to identify suitable sites for the construction of a borehole that will serve the community. The Activity also supported the formation of the Water Consumers Association (WCA) to oversee the operation and maintenance of these facilities.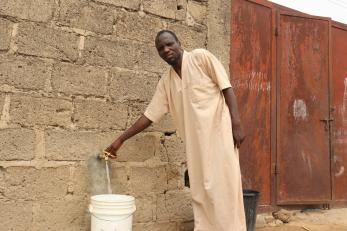 Umar and his family were greatly relieved by the Small Town WASH intervention, as he was able to connect a pipe from the water facility to his house, allowing him to have daily access to water. This saves him time and money, and his livestock are well fed on a daily basis. Even his neighbors come to his house for water when they are unable to go to the standpoint.
With  regular access to water, Umar saw an  opportunity to expand his business of raising livestock for profit. "When I first started out, I only had a small number of livestock, but I always struggled to feed them because of lack of water. I eventually had to walk for two to three hours a day to find water for my livestock because I could not afford to feed them with the water I bought from the water vendor. Since there is now enough water to feed however many sheep I want to raise, I made the decision to go into it full time as a business."
Umar, who is now well-known in his community for raising chickens and sheep, intends to expand his business in the future because he can now afford to care for them.
The community of Dikumari has greatly benefited from this intervention; there is more water available, they no longer need to travel far to get water, and it has also improved the community's general health and well-being.
Expressing his gratitude, Umar said, "I would like to thank USAID for doing such a great thing for our community; this project has enhanced the general health and wellbeing of my family and the people in my community. Because the water is clean, we can drink it without being afraid."
When asked about sustainability, he said that due to the structure established by the WCA, he has no worries or fears about the borehole's sustainability. "I am confident that my community will be able to maintain this borehole for a very long time."