Helping rural women adapt to government's cashless policy through innovation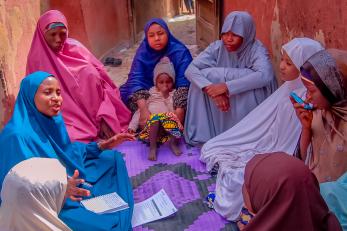 April 14, 2023
In 2021, the Mercy Corps finance unit came up with a policy requiring participants' payments to be made through their bank accounts, for transparency and easy tracking of payments. This policy allowed participants without account numbers to authorize payment to others through the use of an authorization form. Over 70% of women participants used the second alternative to access their stipend.
However, after other participants have received their payments, some women were given a lesser amount by persons authorized. Sometimes they were told that their accounts have not been credited even when other participants had confirmed receipt of payments.
The women complained of a lack of privacy with regard to the use of their money. Some of them were  either short-paid or had their families deciding how these stipends were used. This led to some women in Katsina State going to various banks of their choice to open accounts they were in charge of.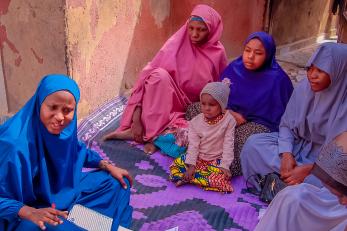 The Community Initiatives to Promote Peace (CIPP) Women's Critical Discussion Group (WCDG) is a listeners' group of diverse, grassroots women that meet weekly to discuss lessons learned from the CIPP radio program in Katsina. The WCDG deepens the ability of women to engage in peacebuilding, conflict mitigation, and preventing violent extremism by strengthening their capacity to discuss conflict issues in a strategic, solutions-focused way. CIPP convenes listener groups in target LGAs (Safana, Gibia, Basari, and Katsina) in Katsina state each year, to discuss the radio program and develop actionable steps towards peace. The WCDG builds the capacity of grassroots women to participate in peacebuilding processes and share experiences at the home and community levels. They are influential women identified through their community leaders, community members, existing members, and sometimes they volunteer to be members of the WCDG. The radio program is facilitated/conducted by CIPP's implementing partner African Radio Drama Association (ARDA)
Aisha Salisu, leader of the Women Critical Discussion Group (WCDG) in Katsina State,  narrating her story said "I am making my own financial decisions now. I enjoy the privacy it gives me. I have small savings from the earnings I earn from doing a home-based business. I sell purified water and zobo drinks, I learned how to use bank shortcodes, and I can trade from the comfort of my home."
On how this has affected her business, she stated, "there is an ease in doing business despite the Federal Government's cashless policy. I buy raw materials from the market and make payments via transfer. Irrespective of the cash shortage, my business did not go under as I encourage my customers to make a transfer whenever they purchase from me."
Another beneficiary, Amina from the Tundun yanlihidda community shares that she is very happy to be a part of Community Initiatives to Promote Peace (CIPP) activities. She said, "I can now safely keep money in my account, and I enjoy the privacy it provides. Although the new cashless policy is tough on communities, I am able to strive. I send and receive money through my personal account without fear of being short-paid."
About the Community Initiatives to Promote Peace program
Mercy Corps is implementing the Community Initiatives to Promote Peace (CIPP), a five-year peacebuilding program funded by the United States Agency for International Development (USAID).
CIPP's aim is to prevent violent conflict in the most at-risk communities across Katsina, Kaduna, Plateau, Kogi, Kano, and Benue states in Nigeria's North-West and Middle Belt regions. CIPP works with community leaders, women, government officials, and state-level actors to improve their ability to peacefully manage disputes. CIPP also works to strengthen Early Warning and Early Response (EWER) mechanisms for timely response to violent conflict and facilitate collaboration among communities with government agencies, civil service organizations, and local leaders to address the root causes of conflict.
CIPP is implemented in partnership with Pastoral Resolve (PARE), Interfaith Mediation Centre (IMC), Savannah Centre for Diplomacy, Democracy and Development (SCDDD), and the African Radio Drama Association (ARDA).
Stay connected to our work.