Program empowers media practitioners to serve as advocates of peace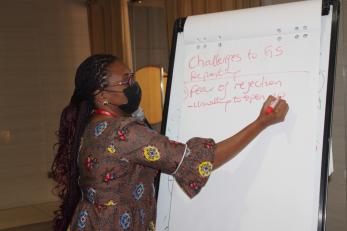 June 24, 2022
The media plays a critical role in promoting peace and mitigating conflicts as it disseminates information to a wide audience and can help influence behavior and opinions on important issues. While the media is a platform where people can freely air their opinions on a wide range of issues, there is the responsibility to ensure that information disseminated is conflict-sensitive. This requires a balance between preventing harm caused by speech and protecting individual expression.
To ensure conflict-sensitive reporting, the Community Initiatives to Promote Peace (CIPP) program builds the capacity of journalists on conflict to equip them to report constructively and avoid escalating existing tensions and conflicts.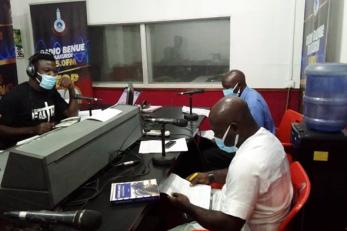 CIPP Engagement with Media
CIPP produces and broadcasts radio programming that focuses on improving the local capacities and skills of the audience to mitigate conflict in their communities and influence behavior change towards peacebuilding. As part of the radio program, CIPP media partner, African Radio Drama Association (ARDA) designs radio program guides for radio presenters to improve their understanding of peacebuilding messaging and provide key talking points on the various topics addressed on the program.
These guides not only serve to build the capacity of the audience, but also increase the knowledge of the radio presenters on peacebuilding and conflict mitigation. Since the inception of the CIPP Activity in 2019, all six radio presenters who anchor the radio programs have been trained and retrained on how to present the radio programs in a way that will Do No Harm.
The radio presenters in turn have consistently shown their commitment to empowering community members with skills that will support their ability to manage conflict and embrace peaceful behaviors. This commitment is displayed within and outside the confines of the CIPP radio programs as evidenced by feedback received from some of the radio presenters who attest to their increased knowledge and capacity to share messages that empower and influence community members to play more active roles in peacebuilding.
In Benue State, Henry Iponle, the radio presenter at Radio Benue, Makurdi, spoke about his experience and the impact of the radio program.
"Hosting the 'My Neighbor My Friend' radio program has improved my knowledge regarding peace and other development issues. During a meeting at my workplace, my supervisor wanted to know about hate speech and fake news, and none of my colleagues could speak confidently about the topic, except me. I saw this as an opportunity to educate my colleagues about hate speech and how it contributes to conflict. I was able to do this because of the resources provided in the discussion guide by ARDA. Recently, some members of the Agbouhul community brought vegetables to the radio station to appreciate us for contributing to peace in their community. They specifically cited the 'My Neighbor My Friend' radio program as a contributor to the decline in conflicts in their community."
Furthermore, in Plateau State, Peace FM radio presenter, Zainab Babaji, joined the ARDA team on a field visit to the Yelwa and Kakuruk Women's Critical Discussion Groups (WCDGs) in Barkin Ladi LGA of Plateau State. A reflection of her commitment and passion towards achieving peace. The members of the WCDGs were excited to receive such a big personality in their community, stating that she inspires them to continue to combat violence and promote peace in their communities.
"The Wake Daya radio program came at the right time when Plateau State is dealing with violent crisis and the people have been yearning for interventions and projects that will impact the people to foster the peace that once existed. While anchoring the program, I hear how happy people are while listening to the program and making their contributions. I thank the organizers of this project, as it has helped us to foster peace in our communities and to love one another. I like the radio drama because it captures every segment of human existence, and every episode has a lesson that people can learn and apply to live peacefully. The radio program has also impacted me, as it taught me some reasons why people engage in conflicts and the different ways that people can peacefully coexist," said Zainab Babaji, OAP, Peace FM, Plateau State.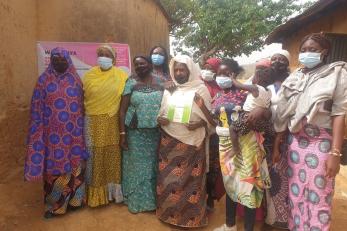 These actions by the OAPs encourage and positively influence others beyond the spheres of their communities. To support the expansion of such actions in other States, ARDA will design and produce a guide for journalists that will serve as a resource that they can draw on as they host the CIPP radio programs and other development programs. The guide will also serve to help media practitioners identify ways in which they can contribute to conflict-sensitive reporting and inform future programming in their states.
About the CIPP radio programs
The CIPP (My Neighbor My Friend and Wake Daya) radio programs, which are broadcast in English and Hausa languages, is aimed at raising awareness and increasing knowledge of peacebuilding in the six CIPP project States. The radio programs feature entertaining and educative radio dramas, interactive live call-in segments with expert guests and listeners, and women's spotlight segments that are focused on amplifying the voices of women on peacebuilding issues.
About CIPP
Mercy Corps is implementing Community Initiatives to Promote Peace (CIPP), a five-year peacebuilding program funded by the United States Agency for International Development (USAID).
CIPP's aim is to prevent violent conflict in the most at-risk communities across Katsina, Kaduna, Plateau, Kogi, Kano, and Benue states in Nigeria's North-West and Middle Belt regions. CIPP works with community leaders, women, government officials, and state-level actors to improve their ability to peacefully manage disputes. CIPP also works to strengthen Early Warning and Early Response (EWER) mechanisms for timely response to violent conflict and facilitate collaboration among communities with government agencies, civil service organizations, and local leaders to address the root causes of conflict.
CIPP is implemented in partnership with Pastoral Resolve (PARE), Interfaith Mediation Centre (IMC), Savannah Centre for Diplomacy, Democracy and Development (SCDDD), and the African Radio Drama Association (ARDA).
Stay connected to our work.