Program builds bridges for peace between conflicting communities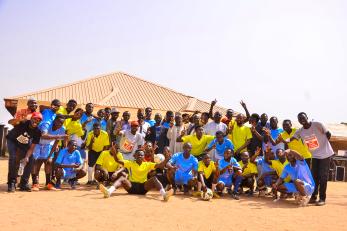 June 27, 2022
The Northwestern State of Kaduna is heterogeneous in nature, with people of diverse religions and ethnicities as residents. This heterogeneity, coupled with the tendency for inter and intra-communal conflicts to adopt religious or ethnic undertones, often exacerbates conflict issues experienced in the state.
Ugwan Yero community in Kaduna North LGA, Kaduna State, has experienced its share of conflict over the years, with violent acts by a member of one religious group given religious colorations by the other. One of such attacks; the St. Rita's Catholic Church, Ugwan Yero, in 2012 by a car bombing with suspected ties to Boko Haram, further deepened the discord between Muslims and Christians in the community.
Over the last two decades, Christians and Muslims who resided in the same vicinity and were neighbors, started to segregate to the point where the axis towards Kwaru/Badarawa became the Muslim dominated part, and Ugwan Yero was the Christian-dominated part of the community. While there is no clear knowledge of the root cause of the conflict in the community, as recently as 2018, Muslims could not visit the Christian denominated areas without being attacked or killed, and vice versa.
According to the Waziri Ugwan Yero/Kwaru, Abbas Gitiri, "we used to cohabitate in the same compound with Christians and Muslims without issues. The conflict gradually caused the segregation of groups in various areas of the community. Christians will want to live around fellow Christians and the same with Muslims. Since CIPP came to our community, they contributed a lot to the peace we are enjoying because they helped to spread awareness of the importance of peaceful coexistence to youths, women, and religious leaders from both groups."
Since the inception of the Mercy Corps Community Initiatives to Promote Peace (CIPP) activity in 2019, community, religious, youth, and women leaders have participated in various CIPP supported interventions including mediation training, dialogues, and conflict prevention forums to support community members to sustain the peaceful coexistence.
According to Godwin Joseph, a Christian youth from Ugwan Yero, "We as youth reached out to our community and religious leaders to try to put an end to the issues. We also thank Mercy Corps and IMC for their commitment to helping our community. I am a participant and I have learned a lot about the early warning and early response mechanisms. We the youth play a critical role to ensure that peace remains between both religions. Before, I never used to go to Kwaru but with the coming of CIPP I now have friends there. We have a WhatsApp platform where we chat, play, and plan our activities. Last Christmas I was amazed; the Muslims came to our church to celebrate with us, and we ate together unlike before."
Community members also commend young people for the work they do to mitigate conflicts and rebuild trust. One of such initiatives was the friendly football match between Muslims and Christians, organized by youths in Ugwan Yero/Kwaru, supported by CIPP. For the first time since the bomb blast in 2012, Muslims and Christians played a match on the grounds of St. Rita's Catholic Church.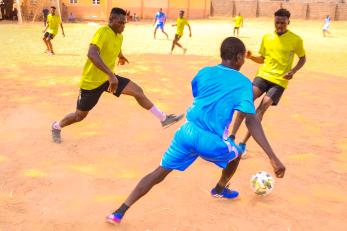 In line with findings from Mercy Corps' research on Religion, Identity, and Conflict in Northern Nigeria published in 2021, religious leaders are both spoilers and custodians of peace. CIPP leverages their capacity to lead conflict mediation initiatives within religious communities by building their capacity for mediation and promoting inter-religious dialogues to support increased religious tolerance and peaceful coexistence in their communities.
About CIPP
Mercy Corps is implementing the Community Initiatives to Promote Peace (CIPP), a five-year peacebuilding program funded by the United States Agency for International Development (USAID).
CIPP's aim is to prevent violent conflict in the most at-risk communities across Katsina, Kaduna, Plateau, Kogi, Kano and Benue states in Nigeria's North-West and Middle Belt regions. CIPP works with community leaders, women, government officials and state-level actors to improve their ability to peacefully manage disputes. CIPP also works to strengthen Early Warning and Early Response (EWER) mechanisms for timely response to violent conflict, and facilitate collaboration among communities with government agencies, civil service organizations, and local leaders to address root causes of conflict.
CIPP is implemented in partnership with Pastoral Resolve (PARE), Interfaith Mediation Center (IMC), Savannah Center for Diplomacy, Democracy and Development (SCDDD), the African Radio Drama Association (ARDA), and Social Justice and Human Development for Peace (JDPC).
Stay connected to our work.