Community Initiatives to Promote Peace program structures support reconciliation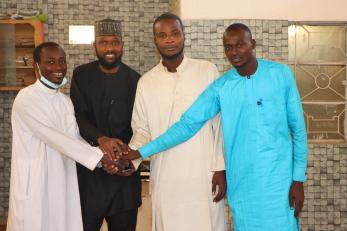 March 22, 2023
"I used to be notorious, always at the forefront of intra conflicts. We have weapons that we use to inflict injuries on our opponents. I always believed that I was fighting for God, but the trainings I attended changed my views. It helped me understand my religion better. I am now friends with those I perceived to be enemies; we now do almost everything together. I now strongly believe people should be allowed to express their beliefs without fear of being attacked." Khalifa, a youth leader of Dharika in Dala community and participant of CIPP supported intra religious dialogues.
In Dala community, Kano state, sits an ancient mosque known as "Masallacin Ali Sabon Kudi" that lies just below the popular Dala hills.
The mosque has been a primary source of conflict as members of various Islamic sects in the community have laid claim to the mosque, claiming ownership based on historical reference. The mosque slowly became a hub for rivalry and a source of conflict between the sects. As tension heightened, each group demarcated its space within the mosque for religious worship.
Often, different groups would deliberately frustrate the worship sessions of other groups in a bid to gain full use of the mosque. This conflict trickled down to the community as residents experienced chaos over quarrels about who would lead the weekly Friday juma'at service. The conflict created enmity between neighbors sparked by tension from poor interpretation of religious text.
For the past 10 years, this conflict over ownership of the mosque led to loss of lives and property with some community members severing the ties of kinship motivated by hatred and lack of understanding of the tenets of Islam. This situation seemed heated until the Community Initiatives to Promote Peace (CIPP) program began intervention in Kano state. CIPP identified Dala community in Dala Local Government Area (LGA) as a conflict hotspot through the CIPP trained mediators.
I am now friends with those I perceived to be enemies; we now do almost everything together.

Khalifa,

CIPP participant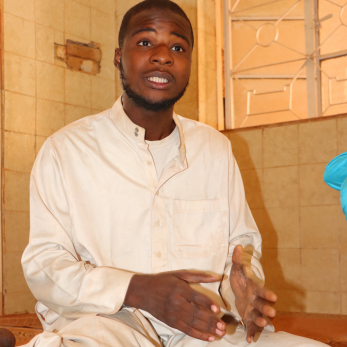 The mediators were trained on Interest Based Negotiation and Mediation (IBNM). During an intra-religious dialogue organized by Interfaith Mediation Center (IMC); trained mediators, religious leaders, and traditional leaders from different CIPP implementing communities in Kano state who were in attendance discussed conflict drivers in different CIPP implementing communities. Dala community was identified as one community with active conflicts. An action plan was then developed to address this issue. Masallacin Ali Sabon Kudi was listed  as a major conflict location in Dala.
As part of the action plan, a committee consisting of the trained mediators, traditional and religious leaders was formed. A stakeholder mapping was also conducted to identify influential leaders in the community such as the Islamic heads and youth leaders, followed by an advocacy visit. Through dialogues and sensitizations, these committees were able to get the conflicting groups to agree on a common ground.
Speaking about the impact of the dialogue sessions, Mallam Sani, a member of a sect called 'the Izala sect' and participant of CIPP-supported intra religious dialogues said, "We started with advocacy visits to gain the acceptance of stakeholders and then we passed on what we had learned to the youth leaders. At first, we were met with resistance, but we slowly earned the trust of the community through our actions. We were also seen praying together in the mosque. This helped us bring lasting peace and ended clashes motivated by intra-religious differences in our community.
Speaking with the relief of one who was finally experiencing peace after a tumultuous phase, Mallam Sani added "the training on Interest Based Negotiation and Mediation (IBNM) helped to consolidate the gains of the intra religious dialogue as we were able to get conflicting groups to agree to remove the barricades in the mosque. Both groups agreed to allow one of the groups lead the five daily prayers while the other group will lead the juma'at prayers on Friday. Similarly, we are using the training on Early Warning Early Response (EWER) to check for any indicators of violent conflict so that we can tackle them before it spreads".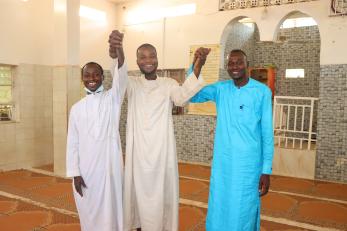 Another Izala faithful who thought violence was the way to resolve issues within the mosque in the past is Anas Mustapha Abdullahi, a youth leader and member of the Izala Islamic sect. Anas has strong convictions about the superiority of his faith which often places him at the forefront of youth-led attacks and fights with other sects who he perceived as enemies.
Recalling his past actions borne out of his convictions he said, "we branded them as 'Kafirs' aka unbelievers.  We were ready to take them out due to their beliefs.  I have sustained various body injuries from clashes with rival intra groups. I have also lost friends to this conflict." Intra clashes popularly tagged "Fatahu bayan dala" are like mini wars because they throw the community into unrest for days.
On how he was introduced to the program, Anas said, " I heard of CIPP through a series of  training sessions by the Chief Imam of the mosque and other religious leaders who attended the intra religious dialogues.
At first, I was hesitant and suspicious. I resisted any move that would bring change, but I slowly responded to their training because it made sense. Quotes from the Quran were used to change my perception and strengthen my knowledge on intra religious relationships."
On the impact of the training on his mind and beliefs, Anas said "I am a changed person and a strong peace advocate among my peers. My fiancee is the daughter of a Dharika Imam in my community. My best friend is also my former enemy, I am responsible for the injury on his forehead. I regret my past actions but I'm glad we are now best of friends."
When asked to advise young people engaged in religious motivated conflicts, Khalifa said, "seek knowledge because it will set you free, avoid blind followership because it will only lead to your destruction, and learn a trade so you can become self-reliant. This is what will guide them and help them stay out of trouble."
About CIPP
Mercy Corps is implementing the Community Initiatives to Promote Peace (CIPP), a five-year peacebuilding program funded by United States Agency for International Development (USAID). CIPP's aim is to prevent violent conflict in the most at-risk communities across Katsina, Kaduna, Plateau, Kogi, Kano and Benue states in Nigeria's North-West and Middle Belt regions. CIPP works with community leaders, women, government officials and state-level actors to improve their ability to peacefully manage disputes. CIPP also works to strengthen Early Warning and Early Response (EWER) mechanisms for timely response to violent conflict, and facilitate collaboration among communities with government agencies, civil service organizations and local leaders to address root causes of conflict.
CIPP is implemented in partnership with Pastoral Resolve (PARE), Interfaith Mediation Centre (IMC), Savannah Centre for Diplomacy, Democracy and Development (SCDDD), and the African Radio Drama Association (ARDA).
Stay connected to our work.