Women's Critical Discussion Group peace leader sparking change in Kogi State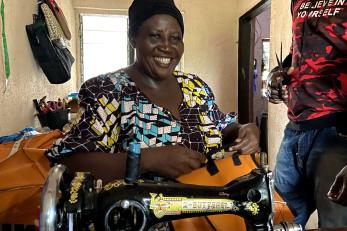 November 18, 2021
A natural born storyteller with a presence that commands respect, 53-year-old Felicia Ilujunka, fondly called 'big mummy' or 'lady evangelist', has become a force to be reckoned with in her community. She is the leader of the Oworo community Women's Critical Discussion Group (WCDG) of Lokoja Local Government, and secretary of the Lokoja Local Government Area (LGA) Women's Peacebuilding Council (WPC).
The CIPP team visited Felicia in her home in Oworo community, Lokoja and as she worked away on her sewing machine, we were treated to an immediate regaling of a conflict situation in which she had recently intervened. A group of youths had gathered around a popular bus stop in Oworo, up in arms about a young Igala man from Oworo who had recently been stabbed by a cultist from a different tribe (Ebira) over an argument about the Ebira youth wearing the clothes that the Igala youth had given to a young male tailor. Upon hearing the news of the stabbing, youth from Oworo gathered at the bus stop, demanding the eviction of all Ebira (non-indigene) people from Oworo. This is just one example of how disputes can take on ethnic undertones, an issue that is all too common in Kogi state. Felicia was able to mediate a dialogue between the parents of the youths and have the case withdrawn from the police station. The case was settled, and treatment costs were shared between the parents of the perpetrator and the tailor.
Describing herself before becoming a CIPP participant, Felicia says "old me doesn't tolerate nonsense, I don't believe in peace, my own is fire for fire but with CIPP, I have seen a great change. I also spoke to my fellow women on the need to start with ourselves before preaching peace to others." Felicia was also a teacher for 35 years, a woman leader and spokesperson.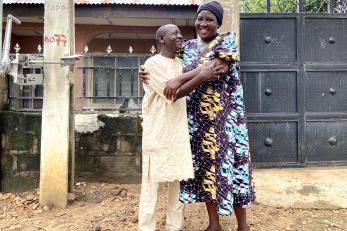 Her approach to conflict resolution
Felicia, who also participated in CIPP supported Mediation and Parenting for Peace activities, spoke about how she is able to approach courts and police stations to request that cases be handed over to her. She said that "there was a case that I stumbled upon in court when managing another dispute in the community. This case was between a Yoruba landlord and an Ebira tenant. Upon hearing about the case, which was already in court, I spoke to the magistrate and showed my CIPP badge, explaining that I'm a member of Community Initiatives to Promote Peace and that they should release the case to me so I can dialogue with both parties". After explaining to the judge, she signed the case out of court and was able to help both parties reach a settlement.
WCDG takes ownership of local initiatives
As a member of the WCDG and WPC, Felicia and members of her group have participated in many self-funded advocacy visits to neighboring communities, helping in setting up community groups like the WCDG in Crusher, Bakumba, and Felele communities in Lokoja. As a group, they channel their transportation stipends into a contributory fund that they use to support members in need. "Majority of our women are into catering, if we can have a commercial oven to help women produce bread which is consumed in every home, it will go a long way." Said Felicia.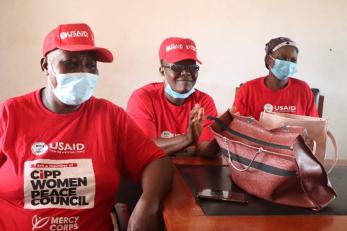 Felicia shared many other similar stories of how she has been able to mediate disputes in her community. She is proof that armed with the right skills and support, anyone especially women can play critical roles in community peacebuilding processes.
CIPP works to elevate women's unique roles to prevent and mitigate conflict, including violent extremism through the integration of women leaders into community-based and state-level peace structures, capacity development and support for women-led peacebuilding initiatives, and enhancing women's networks to build a movement for strategic conflict prevention and response. CIPP achieves this through:
Women's Critical Discussion Groups: a listeners' group that meets weekly to discuss the radio magazine program to deepen the ability of women to engage in peacebuilding, conflict mitigation, and preventing violent extremism by strengthening their capacity to discuss conflict issues in a strategic, solution-focused way. We convene listeners' groups in 24 target LGAs in each year of the program to discuss the radio magazine program and develop actionable steps towards peace.
Women's Peacebuilding Councils: CIPP has established 24 women's Peacebuilding Councils comprising 360 women leaders in target LGAs, to provide a forum for women to identify conflict prevention and mitigation needs and strategies in a supportive environment. The councils serve as a brain trust to inform community actions and women-led initiatives. Council representatives also sit on community-based peace structures to ensure women's perspectives are included in decision-making and planning.
About CIPP
Mercy Corps is implementing the Community Initiatives to Promote Peace (CIPP), a five-year peacebuilding program funded by the United States Agency for International Development (USAID).
CIPP's aim is to prevent violent conflict in the most at-risk communities across Katsina, Kaduna, Plateau, Kogi, Kano and Benue states in Nigeria's North-West and Middle Belt regions. CIPP works with community leaders, women, government officials and state-level actors to improve their ability to peacefully manage disputes. CIPP also works to strengthen Early Warning and Early Response (EWER) mechanisms for timely response to violent conflict, and facilitate collaboration among communities with government agencies, civil service organizations and local leaders to address root causes of conflict.
CIPP is implemented in partnership with Pastoral Resolve (PARE), Interfaith Mediation Centre (IMC), Savannah Centre for Diplomacy, Democracy and Development (SCDDD), and the African Radio Drama Association (ARDA).
Stay connected to our work.