Creating opportunities for poultry business in Mubi, Northeast Nigeria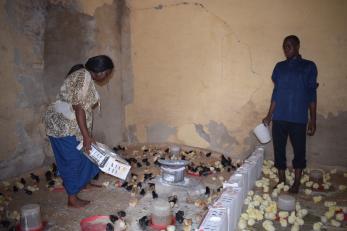 August 12, 2022
Banakis Sule is a mother of six, and one of the pioneers in the poultry feeds and inputs business in Mubi, a town in Adamawa State, Northeast Nigeria. Mubi is known for its commercial activities because it lies on the border between Nigeria and the Republic of Cameroon. According to Banakis, around 2007, the residents would rather invest in fishing, farming, and cattle herding than poultry business, due to the low awareness and the enormous challenges with the business. However, as awareness increased about the commercial viability of poultry farming, the town of Mubi experienced a rise in the number of poultry farmers. Thus, distributors like Banakis had new challenges to deal with – a high demand for feeds.
The poultry business also suffered a setback when Mubi was invaded by insurgents. In October 2014, the insurgents attacked the town, forcing thousands of residents to flee to safety. Banakis, like most business owners, experienced huge losses following the 2014 attack.
"When the insurgents attacked and invaded Mubi in October 2014, we ran for our lives. They came to the shop and carted away my goods, mostly eggs. A day before the attack, 480 crates of eggs were offloaded in the shop, and I was only able to sell about 80 crates that day. So, when they came they took everything away. Likewise in my house, they slaughtered all the chickens. I did not come back to Mubi until the following year."
Our major challenge now (post insurgence) is the transportation of the day-old chicks from Jos, especially during the hot season. Sometimes you order 5000 chicks, but you lose 2,000 chicks along the way, sometimes 500 chicks die, sometimes 50, 20, and then sometimes none."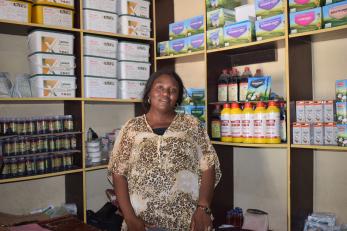 Rural Resilience Activity's business opportunity workshop
In February 2022, Banakis attended the livestock business opportunity workshop, organized by the USAID funded Feed the Future Nigeria Rural Resilience Activity in Yola, Adamawa State. The meeting was aimed at strategically addressing systemic challenges responsible for underperformance in the livestock sector, and fostering an inclusive, competitive, and resilient market. One of the private sector market actors invited was Amo Farms, an implementing partner of Mercy Corps on the Poultry Development for Resettlement (PDR) project, which transformed poultry livelihoods through the introduction of affordable, hybrid chickens in Nigeria's Borno State between 2017 and 2020.
Amo Farms introduced Banakis and other participants at the workshop to Noiler hybrid day-old chicks and provided advisory on poultry management. Following the training, Banakis bought Amo Farms' Noiler chicks at a cheaper rate than she would normally buy from the open market.
Recently, Banakis was trained on business management alongside Community Animal Health Workers (CAHW) in Yola to improve her skills in disease identification and business management while identifying viable service offerings based on the market potential of Adamawa State.
Savings and efficiency as a result of business to business linkage
The linkage with Amo Foods saved Banakis N100 on every chick bought, and guaranteed the supply of quality agro-inputs, reducing production losses for Banakis and her customers. According to her the N100 price difference has saved her over N4 million and guaranteed a better return on investment in the long run.
"Initially I bought a box containing 50 chicks for NGN22,500 at the rate of NGN450 per chick from a distributor. Then I sell the box at NGN25,000 because I include the transportation costs I pay for delivery to Mubi. But now I buy a box from Amo Farms at the rate of NGN17500 which is N350 per chick. I sell the box for NGN20,000. From then till now, I have bought about 40,000 chicks."
Banakis is working on her plan to start formulating poultry feeds locally to further increase her income.
Stay connected to our work.