Farmers' Field School: Government official improving livelihoods of women farmers
November 30, 2021
Hajia Fatima Isa – A resilience champion
Hajia Fatima Isa is the Zonal Coordinator for Southern Borno, Ministry of Women Affairs and Social Development, Borno State. She was a victim of Boko Haram displacement in Bama, Borno State in 2014, which was seven years ago when she left Bama LGA without a penny besides the dress she was wearing. As a wife of a veterinary doctor in Bama, she invested in poultry production and cattle rearing, as well as sales of fabrics and sales of foodstuff, which earned her approximately 28 million Naira annually. The proceeds from her poultry and livestock ventures, coupled with her salary from the state government, were used by her family to buy a house in Maiduguri, the state capital of Borno.
However, during one of the several attacks on Bama in 2014, Hajia Fatima and her family left their means of livelihood in search of a safe haven in Biu. It was in Biu that she learned to farm and empower women, some of whom have suffered the same fate as her.
"During the insurgency, I had 6,000 chicks which were about four weeks old, when Boko Haram came, I didn't take anything. I just ran for my dear life. From there the money went down. We left our cows and sheep because we were running for our lives. Boko Haram burnt everything. From there we didn't have enough capital to start another business. That is why I involved myself in farming. I learned how to farm when I came to Biu," said Hajia Fatima Isa.
The challenges faced by female farmers in Biu
Female farmers in Biu face a common challenge – a lack of capital to buy improved seeds and fertilizers to improve the fertility of the rocky farmlands. Biu lies on the Biu Plateau at an average elevation of 626 meters and is semi-arid in nature. The economy is mixed - agricultural, based on cattle, goats, and sheep rearing, as well as the farming of sorghum, millet, maize, cowpea, and cotton.
Hajia Fatima is of course one of the fortunate farmers, even as a displaced person, because unlike other women farmers in Biu, she is an employee of the state government and she has the support of her husband and son, who have resorted to farming too. Her resilient nature and commitment to rise again became her motivation to empower other women who have passed through her situation.
Hajia Fatima established two Farmers' Field Schools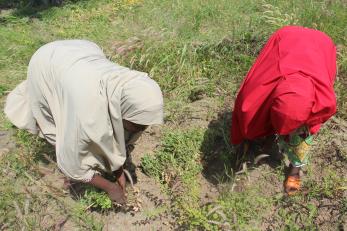 On invitation to understand the concept of the Farmers' Field School by the Feed the Future Nigeria Rural Resilience Activity, Hajia Fatima defied all odds to establish two Farmers' Field Schools comprising 30 participants each.
The government official turned Farmers' Field School facilitator said, "I went for Farmers' Field School training. After the training, they said the government is not involved, that we were there as government officials to see what the training was all about. So from there, I developed an interest because I work with women, and most of the women who farm here are farming below the quality we were taught at the Farmers' Field School training."
"So I wanted to do a step-down in my community and to ensure that your program is sustainable after the end of the Rural Resilience Activity. So I suggested that if this Farmers' Field School is going to be sustainable, I should involve myself so that my people can know I am serious, and they can be serious, and I selected the serious people that will still do the program even when the Activity ends."
"Then I stepped down to the Farmers' Field School in Filin Jirgi, where after sensitizing the women, about 96 women were interested in joining the Farmers' Field Schools. From there, since they usually come and learn from my fattening at home, as a government official, I said okay, this is the opportunity to take the new system to those that are interested."
Hajia Fatima has now set up a female farmers' cooperative group for 90 women. She became a Farmers' Field School facilitator, who has given free one-and-a-half hectares of farmland to the group for farming, she also gave them free groundnut seeds to plant and sold rams to them at lower prices for them to fatten and make a profit to buy small goats. Hajia Fatima also supported her group with N6,000 credit to feed the animals.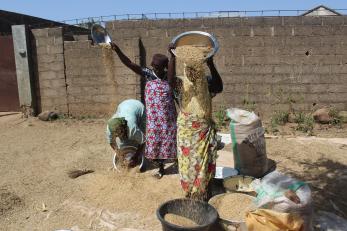 According to her: "We are 60 in number. We divided the group into two: first, we have Amana Farmers' Field School which means they should keep the promise that I gave them. The other group is named Zumunchi and was supported because they cooperated during the sensitization. So that even when the Activity has finished, we will still cooperate to do what you people are doing. We are 90 in the group, but I selected people that know the value of agriculture for the Farmers' Field School. I divided the group into two: 30 for fattening and 30 for farming."
"We plant the groundnuts intentionally because we use its waste to feed the animals. We divide the groundnut into three, we sell one part to the women producing local groundnut cakes at a lower price, and sell the groundnut oil in the market at a lower price so that the community can see the impact of what we are doing. One part of the remaining two is used as seeds for planting next year and the remaining part will be sold to increase the animals that are keeping."
Business expansion by individuals and as a group
Hajia Fatima's group also benefited from the USAID funded US$15million COVID‑19 Response Mitigation program being implemented by the Feed the Future Nigeria Rural Resilience Activity to bring succor to the smallholder farmers and micro, small and medium enterprises (MSMEs) whose livelihoods have been affected by the secondary impacts of the pandemic. These monies have been used by the beneficiaries to improve their small businesses and to support the group to grow. The group members are contributing 40 percent of the cash received through the COVID‑19 Mitigation Response to purchase a 600,000 Naira groundnut processing machine and farm products which they will store and sell when the market prices of the products increase.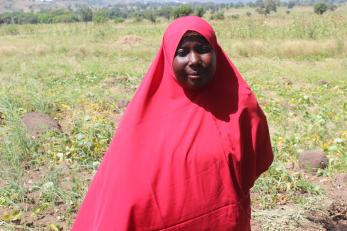 One of the participants who has expanded her small agribusiness with the COVID‑19 cash transfer is Fatima Lawal, a resident of Filin Jirgi community in Biu, who became a widow on October 10, 2019, having been a housewife before the death of her husband. Fatima Lawal was trained on life skills and gender empowerment training through the Farmers' Field School set up by Hajia Fatima Isa. Fatima Lawal has now increased her poultry birds by an additional 100 chicks to the usual 10 - 20 chicks, thanks to the support she received from the Rural Resilience Activity.
"Do you see the money that you gave us now, we divided the money into two to help ourselves. We bought foodstuff that we keep so that we can sell when the price increases and do something with it. The one that belongs to us, I used it to buy 100 broilers (chicks) in the house. I feed and sell them when they grow to feed my children and send them to school. I also registered my children in school with the money you gave me," said the Farmers Field School participants.
The group has the ambition to increase its farm size and range of farm products. Plans are also underway to acquire an additional two hectares of land for dry season farming. The team also plans to use improved seedlings for future planting.
Stay connected to our work.