Multipurpose cash assistance: A path for reviving sustenance for displaced families in Borno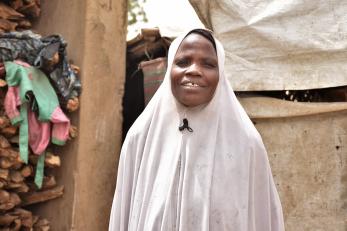 May 13, 2022
For many small business owners within Internal Displaced people's (IDP) camps, the income from their business is committed wholly to feeding. This is the case with Bintu Modu.
Bintu sold firewood and sachet water before she relocated from her town due to the crisis in the region. Finding herself and her eight children in dire need of a means to live, she started stocking up dry wood from trees nearby with the hope of selling them to make a living.
"I didn't have any way of making money, my husband and I tried all we could to feed our eight children, but we couldn't send them back to school," she narrates.
Mercy Corps through the USAID funded ADAPT program selected Bintu to benefit from the multipurpose cash assistance. She was given NGN45,000 to cover her essential needs.
"I divided the money I got into 3 parts. I committed a third of it to buying materials and tools to start up a cap weaving business, I used the other part to buy uniforms for my children. What was left, we committed to buying foodstuffs for the house," she added.
According to Bintu, the multipurpose cash assistance program gave her another opportunity to restart her life in a new territory.
Providing cash to meet needs in desperate times
Yagana Fanna Bukar used to be a very successful businesswoman. She had a very comfortable life with her family of 5, but everything came to a stop when her town, Gulumba was raided, and she had to flee.
Finding herself in an IDP camp with no viable source of income, she decided to leverage the heavy population of children in the camp by starting up a new business, selling children's clothes. However, that business faced a different kind of challenge when her family was relocated to another camp in a different town.
At this point, her husband became paralyzed by a strange illness which was later diagnosed to be stroke. They spent all they had saved on his treatment but to no avail.
After a mapping exercise, the USAID funded ADAPT program of Mercy Corps selected Yagana and her household as participants of the Multipurpose Cash Assistance (MPCA).
"I have had a tough life, so you can imagine the joy I felt when I got the money from Mercy Corps. At least someone deems me worthy to be assisted. The money came at the exact time when I had run out of my savings and options to finance my needs," she said soberly.
She used the cash she got to get food for the family and medicine for her husband. She equally got some tools that she intends to use in setting up a firewood business.
Participant gets MPCA as a lifeline
52 years old Mohammed Bukar fled his hometown, Gulumba, when the insurgency in the region was inching closer to the town. He fled to Maiduguri, with his two wives and thirteen children.
After a very unpleasant experience at the IDP camp in Maiduguri, He was relocated to another camp in Bama. With no viable source of income, Mohammed joined a group of former farmers and started collecting firewood from the forest to sell across the host communities. But that venture quickly came to a stop when non-state armed groups took over the access road to the forest, cutting many from the only source of survival they have come to know.
Mohammed and his large household spent days living off handouts. According to him, on a good day, they gather about a dollar (N500) in cash or material gifts which they use to buy whatever staple food they can buy. On other days, they go to bed on empty stomachs. He had lived this way for over four months.
When the ADAPT program selected Mohammed to receive the Multipurpose Cash Assistance (MPCA), he was not sure about what to expect as he has been selected on several occasions by other partners without receiving anything.
"When I was chosen, I reluctantly registered and collected the card (e-Voucher), I had no expectations. But Mercy Corps surprised me and gave me money," he said.
Prior to receiving the cash assistance, Mohammed had planned on stockpiling seasonal foods. With the money he got, he was able to feed his family and invested the rest into his future business.
"I bought food with the money, it was a lifeline, I was hungry on that day and when I got the money, I bought food for myself and my family. We have been able to eat well ever since. I am also looking to start a little food sales business with what I saved," Mohammed tells us.
MPCA helped me start up my own business
Adam Abba hails from Walasa community in Borno state, in northeastern Nigeria. He was displaced from his hometown during a conflict. Upon arrival at the IDP camp, he had no means of livelihood. With a baby on the way and four orphaned relatives to cater to, his life got more complicated when he was relocated to another camp.
Adam struggled to make ends meet. His wife had to start menial jobs around the host communities to support the family.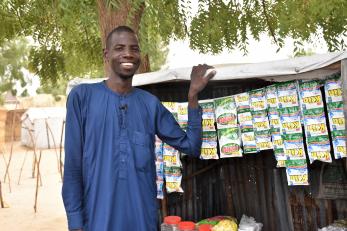 "I didn't have any means of making the money that my household needed to stay alive, so my wife started helping people with their house chores for a token. We lived off whatever she got until Mercy Corps came to my aid," Adam shared.
Adam was selected to join the participants for the multipurpose cash assistance by the ADAPT program, where he got NGN45,000. He invested the money in setting up a little grocery store within the camp.
"I was desperate when I got the money, but my wife and I had a long talk on what to do with it. We decided to use the money in setting up a shop. Our major concern was what percent to use for food and what to commit to the new business" he said.
They found a way around it and used the larger part as capital for the new business. Adam now runs one of the three grocery stalls in his camp. With the profit from the business, he is able to care for his wife and the entire household.
About the ADAPT Program
Addressing Diverse and Acute Primary Threats (ADAPT) To Human Security in Northeastern Nigeria is funded by USAID's Bureau for Humanitarian Assistance (BHA) with the goal to save lives and prevent human suffering among displaced, returnees, and host households in Borno State. The goal aligns with BHA's principal mission statement to "save lives, alleviate human suffering, and reduce the physical, social, and economic impact of rapid and slow-onset disasters". The scope of the program supports the Humanitarian Response strategy for Nigeria 2019 – 2021 to achieve these key strategic objectives through a multi-sectoral humanitarian response.
Stay connected to our work.