Multi-ethnic community in Kano overcomes bias to promote peace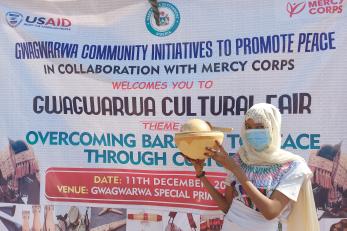 October 06, 2022
Gwargwarwa community can be described as a microcosm of the multiethnic and religiously diverse Nigeria. A community in Nasarawa LGA of Kano State with over 35 different ethnic groups, some community members even claim that every ethnic group in Nigeria is represented in Gwagwarwa. The multi-ethnic nature of the community means that conflicts – particularly those with ethno-religious undertones – that arise across the country can negatively impact peace in Gwagwarwa.
While there have been no reported cases of violent conflict in the community over the last few years, there was a prevalence of mistrust and ethnic bias which hindered interactions across ethnic and religious lines.
Identifying the potential for this lack of trust and cohesion to escalate at the slightest provocation, CIPP collaborated with community leaders and a community association known as "Gwagwarwa Community Initiatives to Promote Peace - (GwaCIPP)" to hold the "Gwagwarwa Cultural Fair" in December 2021. The fair allowed the people to appreciate the cultures, traditions, food, fashion, music, dance, and language of all ethnic groups represented.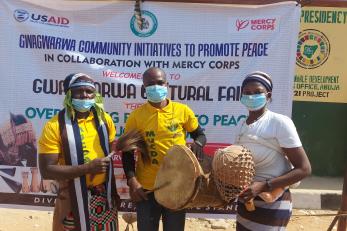 In addition to the cultural appreciation, participants listened to a keynote in line with the theme of the event: Overcoming barriers to Peace through Culture. The keynote highlighted how the negative exploitation of culture and religion has caused division in the community. Participants were encouraged to address these divisions and stereotypes by routinely organizing similar activities such as this, to break all forms of cultural barriers and create room for acceptance.
During a visit to the community by Mercy Corps in June 2022, community members happily recall events of the fair and how it has broken down walls of division and segregation they once encountered.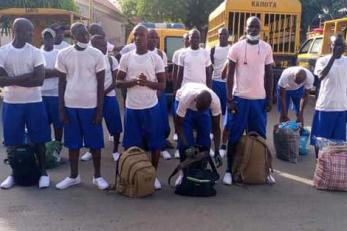 Changes seen in Gwagwarwa
According to Abdulrasheed Mukaila, a young community member from the Yoruba ethnic group, "Thanks to the fair, I made a friend from the Hausa community and now we play ball together, eat together, even wear our clothes. Prior to the fair, we just used to walk past each other."
Mohammed Nurudeen, a community leader said, "Before the fair we had barriers in culture and even in social activities. The fair and GwaCIPP have changed things. People used to think that only Hausa and Fulani members would be invited. The fair was the first time other ethnic groups participated in such an activity. Now, when community members hold activities, they extend invitations to other tribes, through GwaCIPP. This has brought unity to the community." Mohammed further added that since the fair, community members from other tribes are now open to joining community committees and some have been bestowed with traditional titles, which was not the case in the past.
According to Isah Mohammed, the Chairman of GwaCIPP, a trained CPO and mediator, "Mercy Corps played a vital role in teaching us how to live peacefully in our community. After the activity, whenever I pass by the home of other tribes, now we stop to talk and chat unlike before. Now I know how to dance Igbo cultural dance because of the fair."
Faith, a Christian community member from Edo state said, "the fair really exposed me to different tribes and we're friendly with each other. I'm relaxed, there is trust and I don't have any issues, we are united."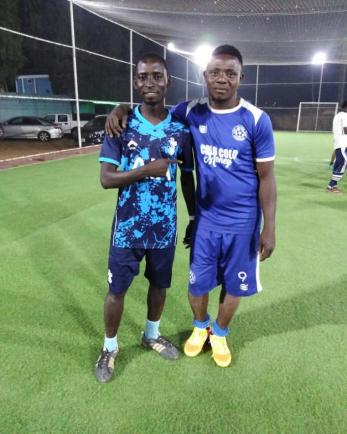 Other activities of GwaCIPP
Members of GwaCIPP are regarded as peace ambassadors in Gwagwarwa. Led by Isah Mohammed, the group has conducted advocacy visits to gain support from community leaders and security structures for early responses to early warning signals. GwaCIPP also mediates disputes in the community, they recently mediated a rift between two families who had not spoken in 10 years. They attribute the mediation skills to the CIPP-supported mediation training conducted by Mercy Corps.
According to Isah, "we also supported the youths in the community to gain employment, as unemployment has been linked to youth restiveness. We were able to get them jobs with the Kano State Road Transport Agency (KAROTA)."
GwaCIPP has also conducted early warning interventions to maintain peace. Following the explosion that occurred in Sabon Gari in May 2022 suspected to be a bomb blast, there was agitation among Christian youths who wanted to retaliate. GwaCIPP was able to collaborate with security agencies to set up a blockade at the border to Sabon Gari to prevent the youths from launching an attack.
In the near future, GwaCIPP hopes to conduct sensitizations for youths around electoral violence having stated that Gwagwarwa is one of the most dangerous locations in Kano State during elections.
About the CIPP
Mercy Corps is implementing the Community Initiatives to Promote Peace (CIPP), a five-year peacebuilding program funded by the United States Agency for International Development (USAID).
CIPP's aim is to prevent violent conflict in the most at-risk communities across Katsina, Kaduna, Plateau, Kogi, Kano and Benue states in Nigeria's North-West and Middle Belt regions. CIPP works with community leaders, women, government officials and state-level actors to improve their ability to peacefully manage disputes. CIPP also works to strengthen Early Warning and Early Response (EWER) mechanisms for timely response to violent conflict, and facilitate collaboration among communities with government agencies, civil service organizations and local leaders to address root causes of conflict.
CIPP is implemented in partnership with Pastoral Resolve (PARE), Interfaith Mediation Centre (IMC), Savannah Centre for Diplomacy, Democracy and Development (SCDDD), and the African Radio Drama Association (ARDA).
Stay connected to our work.