ADAPT II project awakens market opportunities and food security for Bama community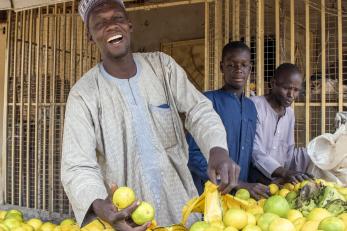 March 23, 2023
As of September 2014, Bama, the second largest town in Borno state and capital of Bama Local Government area, was completely under the control of non-state armed groups (NSAGs). Most residents fled the violence and continued their lives either as Internally Displaced Persons (IDPs) in Maiduguri or refugees in the bordering nation, Cameroon. The over a decade long insurgency has permanently altered the realities of Bama residents, as it has for millions of people in northeast Nigeria and has plunged them into unimaginable suffering.
In March 2015, the Nigerian military reclaimed control of Bama. This resulted in the establishment of new IDP camps for those fleeing NSAG attacks in the smaller villages. The military established and guarded a 5-kilometer perimeter, and people were asked not to go beyond it. Assured of safety by this protective guard put up by the military, people moved into Bama gradually and steadily, and with the closure of IDP camps in Maiduguri, hundreds of thousands returned.
Despite this return by residents,  life in Bama is far from what it used to be. Houses had been destroyed, the economy crippled, and because farms were inaccessible, hunger and malnutrition became the norm. "We don't have access to farms, and the roads connecting us to other towns are closed; this has severely hampered economic activity in Bama," Babagana Alhaji, a dry food vendor, explained.
According to Babagana Ibrahim, a fresh food vendor who shared his experience, "When we returned, Bama felt like a new town; nothing worked; there were people in the town, but no money. Sometimes I go an entire day without selling anything."
As a follow-up to the ADAPT I program, Mercy Corps is implementing the USAID-funded Addressing Acute and Primary Threats (ADAPT II) program in Bama. The ADAPT II program aims to save lives and prevent human suffering among displaced, returnees, and host households in six local government areas (LGAs) of Borno state: Bama, Damboa, Dikwa, Gwoza, Monguno, and Ngala. Employing an integrated approach, the program has interventions in agriculture, food assistance, nutrition, MPCA, shelter and resettlement, protection, and WASH.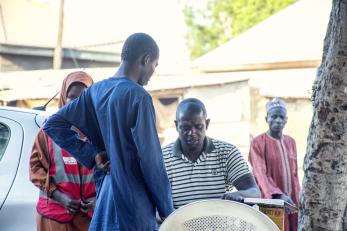 Mercy Corps' new Pathway to Possibilities global strategy commits that programs should be locally led to promote sustainability. In line with that, the ADAPT II program resorted to patronizing vendors in program locations rather than having established vendors from outside the locations make supplies, especially in the Food Assistance and Nutrition thematic areas. Sensing a gap in capacity and business prowess, vendors within Bama were profiled, trained on business management and how to source funds for business expansion, and then contracted as vendors for the food assistance and nutrition programs.
This proved to be a breath of fresh air for Bama's businesses and economy. While the primary goal of the program is to address the needs of the most vulnerable, the team's initiative to patronize local vendors has yielded results they never imagined, as exemplified in Babagana Ibrahim's testimony. "For the first supply, I borrowed money to start, but the case is different now. I now have two shops, I have been able to get a car for my business, and I have built a house from this business."
"I don't stay idle anymore; after distribution, I check what we need in the community and supply before the next food redemption comes around." An excited Babagan Alhaji also said "Monthly, I now make more than double the profits I usually make."
Even non-vendors have in some ways benefited from this locally led approach. Like Ali Mustapha, a non-Mercy Corps vendor, said, "sometimes, the vendors patronize me when they run out of stock; that also, in a way, injects more money into my business because they usually buy in bulk. The food market in Bama is in a much better place now."
Ripple effect on other small businesses
While vendors have inarguably benefited from the program, the food intervention benefits have also trickled down to service providers, especially people with grinding businesses. While speaking with Mercy Corps, Abba Umar, a grinder with over 20 years' experience, said, "Sometimes, I don't have anyone to patronize me for the whole month until food redemption takes place. When food comes, I work; when it doesn't, I stay idle. The ten days after food redemption are my favorite time of the month."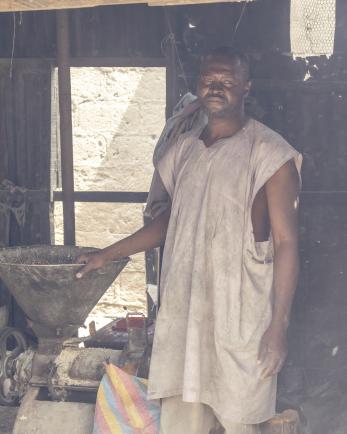 Another grinder, Babagana Kasim Maisaje, also said, "Whenever Mercy Corps distributes food, we witness a boom in demand; my business is actually alive because of the food distribution. Two to three weeks after distribution, sometimes we don't have customers all day."
There is no doubt that the money pumped into these businesses has helped to contribute to reviving the economy of Bama LGA. This has benefited several other people in the community, as many of these vendors reinvest their profits in Bama. Many started new businesses, lowering the unemployment rate. This was succinctly stated in Ba'ana Yaye Mustapha's testimony. "With the proceeds from my work with Mercy Corps, I was able to open an IT shop for my younger ones," he explained.
These vendors' stories demonstrate that when creative methods of implementation are explored, programs have the potential to achieve far more than the grant's projected impact. Programs have the potential to benefit not only primary but also secondary and tertiary beneficiaries. When these options are explored, program successes become sustainable, creating a pathway to endless possibilities.
About the ADAPT II program
The goal of the ADAPT II program is to save lives and prevent human suffering among displaced, returnee, and host households in Borno State. The Goal aligns with BHA's overarching mission statement to "save lives, alleviate human suffering, and reduce the physical, social, and economic impact of rapid and slow-onset disasters." The scope of the program is also in alignment with the 2021 humanitarian response plan's strategic objectives: to "improve IDP camp conditions and services, alleviate acute food insecurity and related severe vulnerabilities, strengthen self-reliant livelihoods for IDPs, control and prevent communicable disease outbreaks, and achieve alternative and durable solutions as opportunities allow."
Stay connected to our work.