Leveraging livelihood interventions to support women's peacebuilding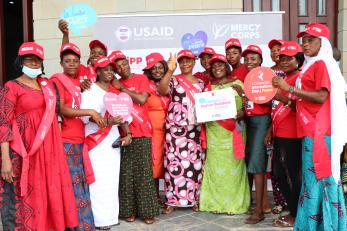 June 22, 2022
The violent conflict that occurred in Agatu LGA, Benue State in 2016, that led to the displacement of over 7,000, left many families vulnerable and unable to provide for themselves as many of their farmlands and sources of livelihood were destroyed during the crisis. Agatu LGA is home to Obagaji community where a Women's Critical Discussion Group (WCDG) was formed at the inception of the Community Initiatives to Promote Peace (CIPP) program in September 2019.
The introduction of the CIPP project and the WCDG meetings in the community helped deepen the engagement of women in peacebuilding. Members of the Obagaji WCDG began to show improved knowledge in peacebuilding and conflict mitigation. This newfound knowledge empowered them to begin sensitizing their family members and neighbors about peace which later evolved into the women taking ownership of other peacebuilding initiatives in their community by engaging and educating other community members on how to utilize the peacebuilding lessons they had learnt from their weekly discussion meetings.
The implementation of small doable actions embedded in their discussion group guide and the self-facilitation of peace events contributed to their increased capacity to contribute to peacebuilding in their community.
During a monitoring visit conducted by the CIPP team led by ARDA in March 2021, the Obagaji women discussed ways they can sustain peace initiatives through economic empowerment. Rice farming is one of the major sources of livelihood in Obagaji but processing can be difficult as the women sometimes have to travel two hours away to Otukpo to use the rice milling machine. The women mentioned the need for a rice milling machine in their community to economically empower them and other women.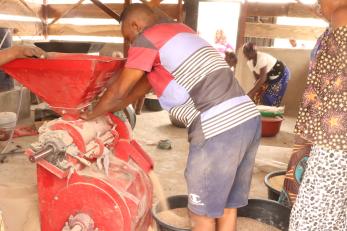 According to Praise O. Baba, the Group Leader of the Obagaji WCDG, "It is very hard for some of us to feed our families because we do not have any business that can help us make money, so how then do we put money together to hold a peace event?"
To support the empowerment of the women, ARDA was able to identify an opportunity for the women to receive livelihood support through a 30,000CAD (23,494USD) grant from the Canada Funds for Local Initiatives (CFLI). CFLI is aimed at recognizing and amplifying the peace efforts of grassroots women. In February 2022, the women received a rice milling machine including a destoner, which separates the rice from stones.
Additionally, through the grant, the women received financial literacy training which encouraged them to set up a joint bank account to ensure accountability and monitor their financial progress as a group.
As a result of the empowerment, the Obagaji women have been able to champion their community peacebuilding processes and have started generating income from the rice milling machine, recording as high as NGN8,000 (20USD) a day. Since then, they have reached over 200 community members with peacebuilding messages through their self-facilitated community peace events, while providing advisory support to other new groups created under the project. These initiatives show increased local capacity and skills of the women to mitigate conflict and promote peace.
About CIPP Women Critical Discussion Groups
CIPP works to elevate women's unique roles to prevent and mitigate conflict, including violent extremism through the integration of women leaders into community-based and state-level peace structures, capacity development and support for women-led peacebuilding initiatives, and enhancing women's networks to build a movement for strategic conflict prevention and response. The Women's Critical Discussion Group is a listeners' group that meets weekly to discuss the radio magazine program to deepen the ability of women to engage in peacebuilding, conflict mitigation, and preventing violent extremism by strengthening their capacity to discuss conflict issues in a strategic, solutions-focused way. We convene listeners' groups in 24 target LGAs in each year of the program to discuss the radio magazine program and develop actionable steps towards peace.
About CIPP
Mercy Corps is implementing the Community Initiatives to Promote Peace (CIPP), a five-year peacebuilding program funded by the United States Agency for International Development (USAID).
CIPP's aim is to prevent violent conflict in the most at-risk communities across Katsina, Kaduna, Plateau, Kogi, Kano and Benue states in Nigeria's North-West and Middle Belt regions. CIPP works with community leaders, women, government officials and state-level actors to improve their ability to peacefully manage disputes. CIPP also works to strengthen Early Warning and Early Response (EWER) mechanisms for timely response to violent conflict, and facilitate collaboration among communities with government agencies, civil service organizations and local leaders to address root causes of conflict.
CIPP is implemented in partnership with Pastoral Resolve (PARE), Interfaith Mediation Centre (IMC), Savannah Centre for Diplomacy, Democracy and Development (SCDDD), and the African Radio Drama Association (ARDA).
Stay connected to our work.