Small-Town WASH Activity helping businesses thrive in Ganye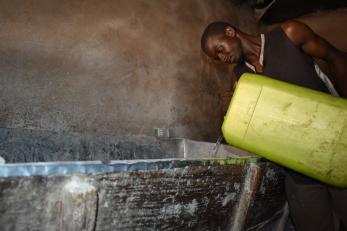 February 07, 2023
For 25 year old Mukhtar Mohammed, a typical day at the bakery he manages starts at 6 am. Describing the day's activities, he said, "We fetch water, knead the dough for about three hours, leave it for two hours to rise and then set it in the oven to bake. It takes two hours to bake, and when the bread is cool, we package and distribute."
In the rainy season, they fetch the water for kneading from the well which is unprotected, leaving it exposed to disease-causing microorganisms.
In the dry season when the well dries up, they buy from vendors. However, the water was not always readily available in the dry season because of high demand and limited supply. To beat this challenge, they would buy enough to last more than a day but even that was no guarantee as the vendors sometimes did not show up or arrived late.
On days when the vendors showed up late, the kneading started late and it affected everything else - baking, packaging, and delivery to clients.
"This slowed down the business and really affected us," Mukhtar shook his head as he recounted the experience.
The USAID funded Small Town WASH Activity's intervention birthed a new dawn for his business as the water needed for the day's activities became abundant.
The Small Town WASH team had engaged the district head of Ganye who played a vital role in the selection of community members to form the Water Consumers' Association (WCA), responsible for the management of the water schemes constructed in Gangarasso-Sangassumi.
Mukhtar and his team connected water from the water facility to the bakery through an underground pipe. They now have water flowing daily.
The lack of water really affected us and slowed down business.
Speaking about the difference this has made in his business, a smiling Mukhtar said, "The delay in production has been resolved. We now distribute on time and close on time. The tap also serves other residents in the community who fetch water free of charge."
On the plans for maintaining the water facility, Mukhtar said "We are cooperating with the Water Consumers Association and we heed their advice on all that is needed to maintain the facility. We pay the monthly tariff of ₦2,000 for sustenance."
Muktar wants another facility to be constructed in parts of Ganye that cannot use the current one because of the distance in location and expressed hope that water will become accessible to all in Ganye so that no one will deal with water scarcity.
Stay connected to our work.