Community Resilience Groups improve inclusion of women in decision making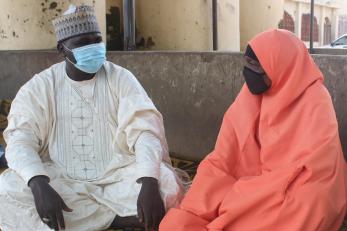 August 25, 2020
Hafsat Malam Saleh's Story
Hafsat Mallam Saleh is a widow and mother of 7 children. Hafsat lives with her children in Nayi Nawa community under Bula Bulin traditional ward, Damaturu LGA, Yobe State. She is the founder and leader of a women's support group commonly known as 'Himmah'. The group operates like a cooperative that encourages women to go into farming, animal husbandry and poultry. Hafsat is seen as an influential person and an inspiration to many women.
Prior to the commencement of the Building Resilience in Complex Crisis (BRICC) program in June 2019, it was common knowledge that women are rarely consulted or being involved in dialogue and decision making processes that affects the needs of women and girls in Nayi Nawa community. In many instances, women are only informed of decisions taken without their direct inputs or contribution. Hence, despite the key role being played by Hafsat in her group, she was not opportune to engage as other key community stakeholders in dialogues. However, as part of the BRICC program activities and structures to build community trust, connection and cohesion, a Community Resilience Group was established in Nayi Nawa.
The Community Resilience Group (CRG) is made up of stakeholders in the community who help to improve community resilience from all forms of shocks and stresses that could negatively impact on the community. With diverse representation from different ethnic, religious and socio-economic background, including minority and vulnerable groups, forums are convened to support the community in the implementation of the BRICC program in building resilience of their communities through social safety nets, peace building dialogues, prioritization of water points, community assets for rehabilitation and construction. Hafsat was selected to be part of the CRGs in Nayi Nawa by the community leadership. With her being part of the CRG, Hafsat is now able to sit with other community stakeholders and leaders to discuss concrete issues that affect not only poor and vulnerable households but also raise concerns that affect women and girls in the community. During the community based targeting process to select the most vulnerable households and youths, Hafsat ensured women headed households that meet the program criteria were selected as well as female youths for vocational skills training.
"Being part of the CRG has provided me with an enabling platform to speak on concrete issues that affects vulnerable women and widows in the community."

- Hafsat
Even though not a traditional or community title holder in the community, Hafsat plays a wider advisory role to not only the CRG but also the community at large. Due to her commitment and efforts towards women, youth and children in the community, the District Head of Bula Bulin (who also oversees Nayi Nawa community) is said to frequently consult Hafsat on some community matters.
When asked about the importance of the CRG, Hasfsat said, "being part of the CRG has provided me with an enabling platform to speak on concrete issues that affects vulnerable women and widows in the community". She further added that through her group, 'Himmah', poor and vulnerable women farmers were identified and selected as beneficiaries for the agricultural inputs distribution, in which she did not lobby for.
In her words "I am grateful to the European Union through the BRICC program for supporting the formation of the Community Resilience Group that am part of and able to speak freely to community leadership and other key stakeholders about the different needs of women and youths in my community."
About BRICC
The Building Resilience in Complex Crisis (BRICC) is a European Union funded program implemented jointly by Mercy Corps, Danish Refugee Council (DRC) and Cooperazione Internazionale (COOPI). The program aims to build the adaptive resilience capacities of 26,875 households (6,719 men, 6,719 women, 6,719 male youth, and 6,718 female youth) identified as vulnerable members of 30 target communities in six LGAs (Damaturu, Potiskum, Geidam, Yunusari, Gujuba and Gulani) of Yobe State by increasing their ability to cope with the shocks and the stresses of conflict, climate change and complex crisis, and their ability to transform the underlying causal dynamics to reduce the risk of future conflict for a period of three years (April 2019 – April 2022). In addition, six vocational skills centres, financial institutions, government actors, 30 community resilience groups (CRG), 600 community leaders, 248 savings and loan groups, 248 farmer's associations, and 2 local civil society organizations will benefit from the action.