Ganye: A town's health and productivity ensured with clean water and toilets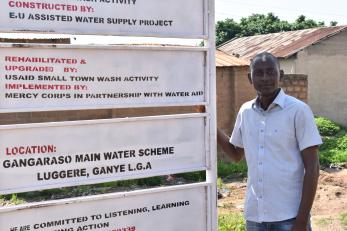 September 05, 2022
Water is a basic need in life, and getting access to clean water and sanitation is a factor that greatly influences healthy living and productivity of individuals. In some communities without access to clean water and toilets, students are discouraged from attending schools and most female students miss school during their menstrual period because of this lack of proper sanitation facilities in schools.
This is the case for the people of Gangarossa-Sargassum, a small town in Ganye LGA of Adamawa state where inadequate water, sanitation, and hygiene (WASH) facilities, has always been a challenge because residents have to travel long distances to a river to get water whenever the community borehole is out of service or not functioning. To improve access to water and sanitation services in this small town, the USAID funded Small Town Water, Sanitation and Hygiene (STWASH) Activity rehabilitated existing facilities and also constructed new water schemes and sanitation facilities in public institutions such as health centers, markets, motor parks, and schools.
Abdullahi Abbakar, a resident of Gangarasso small town, Laggere ward, narrates how he and other community members used to get water either from wells dug by individuals or from the community hand-pump borehole situated at a central point. The situation however took a desperate turn when the borehole got damaged and people resorted to purchasing water from local vendors at steep prices, while those who could not afford to pay, had to walk the long distance to the river at the outskirts of town to get water. In the dry season when the well is dried up, residents also had to walk the long distance to the river to get water. Because of this, reports  of cases of cholera and typhoid were commonplace among residents in the past, and there was very little that could be done to stay healthy.
Speaking about the challenge of access to water, Abdullahi says "getting water in our community has always been a challenge, and getting clean water is an even bigger deal. The risk of using water from the well or river is one we had to take because those were the easily accessible and affordable means for most people. But now, we have a functional borehole that dispenses clean water as well as a storage tank. Water pipelines are even reticulated to people's homes, and obtaining water is not a problem anymore."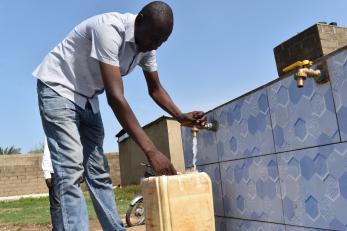 The WASH facilities constructed in this small town are in the care of the Water Consumers Association (WCA), which comprises individuals selected by community members to oversee the management of these facilities. With this improvement in access to water, community members obtain water from a clean source and this will go a long way in reducing the risk of illnesses which will in turn improve productivity.
Stay connected to our work.