Fueling sustenance through livelihood support - Hadiza's story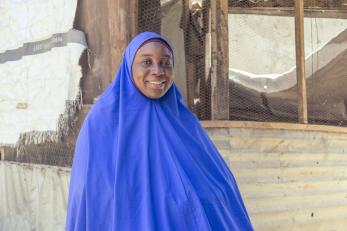 March 06, 2023
Hadiza Yakubu, a mother of eight, had a thriving poultry farm in her hometown, Chibok. With proceeds from the birds, she took care of herself and her family, but things took a different turn  when the Boko Haram insurgency set in. Forced to abandon her farm and flee for her life, she and her family had to move to Jere LGA, Borno state where they lived as internally displaced persons, with the quality of their lives in Chibok a distant memory.
In Jere, the situation was far from ideal. Without a job and a source of income, feeding was a major challenge for them. "I tried raising birds in Jere, but I couldn't sustain it because we had no source of income and ended up using all we got from the farm to feed," an emotional Hadiza said while narrating her ordeal.
The THRIVE program, a USAID funded intervention implemented by a consortium consisting of Catholic Relief Services (CRS), Mercy Corps, Women in New Nigeria (WiNN), Justice, Development and Peace Commission (JDPC), and Salient, is an integrated program that seeks to transition households from emergency to early recovery.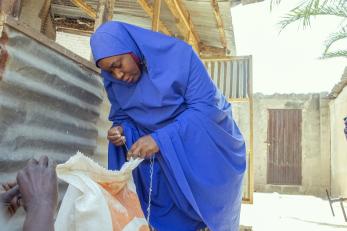 Hadiza was one of the participants profiled to benefit from the Transitioning Households to Recovery from Vulnerability (THRIVE) intervention in Jere LGA. Hadiza was identified when the THRIVE program collaborated with Lawan Aisami, the village head of Mashamari-Simari, to identify the most vulnerable people within Simari community in Jere.
She was enrolled in the program after visits and discussions with members of the agric team - following the recommendation of the monitoring and evaluation team, to gain a clear picture of her family's needs and develop response strategies.
The integrated approach of the program ensures that participants receive assistance that meets their immediate needs while structures are put in place to ensure sustained progress. Hadiza was first supported with food rations for 3 months, then given Noiler birds and agricultural inputs for kitchen gardens. "The Noiler is a dual-purpose breed of chicken that can be raised for both eggs and meat; they are usually stronger and cheaper to raise than other breeds available," Jamilu Ibrahim, the Agric Program Officer for THRIVE, said.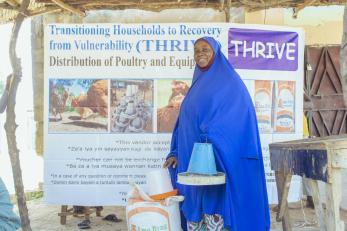 Having received this support, Hadiza believes she is in a better position to bounce back and give her family the quality of life they once enjoyed. In her words, "It is like a man who fainted and had water poured on him and is revived; I have been helped back up and am poised to keep myself up."
Hadiza also narrated how she intends to ensure this business does not go out of business but is sustained. With over 15 years of experience raising birds under her belt, her ability to sustain the business is not in doubt . The THRIVE program is excited about the opportunity to  have played a role in her remarkable rise to resilience.
With funding from USAID, THRIVE will, over the next 2 years, support 4500 households with such interventions and help them transition from vulnerability to resilience.
About THRIVE Program
Transitioning Households to Recovery from Vulnerability (THRIVE) is a 2-year program funded by USAID to provide context-specific humanitarian assistance with the goal of initiating early recovery in Jere Local Government Area, Borno state.
THRIVE works in four wards Mairi, Mashamari, Dusuman, and Maimusari in Jere Local Government Area (LGA), Borno state to deliver a multi-sectoral, integrated and coordinated response, informed by participants, that leverages experience and best practices to address the multi-faceted needs and aspirations of vulnerable people. Its area-based approach advances participants from lifesaving assistance to life-building support.
THRIVE is implemented as a consortium by the Catholic Relief Services (CRS), Mercy Corps (MC), Women in the New Nigeria (WINN), Salient Humanitarian Organization (SHO) and Justice Development Peace Committee (JDPC).
Stay connected to our work.