Zumunci na daraja, ya fi kudi: Friendship of value, is more than money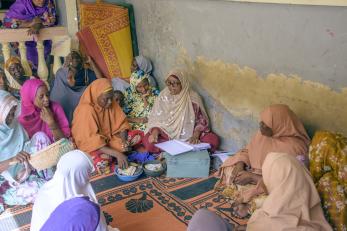 July 31, 2023
The devastation and decadence brought to families in Jere Local Government Area (LGA) by the Boko Haram insurgency is well documented but, as the expressions of sorrow and compassion subside, the responsibility to rebuild both the community and individual lives now falls upon the members of the community.
To strengthen their capacity and increase the capability of communities to meet the challenge of rebuilding their communities, the Economic Recovery and Market Systems (ERMS) component of the THRIVE program supports members of selected communities to create savings groups to encourage a savings culture. After six months of savings, the group held its first share out ceremony and many women shared their testimonies.
"Before joining this group, my husband and I used to spend every penny we earned. However, thanks to this incredible group, we have learned the power of saving," says Fatima Umar, a 49-year-old mother of eight. Inspired by the opportunities provided, Fatima and her fellow group member, Hadiza Hussaini, decided to take a loan together to embark on their perfume-making venture.
For Hadiza, perfumery runs in her blood. "Making perfumes is a family trade. Both my grandmother and mother were perfumers," she shares. Unfortunately, the flourishing perfume business Hadiza had built came crashing down due to the onset of the Boko Haram insurgency.
Falmata Ali, another participant, joyfully shared her testimony, "Even my husband contributes through me. During my time in the group, I took a loan of ₦15,000 to kickstart my charcoal business. I have not only been able to repay the loan but also witnessed tremendous growth in my business." Her success and enthusiasm are truly inspiring.
Furthermore, the impact of the savings group extends far beyond financial benefits. It has brought the members closer together, fostering a sense of unity and support. Hadiza expressed, "I used to live on the same street as many of these women, but we had never truly connected until we joined this group." Fatima added, "Beyond our regular meetings, we come together to celebrate or console our fellow members whenever the need arises. That's why we named the group 'Zumunci,' which means togetherness in Hausa."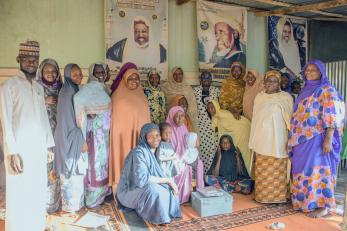 Between December 2022 and June 2023, the ERMS team under the THRIVE program has set up twenty savings groups comprising six hundred and fifty nine  members. These groups have so far saved a combined total of  ₦3,592,650 (three million, five hundred and ninety two thousand, six hundred and fifty naira).
About the THRIVE program
Transitioning Households to Recovery from Vulnerability (THRIVE) is a 2-year program funded by USAID to provide context-specific humanitarian assistance with the goal of initiating early recovery in Jere Local Government Area, Borno State.
THRIVE works in four wards: Mairi, Mashamari, Dusuman, and Maimusari in Jere Local Government Area (LGA), Borno State, to deliver a multi-sectoral, integrated, and coordinated response, informed by participants, that leverages experience and best practices to address the multi-faceted needs and 3/10 aspirations of vulnerable people. Its area-based approach advances participants from lifesaving assistance to life-building support.
THRIVE is implemented as a consortium by the Catholic Relief Services (CRS), Mercy Corps, Women in the New Nigeria (WINN), Salient Humanitarian Organization (SHO) and Justice Development Peace Committee (JDPC).
Stay connected to our work.