Paving the way to financial independence through cowpea packaging
August 08, 2023
The Gamayya Disabled Group in Balu, Dukku LGA, Gombe State, brings together people with various disabilities, including the visually impaired, hard of hearing, and physically disabled. Since 2019, the group has come together to support each other in overcoming the challenges in their livelihoods.
Like most rural parts of Nigeria, people with disabilities often beg on the streets for their livelihoods, risking their lives in traffic accidents and other abuse. They struggle with harsh economic realities, and their support network is generally limited to family caregivers, leaving them with little control over their lives. This was the reality for the members of Gamayya Disabled Group until they encountered USAID's Rural Resilience Activity (RRA).
The Activity views the poor (including persons with disability) as active economic actors in the market, and its work aims to ensure that the poor can take advantage of economic and growth opportunities. RRA aims for economic growth to reduce poverty and vulnerability, emphasizing access to essential services and inclusive markets.
To achieve this, RRA collaborates with economic actors to ensure the efficient exchange of goods and services, benefiting everyone and focusing on empowering the poor as consumers, producers, and employees. For example, RRA partnered with Zia Spices, a small but growing food processor, to support Gamayya Disabled Group in cowpea fortification and packaging.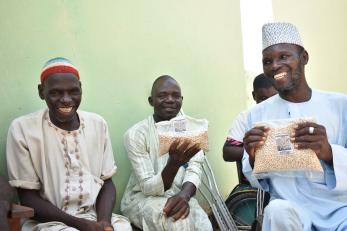 The collaboration between the Activity and Zia Spices aims to achieve two main objectives: increasing the availability of affordable processed products and empowering women, youths, and people with disabilities by providing them with the essential technical knowledge to process grains and spices using suitable equipment.
Muhammed Salisu Ibrahim, the chairman of Gamayya Disabled Group, stated, "When Zia Spices came, 9 of our members were identified and picked to be trained on food processing. At the training, we learned how to fortify and prepare cowpea and make it ready for consumption. Afterward, we decided to contribute from the little we had, the sum of NGN1000 each, to put to practice what we learned. With NGN9000, we started our cowpea packaging business by buying the cowpea, packaging, and printing business label."
"This may appear little, but to Gamayya Disabled Group, it means a lot," Muhammed emphasized. He added, "People used to see us as liabilities because we depend on others to meet our needs, but with this business, we are restoring our dignity as persons who can contribute to our community's economy. It may look small, but all we care about is the little gain we get that is helping take our members off the street, and they no longer beg to meet their needs. We started with NGN9000 in two months, but now we are at NGN23,000 already."
Abdulkadir Usman, a visually impaired member of Gamayya, expressed, "This may be baby steps, but we are determined to not only process cowpea for consumption but also venture into cowpea seed production subsequently." He continued, "Meeting Zia Spices has changed our perspectives about who we are and what we should do to care for our needs. We know we are just starting, but in the future, we plan to extend from preparing and processing cowpea for consumption; we want to learn how to produce and multiply them as fortified and improved seeds to sell to our farmers."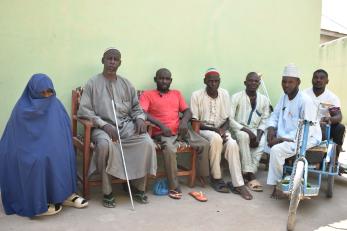 The Rural Resilience Activity recognizes that the poor are a diverse group of people, both as suppliers and customers, who have varying needs and capabilities. The Activity response to the varying degrees of capabilities in the markets mitigates the risks of limited uptake of new products, services, regulations, or business models and expands the market outreach of businesses.
RRA strives to maximize the participation of PWDs in the markets that have been selected based on their relevance, opportunities, and feasibility for poverty alleviation. Given the diverse and invisible nature of the disability, RRA's approach to expanding inclusion is through low-cost tweaks to commercially viable designs to expand their outreach, thereby restoring their dignity and building their independence and resilience despite their physical challenges.

About the Feed the Future Nigeria Rural Resilience Activity
The Feed the Future Nigeria Rural Resilience Activity is a five-year USAID Initiative that protects the economic recovery and growth of vulnerable, marginalized, and conflict-affected people and sustainably moves people out of poverty through expanded opportunities. It empowers vulnerable households, communities, businesses, institutions, and markets to cope, adapt and thrive with current shocks and stresses and be prepared to withstand future ones. Mercy Corps implements the Activity in partnership with the International Fertilizer Development Center (IFDC) and Save the Children (SCI) in Adamawa, Borno, Gombe, and Yobe. The activity supports participants by facilitating their economic recovery and growth and ensures they move out of chronic vulnerability and poverty through expanded opportunities.
Learn more about the Feed the Future Nigeria Rural Resilience Activity.
Stay connected to our work.