Enlisting community leaders for equitable access to COVID-19 vaccines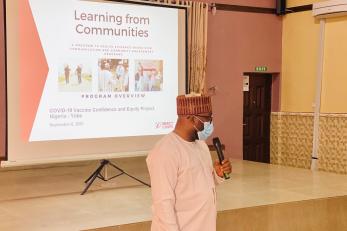 June 02, 2022
When the COVID-19 pandemic broke out in Nigeria in March 2020, the country was already facing a plethora of conflict and insecurity challenges. With concerns about the origin and nature of the disease, it was not long before mis and disinformation began to spread. COVID-19 and responses to it were adding to exacerbating drivers of conflict by diminishing trust in government, increasing economic hardship and resource scarcity, and disrupting social cohesion (Mercy Corps, June 2021).
On March 2, 2021, Nigeria received 3,924,000 doses of the AstraZeneca COVID-19 vaccine from the Serum Institute of India, shipped via the COVAX Facility, a partnership between the Coalition for Epidemic Preparedness Innovations (CEPI), Gavi, UNICEF, and WHO. The country received an additional four million doses of Moderna vaccines and 177,600 Johnson and Johnson vaccines in August 2021. The acceptance and rapid distribution of the vaccine have proven especially difficult in Northern Nigeria where vaccine hesitancy is endemic (HealthAffairs, 2009), despite government effort at certifying the vaccines safe. The result is that, nationwide, only 2.6% of the population of Nigeria was fully vaccinated as of February 14, 2022 (Our World in Data, 2022).
A concerted effort for community acceptance
In July 2021, Mercy Corps Nigeria approached the National Primary Health Care Development Agency (NPHCDA) to discuss collaboration on a short-term vaccine confidence pilot project – the COVID-19 Vaccine Equity and Confidence Project. The project goal was to increase access to information on COVID-19 and COVID-19 vaccinations via community-driven sources. In addition, activities would decrease vaccine hesitancy, increase community confidence and uptake of COVID-19 vaccine, while building resilience in the face of the pandemic.
As part of the preliminary activities to build knowledge on the project and access COVID-19 perception, Mercy Corps conducted a survey in Yobe and Kano states. Findings provided an evidence-based data that guided the approaches that were adapted for engaging community leaders. 
Some of the key findings showed that most people reported a high to medium risk perception of COVID-19. About 75% believed it would be serious if they were infected with COVID-19. With regards to perceptions of prevention behaviors, most people believed it was necessary to wash hands and avoid handshakes and physical greetings; just over half of people believe it was absolutely necessary to meet with people outside of their home, and nearly 75% of the respondents believed it was absolutely necessary to wear facemasks in public. 
However, as of June 2021 only about 8% of respondents in Yobe state and 11% in Kano state were vaccinated. Additional details showed that more than half of the respondents were willing to get vaccinated. This was promising considering the novelty of COVID-19 vaccines around then. 
One key information that stood out was that community members reported a high trust in religious and community leaders, family members, and healthcare workers – in that order – for trusted information on COVID and influence to take the COVID-19 vaccine.
A training was conducted for selected community leaders and health workers in Yobe state, recommended by the state ministry of health. The training included learnings on mis/disinformation, COVID-19, vaccines, how to address concerns around side effects, and how to step down the training, mobilize, and communicate persuasively for building vaccine confidence and uptake. After which Mercy Corps supported the participants to design a community-led risk communication and community engagement strategy.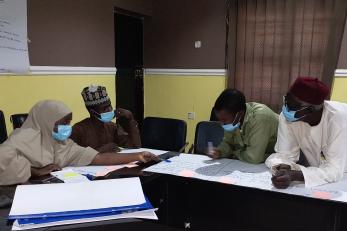 These participants volunteered to conduct community sensitization in groups of 4-5, in five emirate councils (Damaturu, Gujba, Jajere, Ngelzarma, Fune) in Damaturu and Potiskum LGAs, Yobe state. Provided with sensitization materials that included a community flipchart booklet, a brochure on COVID-19 and the vaccine, and flyers containing frequently asked questions (FAQs) on COVID-19, and the AstraZeneca and Moderna vaccine, they were able to demonstrate great impact in reaching communities with the right information. While additional awareness creation was done through a radio program that aired weekly on Yobe Broadcasting Corporation (YBC).
What community leaders have to say
"Vaccine acceptance level in the communities is high and people are indicating more willingness to take the vaccine. Although people have complained about not getting the vaccines when they visit the facilities," says Mrs. Rakiya. 
"After investigation we send the correct information, unlike before". "Before the sensitization, many believed that after taking the vaccine, when a magnet is placed on it, it sticks, but we now know better." "With the proof of vaccination cards, when we showed people, they were more relaxed and their anxiety reduced, and it build their confidence to the use of the vaccine," says Pastor Ezekiel.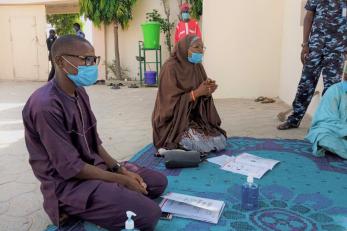 "People now know they can visit the facility to take the vaccine. There are some who still hesitant because of the side effects," says Mr. Hassan.
 "All sensitization materials to be used should be translated in local language so that people who cannot read English can understand. There is need to expand sensitization to reach many people and capacity building for more community leaders," says Mr. Yusuf.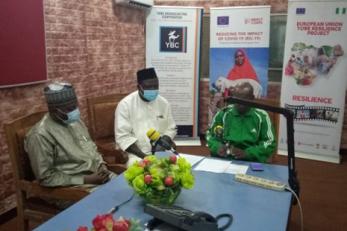 Following a three month run of community sensitization, Mercy Corps sat with the community leaders to collect feedback and access the impact of their activities. While it can be difficult to measure immediate impact of behavior change, some of the feedback received showed that government workers, community and religious leaders who were involved in the initiative saw how crucial their role was to the pandemic response.
Of the community sensitization conducted in five emirate councils, the community leaders have been able to reach 97 other community and religious leaders, who are estimated to reach about 1,000 to 2,500 people with COVID-19 information and dialogue messages when they conduct their own sensitizations.
Involving community leaders in the process provided reliable insight for the project and Mercy Corps approach for another phase of the vaccine project. This is indicative of the organization's commitment to involve communities in the interventions that affect them. New funding has been received by the organization from Pfizer Foundation to scale up learnings and impact from the pilot COVID-19 equity project.
Stay connected to our work.