Engaging partners for effective early warning early response system in Nigeria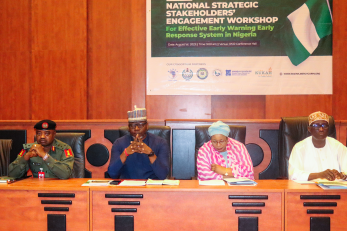 August 06, 2023
In a nation plagued by recurring conflicts, the need for a proactive approach to conflict resolution and peacebuilding has never been more critical. The recent National Strategic Stakeholders Engagement Workshop for an Effective Early Warning Early Response (EWER) system in Nigeria, organized by the Peace Action for Rapid and Transformative Nigerian Early Response (PARTNER) project and led by the Institute for Peace and Conflict Resolution (IPCR), marks a significant step towards achieving this goal. The workshop brought together key stakeholders from security agencies and various sectors to address the pressing need for a more coordinated and efficient early warning system. The workshop had in attendance top-level security stakeholder representatives from the Directorate of State Services (DSS), Nigeria Security and Civil Defense Corps (NSCDC), Federal Road Safety Corps (FRSC), National Emergency Management Agency of Nigeria (NEMA), The Nigeria Police (NPF), representatives from Ministry Departments and Agencies, Civil society actors, International Non-Governmental Organizations (INGOs) and PARTNER Consortium partners including OSPRE, and the KUKAH Center.
The workshop's objectives were commendable, namely: to enhance awareness and understanding of the EWR system among security agencies, establish Early Warning Response Groups (EWRGs) at the national and state levels, and promote collaboration among stakeholders for effective conflict prevention and management. The engagement's focus on seamless collaboration and partnerships among local communities, government, non-governmental organizations, and international institutions emphasized the urgency of a coordinated strategy for lasting peace.
Participants recognized and discussed the challenges facing Nigeria's current early warning system, from gaps between early warning and early response to the absence of national policies on EWER, insufficient funding, and mistrust between communities and security agencies. These observations underscored the need for a comprehensive approach that addresses the root causes of conflicts while fostering cooperation and trust among all stakeholders.
The workshop's resolutions and action points offered practical and achievable recommendations. The establishment of EWRGs at the national and state levels is a crucial step towards better coordination and faster response to early warning reports. Extending discussions and workshops to the sub-national level, especially in crisis-prone areas, will ensure that the efforts reach those most affected by conflicts.
Moreover, promoting local ownership and community-based reporting will empower communities to take an active role in conflict prevention and resolution. Integrating tactical and strategic early warning approaches and sharing data among stakeholders will enhance the efficiency and effectiveness of the EWER system.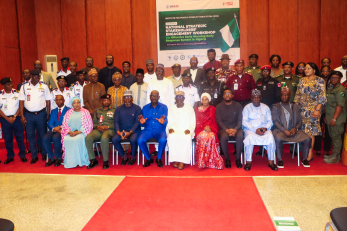 Addressing structural violence, such as unemployment and human rights violations, will tackle the underlying factors that contribute to conflicts. Additionally, considering gender-sensitive indicators in early warning will lead to more inclusive and comprehensive responses.
The inauguration of the National Conflict Early Warning Response Group is a significant milestone in this endeavor. This group's role in coordinating and responding to early warning reports across Nigeria, with a specific focus on the PARTNER program states, will undoubtedly strengthen the nation's peacebuilding efforts.
While the workshop's outcomes are promising, their success depends on the commitment and collaboration of all stakeholders. Government agencies, security forces, civil society organizations, local communities, and international partners must work together to implement the proposed resolutions effectively.
Furthermore, sustainable funding and support are essential to ensure the continuity and success of these initiatives. Adequate investment in training, technology, and community-based programs will contribute to the EWER system's long-term success.
The recent workshop showcased the potential for positive change when diverse stakeholders come together with a shared vision of peace and stability. By building on this momentum and leveraging collective expertise, Nigeria can take significant strides towards breaking the cycle of violence and fostering lasting peace.
The success of Nigeria's early warning early response system will not only benefit the nation itself but also have a positive ripple effect across the West African region. As Nigeria moves towards a more secure and peaceful future, it can serve as a beacon of hope and inspiration for other countries grappling with similar challenges.
In conclusion, the National Strategic Stakeholders Engagement Workshop represents a pivotal moment in Nigeria's journey towards lasting peace. It is incumbent upon all stakeholders to embrace the proposed resolutions, foster collaboration, and work tirelessly to strengthen the early warning early response system. Let us all stand united in our commitment to building a safer and more peaceful Nigeria, where the fruits of lasting peace are reaped by every citizen.

About the PARTNER Project
The PARTNER Project is a 5-year USAID-funded project that seeks to ensure that Nigerian communities, government, security, and civil society actors will collaborate to increase the effectiveness, local ownership, and sustainability of an inclusive Early Warning Early Response (EWER) system for improved violence prevention. The above will be achieved when key stakeholders work together to create and sustain conflict EWER systems to foster peace and tolerance in communities and mitigate banditry and criminality in areas currently affected or at risk of violent conflict. A diverse set of key stakeholders will be engaged in a community-based effort to promote communication, dispute resolution, dialogue, and advocacy for peace and reconciliation. 
Stay connected to our work.