Dapaya women empowering members through charcoal briquette production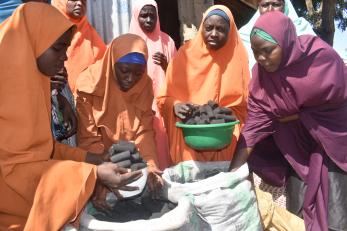 March 04, 2023
Dapaya Women Multi-Purpose Cooperative is a group of women in Jugwol, Biu Local Government Area of Borno State in northeastern Nigeria. The Dapaya Women live in a region affected by climate change and conflict. Women represent a high percentage of poor community dwellers who are highly dependent on local and natural resources for their livelihoods. Dapaya Women, like most women's groups in rural communities, shoulder the responsibility of sourcing household water supply and cooking energy, to complete domestic chores.
Lulu Ibrahim is a 52-year mother of six children and the leader of Dapaya Women. According to her, until they received support from the USAID Feed the Future Nigeria Rural Resilience Activity, the 30-member group met regularly to discuss only issues affecting women, make savings, and disburse loans like every other village savings and loan association (VSLA).
"As a women's group, we have been together for quite some time; we meet, talk about our issues as women, go for different occasions, and run our weekly or monthly Adashe (VSLA contributions). We have been thinking of ways we can do something together as a group to improve our sources of income, but we were limited regarding opportunities and resources, as most of us are housewives."
Support from the USAID-funded Rural Resilience Activity
Through the partnership with Biu Women Castor and Jatropha Farmers, the USAID-funded Feed the Future Nigeria Rural Resilience Activity trained Dapaya Women on the practical and theoretical aspects of briquette production and facilitated their registration with the State Government and other trade associations. Biu Women Castor and Jatropha Farmers is an agro waste-to-wealth, charcoal briquette production company that facilitates economic opportunities for women and reduces the risks of carbon-generating fuels in the kitchen.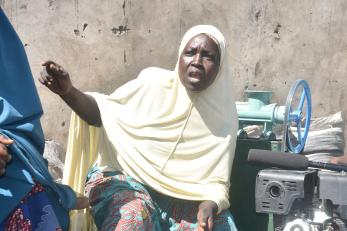 In August 2022, Biu Women group, with the support of the Rural Resilience Activity, supported Dapaya women with briquette-producing machines to kickstart production. They also mentored Dapaya Women and carry out routine maintenance on the machines.
"We were given the briquette machine in August 2022 after the training; at that time, we did not have adequate money to buy the raw materials to start production. What we did was to get a loan of NGN13,000 (US$29) from our VSLA and start production."
Empowered Dapaya Women
The support of the Rural Resilience Activity has improved the productivity and income of the Dapaya Women Multi-Purpose Cooperative. The members now produce and sell briquettes to Biu Women Castor and Jatropha Farmers and briquette users in their communities, building the foundation for a scalable business venture for the group members and individuals.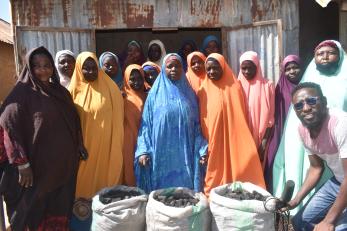 "After the first production, we sold the briquettes for NGN20,000 and made a gain of NGN7,000 which we reinvested into a second round of production. So far, we have produced 28 bags for one major off-taker and the local market around us. Apart from making money and improving our source of livelihood, we have been taught that pushing this product in our local market will help in solving some of our energy issues in a climate-friendly way.
We were a women's group that meets regularly just to meet, but now we have a shared purpose and a shared responsibility. We know this is the start and it is a bit hard, but we are committed to being patient until the business scales," said Lulu Ibrahim.
Scaling Dapaya Women's Charcoal Briquette Production
In just 10 weeks, Dapaya women have produced 1.8MT of briquettes worth NGN140,000. The 30-member group is aware that the support from the Rural Resilience Activity, through Biu Women Castor and Jatropha Farmers will not last forever; the group has made plans to use their income to expand the business venture by procuring more briquette-producing machines and investing in the marketing of its products.
"On our own, we are making plans to buy more charcoal briquette-making machines; we are making inquiries about how much the new machine is and are looking for a production space to ensure that we produce constantly. We are willing to give out our products to people to try them out, because we believe that this will not only make their kitchen duties easier, but it is also hygienic." As a means of marketing their product, the women have decided to take the products to occasions such as naming ceremonies, community meetings, religious gatherings, and other social functions.
About the Feed the Future Nigeria Rural Resilience Activity
The Feed the Future Nigeria Rural Resilience Activity (RRA) is a five-year (2019 - 2024), USAID-funded program which seeks to facilitate economic recovery and growth in vulnerable, conflict-affected areas by promoting systemic change in market systems. The Activity is part of the U.S. Government's global hunger and food security initiative aimed at developing the agriculture sectors and breaking the vicious cycle of poverty and hunger in some of the world's poorest countries.
The Activity empowers vulnerable households, communities, and systems to cope with current shocks and stresses and to be prepared to withstand future ones. The Activity is implemented by Mercy Corps, in partnership with the International Fertilizer Development Center (IFDC) and Save the Children (SCI), primarily in the Northeast states of Adamawa, Borno, Gombe, and Yobe.
Through the COVID-19 Mitigation Response Program, the Activity's operational areas also included Benue, Kebbi, Niger and Ebonyi states, as well as the Federal Capital Territory. Using market-led approaches, the Activity will sustainably move over 600,000 individuals (internally displaced persons, farmers, agri-business owners, youth, women, private sector entities, and other stakeholders) out of chronic vulnerability and poverty across implementation states.
Stay connected to our work.