A community's path to resilience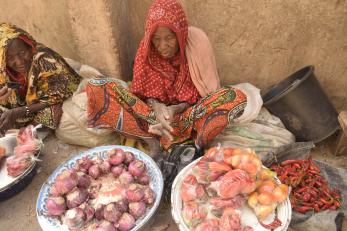 July 18, 2023
Mairi Kuwait is a community in Northeast Nigeria in Jere Local Government Area of Borno State. It is inhabited mainly by students and a few households because of its proximity to the university, federal government college, and the teaching hospital. Before the insurgency inhabitants of the community lived together in harmony, having respect, and trust for one another irrespective of their religion. The community members held monthly meetings to discuss the issues that arose within the month  and sought ways to resolve them.
During the insurgency, students fled from the community to their locations of residence. However, because  the community was not directly affected, people who fled from affected communities settled in Mairi Kuwait and occupied the space left by the students, making Internally Displaced Persons (IDPs) most inhabitants of the community.
This new influx of individuals affected by war, changed the culture of Mairi Kuwait as most IDPs, majority of whom were without any means of livelihood, began to engage in vices as a way to cope with their new reality. Poverty, hunger, theft, thuggery, adultery, and other criminal acts became rampant in the community because of unemployment, displacement, and insurgency.
"According to Wakili Usman Yahaya, the Lawan of Mairi Kuwait, "When these people came to our community, there was no food for them to eat and a shelter house; we accepted them and decided to create space for them to settle within the community with the assistance from NGOs. Even though we cannot satiate their hunger, with the little we have, we assist them with food items, though we also do not have enough. As a result, we all became vulnerable as we could not access our farms, and businesses were closed."
Support from the USAID-funded Rural Resilience Activity
The USAID-funded Feed the Future Nigeria Rural Resilience Activity (RRA), identified and mapped Mairi Kuwait community for intervention and as part of its entry strategy, leaders and other stakeholders support of the program was sought. Through an established criteria, these leaders helped to identify residents to be trained.
The Activity trained Mairi community members on life skills, entrepreneurship, and financial literacy to enable them to identify the opportunities in their community and  to harness these opportunities profitably. This was done to equip them with the skills needed to be able to engage in any business of their choice, and then savings groups (VSLA) were created. During this phase,  the existing savings groups were strengthened, trained in record keeping, and linked to financial services. Participants were supported with a startup kit including a tailoring machine, barbering and hairdressing salon equipment, generator, a food processing machine, and the sum of NGN78,000 (seventy eight thousand naira) as Covid-19 cash grant to enable them translate these skills to livelihoods and build resilience. Also, the participants were linked to trade-facilitating agencies and partners who could help support their businesses.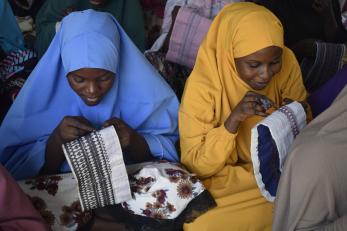 Again, RRA created a safe space within the Lawan's Palace for the young girls within the community, trained them on life skills and financial literacy, supported them with materials for knitting caps, and linked them to off-takers. A savings group was also created for the girls to  save the income generated from the sales of caps. So far the girls have recorded  production and sale of more than 50 Caps.
Through the VSLA, the youth and women in the community were given capital loans to startup businesses like barbering and hair salons, shoe making, cap knitting, selling sachet water, and petty trading. As part of the resilient community initiative to support youths (male and female) who are out of school, social funds generated via the VSLA were used to enroll 14 youths (ten females and four males) for skills training (tailoring, barbering, hairdressing, and shoe making).
Resilient Mairi Community Members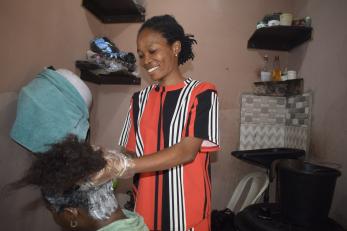 "Honestly, as young girls living amidst poverty and unemployment, and school drop outs we used to roam around with men because we could not afford to buy sanitary towels, soap, perfume, clothes, and other essential materials a lady needs; however, with the training, NGN78,000 Covid-19 cash grant support received from Mercy Corps and NGN250,000 capital loan received from Alheri Savings Group within my community, I started a hairdressing salon, the salon is doing well as the work is becoming stressful and we have more customers coming in, I employed one person to assist me and currently training three other young girls within Mairi. I appreciate the support received from RRA. Now, I can cater for myself, support my younger siblings in school, and contribute to building the resilience of other community members through skills training and job opportunities for other young girls in my community," says Vivian Dauda.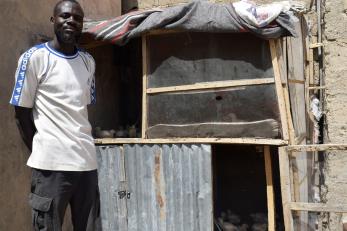 45-year-old Abubakar Abdullahi Yahaya, an IDP from Gwoza, married with five children before the intervention. "My family and I hardly eat once a day, my children dropped out of school, and I could barely get a job; however, when I came across RRA, the life of my family and I changed, we now eat three square meals, and I enroll my children back to school. After attending the training on life skills and entrepreneurship, I discovered the opportunities within my community, I joined the savings group and started with selling sachet water, saving NGN200 weekly, to upgrade my business and then I requested for a capital loan of NGN20,000. I used the money to start a poultry business; my weekly savings increased to NGN1,000. I was linked to off-takers which took off the burden of sourcing buyers for the chickens when they matured. I appreciate USAID for helping me rebuild myself when all hope was lost."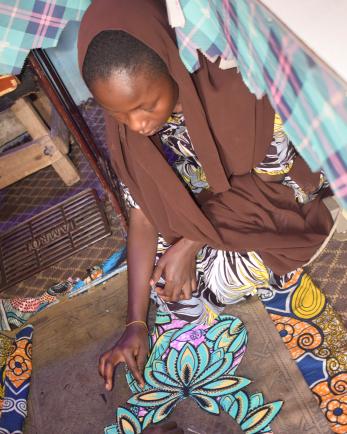 Hadiza Usman, a 15-year-old IDP from Gwoza LGA of Borno, had finished her primary education and proceeded to secondary school but had to drop out due to the insurgency. She was supported through the savings group social funds to learn a skill and is currently learning to be a tailor. In her words, "Even though I am still learning, my teacher used to settle me at the end of the week depending on the number of clothes we sew; I use the money to buy clothes and feed myself; I am planning to start saving part of the money and enroll back to school later in the future."
According to Bata Bala Bwala, President of the Savings Groups in Maiduguri, "Before the intervention, you could not sleep peacefully in this community due to unemployment and the way our youths mingle/associate with another child, they started becoming radicals, however today, because of Mercy Corps RRA interventions and VSLA activities Mairi is now described as a peaceful and resilient community in Maiduguri. Also, the young girls in our community no longer follow men to their rooms. Instead, they go to the Lawan's house daily from 8:00 am – 02:00 pm knitting caps, engaging in meaningful conversation."
Five male youths were enrolled and trained for three months on shoemaking via the funds generated through the social funds, to reduce the number of unemployed and out-of-school youths in the community. At the end of the training, they were given a starter kit to transform the skill into a livelihood.
About the Feed the Future Nigeria Rural Resilience Activity
The Feed the Future Nigeria Rural Resilience Activity (RRA) is a five-year (2019 - 2024) USAID-funded program that seeks to facilitate economic recovery and growth in vulnerable, conflict-affected areas by promoting systemic change in market systems. The Activity is part of the U.S. Government's global hunger and food security initiative to develop the agriculture sectors and break the vicious cycle of poverty and hunger in some of the world's poorest countries. The Activity empowers vulnerable households, communities, and systems to cope with current shocks and stresses and to be prepared to withstand future ones. Mercy Corps implements the Activity in partnership with the International Fertilizer Development Center (IFDC) and Save the Children (SCI), primarily in the Northeast of Adamawa, Borno, Gombe, and Yobe.
Through the COVID-19 Mitigation Response Program, the Activity's operational areas also included Benue, Kebbi, Niger, and Ebonyi states and the Federal Capital Territory. Using market-led approaches, the Activity will sustainably move over 600,000 individuals (internally displaced persons, farmers, agri-business owners, youth, women, private sector entities, and other stakeholders) out of chronic vulnerability and poverty across implementation states.
Stay connected to our work.