Leveraging communities' trusted source of information to vaccine access and acceptance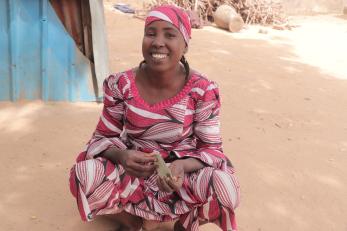 April 11, 2023
The COVID-19 pandemic brought with it many uncertainties and concerns for many families. And for those living in remote areas where access to healthcare was already to challenge, getting access to vaccines was another issue to worry about. Coupled with the issue of distrust in the healthcare system by many communities, it was a case of the people versus the government in the fight against the spread of COVID-19.
The issue of distrust was not any different for Nayinawa community, located in Damaturu LGA, Yobe state. In a survey conducted by Mercy Corps sometime in 2021, Mercy Corps discovered that several communities may not trust the information from government sources, but would reflect on them if they came from their community leaders.
Mother of eight, Zulai Ibrahim, resides in Nayinawa and frequently takes her sick son to the primary health care facility for treatment. She heard about the COVID-91 vaccine but decided not to get it because she had heard it would make her sick. Considering the trauma she endures every day while caring for her ill son was enough to make her decide against getting the vaccine.
She said, "I have heard a lot of scary things about the COVID-19 vaccine, and in the past, I believed everything people said about it. I heard the vaccine would make me sick, and I didn't want to be sick."
However, she was able to change her mind owing to sensitization she received from her community leader. Mercy Corps' Vaccine Access Program established the COVID-19 response committee (CRC) in eight wards across two LGAs in Yobe state, consisting of community leaders, religious leaders, women's groups, and people with disabilities. This group of people are thought to be the community's most trusted source of receiving information - this was backed by the baseline study conducted by the program. The CRC's goal is to create action plans to scale up COVID-19 vaccine sensitization activities in their various communities and increase vaccination rates.
On how things have changed, Zulai added, "My community leader, who is a member of the COVID-19 Response Committee (CRC), sensitized me one faithful day. I listened to him, and the information he shared with me convinced me that the vaccine is safe, so I went and got vaccinated. I used to be very ill  before I got the vaccine, but once I was vaccinated, all of the symptoms of the illness went away, and I've been fine ever since".
Zulai, who is now very confident in the vaccine, does not hesitate to use herself as an example when addressing misinformation about COVID-19 vaccine in her community.  She has also encouraged her family, friends, and her children to get vaccinated after discovering how the vaccines had benefited her.
About the Vaccine Access Program
Mercy Corps Nigeria and CARE International as members of the INGO collaborative are implementing the COVID-19 Vaccine Access Program in Yobe State. The program goal is to improve COVID-19 vaccination coverage by increasing vaccine confidence, acceptance and uptake in vulnerable communities in Yobe State. It will document and share those lessons and approaches broadly for increase vaccination coverage in Nigeria.
Stay connected to our work.