Access to clean water helps restore the dignity of indigent families in Yobe state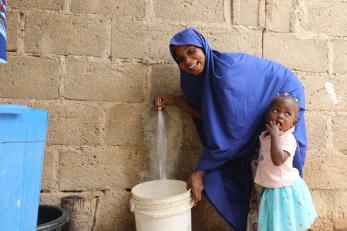 May 01, 2023 • UPDATED May 08, 2023
"I spend two hundred naira a day on water, and sometimes I don't even get water to buy because the water vendors are occasionally unreliable. Water is typically scarce in this entire community, and as a result, only the wealthy can afford to buy on a daily basis".
These are the words of Rabi Ibrahim, a 25-year-old mother of three and resident of Dikumari, Damaturu Local Government Area, Yobe state.
With no business or livelihood activity, Rabi caters full time to the needs of her family and does most of the household chores.
With no source of income, she also depends solely on her husband for the needs of her household, including the daily purchase of water from vendors (kuskus). On the days when her husband was unable to provide for water, she would go to her neighbors' homes to request for water, occasionally resulting in insults and embarrassment.
With no end in sight, Rabi bore the embarrassment and difficulty that came with the lack of access to water in her community until Dikumari was chosen for the construction of a water facility by the USAID-funded Small Town WASH Activity. The community leader and other influencers in the community were engaged to identify suitable sites for the construction of a borehole that will serve the community. The Activity also supported the formation of the Water Consumers Association (WCA) to oversee the operation and maintenance of these facilities.
To provide his home with daily access to water, Rabi's husband connected water from the borehole to his home via an underground pipe. This has saved them the money they would have spent on water, brought relief and helped restore their dignity.
"As a result of this intervention, personal health and sanitation in our community will improve. We used to purchase sachet water, but we no longer do so because the water is just as clean and good as the sachet water, and we have plenty of water to do everything" Rabi said with a smile.
The availability of water has enhanced the quality of life and improved productivity for those living in Dikumari community because they no longer have to wait for the water vendor to deliver water so they can perform their daily household duties. There is no longer scarcity of water, and people no longer travel long distances to get water; instead, they devote their time to more important activities. Rabi would always fill all the drums in her house from a paint bucket for ease of access.
When asked about sustainability, she stated that the WCA in Dikumari has been very active and has given the people hope that they can sustain the facilities. "I believe the community can sustain the borehole because of the structure put in place by the community, such as the WCA, which is doing their best to maintain the water. I thank the donors of this intervention for doing such a project in our community".
About STWASH
The Nigeria Small Town Wash Activity (STWASH) is a 5-year program funded by USAID and implemented by Mercy Corps in partnership with WaterAid in Borno, Yobe and Adamawa states. The program's aim is to strengthen the capacity and accountability of key institutions to provide and sustain access to water and sanitation services for 140,000 individuals in small towns across NE Nigeria. The program will facilitate the economic recovery of crisis-affected communities and strengthen the capacity of state governments in providing essential WASH services, while creating and sustaining an enabling environment for Small Towns Water Supply and Sanitation Agencies (STWSSAs) and Water Consumers Associations (WCAs) to operate.
 
Stay connected to our work.