Clean water brings thirst-quenching change to Vinikilang small town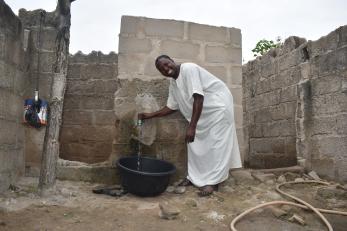 August 02, 2023
Mohammed Alim, aged 47, resides in Vinikilang, a small town located in Girie Local Government Area (LGA), Adamawa state, Nigeria, with his wife and five children. Just like many other families in the community, they have borne the brunt of water challenges worsened by climate change induced droughts in the area. Finding water has been for as long as Mohammed, who has lived in Vinikilang for over 40 years, can remember. Because of this, Alim had to give up his livestock business of over 12 years. This is because the animals depended heavily on water for their health and survival. It got so bad, that he sometimes was unable to go to work as they  spent a major part of the day looking for water.
Besidess his livestock business, Mohammed's family also suffered from this climate- change induced drought. He openly narrates how his children frequently fall sick with typhoid or cholera and whenever he took them to the hospital, the doctors would inquire about the source of their drinking water. He said, "My children were always falling sick as a result of the water we drink."
Water is a basic necessity for life, as such one can only imagine how difficult it is to live without it. However, the stark truth is that like Mohammed and his family, many people around the world face this reality. In various rural areas, the scarcity and absence of safe drinking water and proper hygiene and sanitation facilities have led to a host of potentially severe health problems such as dysentery, cholera, and diarrhea which can be life threatening. Access to these essential resources is the basis of any form of societal advancement.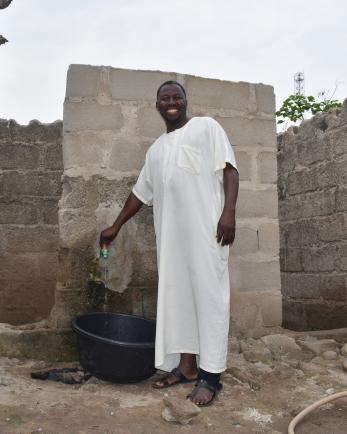 In Vinikilang where Mohammed resides, when the situation worsens, families resort to purchasing water from water vendors. However, the source of the water bought from these vendors raises concerns as the cleanliness and safety of the water are questionable. The kegs used to store the water often become breeding grounds for Spirogyra. While some vendors attempt to keep the water clean by storing them in clean containers, many dispense water in visibly dirty containers contaminated by micro-organisms.
Moreover, when the containers are damaged and require replacement, the vendors simply patch them up instead. Mohammed, trying to ensure his children have access to a reliable water source, sometimes spends NGN500 (five hundred Naira) daily on a truckload of water from these vendors. Unfortunately, most of these vendors seem indifferent to the hygienic conditions in which they supply the water, despite obtaining it from various sources.
In August 2022, the situation eventually changed in Vinikilang when a new borehole was drilled under the USAID funded Small Town WASH Activity. The project has since been providing water to thousands of people, both children and adults residing in the area, including Mohammed who lives there. Mohammed notes that he vividly remembers the day when USAID visited his community for an assessment, and without hesitation, he offered his land for the project so that the project would be conveniently located near his home. "I couldn't believe that the water I had been searching for, walking far away for so many kilometers, was now here. This felt like a miracle," he says.
Mohammed's wife, Fatima, who was seen tending to their livestock said, "I am happy that the water we rely on is now clean and safe, my children no longer get sick from diarrhea and stomach aches, the situation at my home has become better, my husband now has sufficient time on his hands to work and get some money to feed me and our children, while I tend to the livestock at home. Our cattle rearing business is thriving because now we have enough water to feed them, so we buy and resell them after a short while."
The water project has also gone a long way in improving the hygiene and sanitation standards in Mohammed's home, as well as neighboring communities who also use the water facility. According to Mohammed, the water project in his community has improved the well-being of his children and given him hope for a better tomorrow.
When asked about sustainability, Mohammed shared a recent experience he had when the water pump developed some fault. He described it as an unpleasant reminder of the days when he had to walk for miles in search of water or wait for the water vendors' arrival. During those seven7 days, life felt unbearable for him and the rest of his community members.
Thankfully, the community members immediately mobilized and raised money to fix the borehole with the support of the STWASH-trained Local Area Mechanic. These local area mechanics were trained on the operation of electrical installations in the borehole facilities and carrying out minor repairs on solar powered boreholes. They carry out basic maintenance on the facilities to ensure it is functional at all times.
In no time, the water was flowing again. According to Mohammed "We have seen the benefits of the water and we are ready to give whatever it will cost to ensure that the borehole is functional at all times because I don't want to suffer again."
About Small Town WASH
The Nigeria Small Town WASH Activity (STWASH) is a 5-year USAID funded program being implemented by Mercy Corps in partnership with WaterAid in Borno, Yobe and Adamawa, Imo, Delta, and Abia states. The program's aim is to strengthen the capacity and accountability of key institutions to provide and sustain access to water and sanitation services for 140,000 individuals in small towns across Northeast and Southeast Nigeria.
Stay connected to our work.