Clean, safe water becomes the tie that binds families together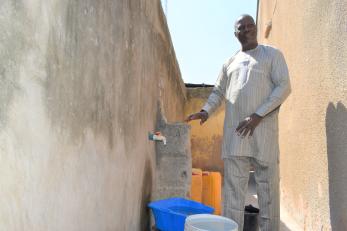 December 12, 2022
When Moses Zirah, a 58 years old father of six children retired from his job as an officer in the Nigeria Police Force, he excitedly moved to his home community of Vinikilang, Girei Local Government Area, Adamawa state.
Having spent over three decades serving in different parts of the country, he looked forward to spending time with his family and impacting his community in his retirement years. He however did not envision the challenge and stress that would result from the lack of clean water in his community.
He had to rely on water vendors for water but they were not very reliable, especially in the dry season, when the demand for water is high and wells have dried up.
He bought water from other taps within the community, but as a retiree with no steady source of income, his family sometimes had to do without water on certain days.
"When there is no money to pay for water, you will not have water to use. Even taps within the community were not free to access," Moses said.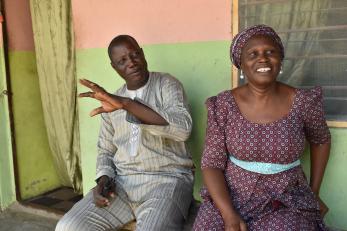 To ease the challenge, he decided to buy his own hand pushed cart. With this, he and his family would begin the journey to and from the distant borehole to fetch water.
"We filled the cart with water and had to push," he said. His wry smile told tales of this unpleasant ordeal.
His wife, Naomi Zirah, 56, had to pile up house chores that required water. She said that the family had to recycle water for various purposes. For example, they flush their toilets with the water used to wash clothes.
Relief came when the USAID funded Small Town WASH Activity identified Vinikilang for construction of a water facility. The Activity engaged the community leader and other influencers in the community, to identify suitable sites for the construction of a borehole that will serve the community. The Activity also supported the formation of the Water Consumers' Association (WCA) to oversee the operation and maintenance of these facilities.
The Small Town WASH's intervention was a breath of fresh air for Moses and his family as he was able to connect a pipe from the 50,000 liter capacity water facility to his house.
"See them all relaxed now. Water is life, it is better than food," Moses said as he gestured to his wife and daughters.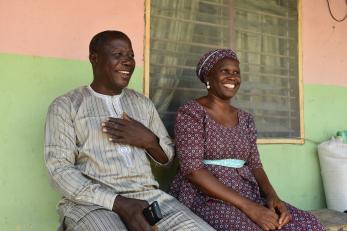 Speaking in Hausa, Naomi said, "It has made a lot of difference. We used to travel to get water but now in a matter of seconds, water is available. I no longer have to carry buckets on my head, now I can even just wash my face."
Before, we would have been out on the streets looking for water but now we can relax as a family.

Moses Zirah,

Vinikilang resident
On the plan for sustainability, they expressed trust for the strategy designed by the Water Consumers Association (WCA).
"I am not worried about sustainability. The committee will ensure order and sustain the facility for a long time. The monies paid will be used to repair any faults in the facility," said Ruth.
Moses expressed trust and desire to support the WCA with maintaining the facility.
Expressing his gratitude for the water project as he will now rest and enjoy his retirement, he said, "We are very grateful for this support. I hope that this support from Mercy Corps will continue even after I die so that my family will not have problems accessing water."
Naomi said, "I want to thank the donors, USAID, for bringing life to us because he who brings water brings life. If the government can replicate this in other areas, citizens will be able to cater for themselves."
Stay connected to our work.