CIPP trained mediator elected as special assistant in Kogi State
November 19, 2021
In March 2021, a meeting between the Miyetti Allah Cattle Breeders Association of Nigeria (MACBAN) and the Chairman of the Lokoja LGA of Kogi state was held to discuss specific issues faced by herders (who are predominantly of the Fulani ethnic group). MACBAN is a national association that represents pastoralists and Fulani affairs. One of the outcomes of the meeting was a request made by the LGA Chairman to MACBAN to nominate a representative who will serve as a special assistant to the Lokoja LGA chairman on Fulani affairs. In May 2021, Hamza Mohammed Bello Abubakar, CIPP IBNM trainee and resident of Gadanshagari community was appointed.
Gadanshagari is a Fulani settlement in Lokoja LGA, with the neighboring farming community of Bassa about 2km away. The CIPP team spoke with Hamza about his recent appointment and what led him to that moment. According to Hamza, relations between farmer and herder residents are peaceful, as community members now embrace peace and alternative dispute resolution processes whenever conflicts occur. "Before, when there are misunderstandings between us and farmers, for instance when cows encroach, farmers will take laws into their hands. Herders, not wanting farmers to hold on to their cattle for collateral after encroaching on farms, will sometimes brandish cutlasses to prevent the farmers from seeking retribution" says Hamza. After the mediation training, we constituted a committee of farmers and herders, and we meet regularly to address these issues.
According to the Chairman of Gadanshagari, Dahiru Hussaini, conflicts arise because of impatience, and people's desire to take laws into their own hands. "Now, we thank God that all parties choose to embrace peace and choose dialogue instead of violence. We meet with our neighbors from the farming community of Bassa every month to discuss matters arising and how we can sustain peace in our communities."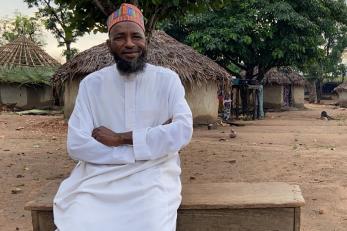 Since becoming a special assistant, Hamza has combined his mediation skills with his new role to help neighboring communities like Aboki, Abaja, and Ibabo set up similar committees between farmers and herders to help resolve disputes and maintain peace in their communities.
"In Abaja, there was an issue that arose between farmers and herders. Farmers wanted to send Fulanis out of the land due to farmer-herder issues, specifically the destruction of farmlands by cattle. The case was reported to the local government who had planned to send the vigilante group to arrest the Fulani herders. I was called by the Local Government chairman, and I told him to invite both parties to dialogue instead of involving the vigilante group. We invited His Royal Majesty of Abaja and the Fulani head to the dialogue meeting and the issue between parties was resolved. As we speak, the Fulanis are still living there peacefully with no issues," says Hamza. "This peace work is important because we don't want the issues that our neighboring states like Benue and Nasarawa are experiencing to come to Kogi state. We want peace to continue to reign in Kogi," he adds.
Hamza's appointment as Special Assistant points to the importance of community participation in peace processes and the growing acceptance of Alternative Dispute Resolution by state and local governments. He vows to continue to use his platform to promote peace within Lokoja.
In the CIPP implementing states in the North Central region (Benue, Kogi, and Plateau states), trained mediators have resolved 943 disputes between October 2020 and September 2021.
About Interest Based Negotiation and Mediation
Most of the conflict situations in which Mercy Corps operates require substantial negotiation, which we define as a back-and-forth communication looking toward agreement where some interests are shared or different. Interest-Based Negotiation (IBN) is a process that enables traditional negotiators to become effective problem solvers. This approach separates the people from the problem, focuses on the interests and not the positions, creates options for mutual gain and defines objective criteria against which to judge the fairness of the end agreement. Mediation is assisted negotiation through the help of a neutral third party (i.e., a mediator) where community leaders and institutions use the negotiation framework to help parties resolve their disputes.
About CIPP
Mercy Corps is implementing the Community Initiatives to Promote Peace (CIPP), a five-year peacebuilding program funded by the United States Agency for International Development (USAID).
CIPP's aim is to prevent violent conflict in the most at-risk communities across Katsina, Kaduna, Plateau, Kogi, Kano and Benue states in Nigeria's North-West and Middle Belt regions. CIPP works with community leaders, women, government officials, and state-level actors to improve their ability to peacefully manage disputes. CIPP also works to strengthen Early Warning and Early Response (EWER) mechanisms for timely response to violent conflict, and facilitate collaboration among communities with government agencies, civil service organizations, and local leaders to address root causes of conflict.
CIPP is implemented in partnership with Pastoral Resolve (PARE), Interfaith Mediation Centre (IMC), Savannah Centre for Diplomacy, Democracy and Development (SCDDD), and the African Radio Drama Association (ARDA).
Stay connected to our work.