Mercy Corps Nigeria Receives Award for Support to Communities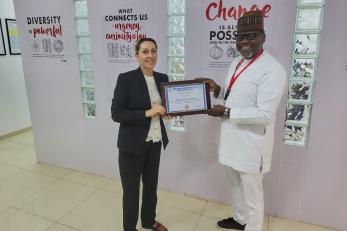 February 08, 2023
Mercy Corps Nigeria appreciates the support we continue to receive from our state partners and government in Northeast Nigeria. The organization recently received an award of excellence from the Poverty Alleviation and Wealth Creation Agency (PAWECA), Ministry of Entrepreneurship Development, Adamawa State. The award recognizes the support and contribution towards youth and women's development in the State by the USAID-funded Feed the Future Nigeria Rural Resilience Activity.
The award, which was presented during a ceremony that was held at the Banquet Hall, Government House, on 31 January 2023 was attended by the Executive Governor of the State, Rt. Hon. Ahmadu Umar Fintiri, and senior cabinet members.
Speaking during the award presentation ceremony, His Excellency Governor Fintiri said, "We know no government will engage an army of unemployed youths into its workforce, even if it can; with this age of enterprise, creativity, and entrepreneurship it is not the best decision to take.  We, therefore, established for the first time the Ministry for Entrepreneurship to build the capacity of our youths to innovate and manage investments successfully."
He also stated that the event is to appreciate and reward those who have contributed positively towards his administration's achievement in youth and women empowerment.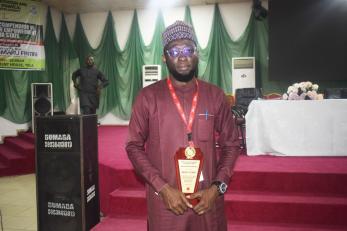 This award comes no less than two months after the organization was awarded NGO of the Year in Adamawa state by the Future Africa Leadership Foundation. The award received in December 2022 was given in recognition of our work in alleviating poverty and building just and productive communities in the state. 
Mercy Corps Nigeria also received a Certificate of Appreciation from the Maiduguri Cooperative Credit and Marketing Union in recognition of the contributions to the development of cooperative societies in Borno state.
The Rural Resilience Activity implements agricultural and non-agricultural interventions aimed at fostering systemic change in the market systems in Borno, Adamawa, Yobe and Gombe (BAYG) states, with a special focus on improving the livelihoods of women and youth.
The Activity created a youth-focused intervention – the agripreneurship initiative, through a partnership with Intrio Synergy Limited (ISL), to help channel youth energy and skills to agribusiness, thereby contributing significantly to increased agricultural production, employment generation, and wealth creation in Adamawa State. 2,821 youths were trained on good agricultural practices, safer use of pesticide/herbicide, pre-harvest, harvest and post-harvest handling and Agri-Insurance. 
Through the COVID-19 mitigation response, savings groups, financial services, microenterprise, livestock, youth and women economic empowerment, grain aggregation, and access to agro-input interventions, the Activity has facilitated $52 million in sales of commodities, and loans amounting to $ 5 million to participants. The Activity's partners have also invested about US$2.2 million and created 4,000 jobs through their operations and expansion to the state. 
To date, the Activity has supported 242,193 women, out of which 62,473 are youth in the BAYG states. The Activity achieved this through direct implementation and partnerships with private sector organizations, including Standard Microfinance Bank, Solar Sister, Centre for Microenterprise Development (CMD), ZEGCAWIS, Riby, ISL, Livestock 247, and other Enterprise Investment Fund grantees.
Stay connected to our work.