Having a "friend" to spread resilience to small-holder farmers in Northeast Nigeria and beyond
Rural Resilience Activity partners with Albit & Agro Consult Limited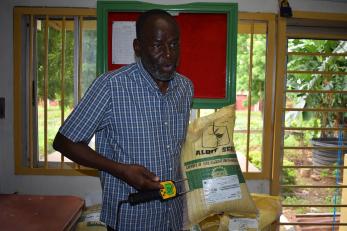 October 02, 2023
"It was like we were standing in front of a diamond mine; we knew there were diamonds inside, but we just did not have the equipment to get it out", Dr. Yusuf Yakubu Yerima Ballah Chief Technical Officer of Albit & Agro Consult Limited describes the situation before the partnership with USAID-funded activity, the Feed the Future Nigeria Rural Resilience Activity (RRA) started.
RRA partners with various key private-sector players to help them expand their products and services in conflict-affected areas of Northeast Nigeria to combat the vicious cycle of poverty and hunger. As a part of RRA, the consortium partners, Mercy Corps, International Fertilizer Development Center and Save the Children International, are collaborating with Albit & Agro to introduce more productive and climate-resilient agricultural practices that respond to climate change and its impact on farmers.
Albit & Agro's main products include Albit organic fertilizer, climate-resilient seeds, simplified agricultural equipment, and free capacity building on sustainable agricultural practices for farmers. Not only do these inputs enhance efficiency but also build farmers' resilience against increasing impact of climate shocks such as floods and droughts. The northeastern part of Nigeria has been exposed to disproportional damage from climate change. For example, the month of August is when the region usually gets the most rain, however, it only rained once this year in 2023, drying up the soil and plants. For most residents in the region, agriculture remains the main livelihood, as such consequences of climate change can result in a life-or-death situation from hunger, malnutrition, and lack of income. "We sold out all our climate-resilient variety of seeds this year, which we were not able to do in the past 9 years since the inception of Albit & Agro", Dr. Yusuf says, speaking to the increasing demand from farmers.
However, the value of Albit & Agro's products has not always been so clear to people. When Dr. Yusuf returned to Adamawa, Nigeria after completing his Doctorate Degree in Soil Science and Agro-Physics in Russia, his family members and friends welcomed him back with high hopes for what he would achieve. He dedicates his expert knowledge in agriculture to help farmers' productivity by introducing them to productive agricultural inputs and practices. He launched Albit & Agro and started selling organic fertilizers and enhanced seeds. However, the cost to reach the market and last-mile farmers was high.
"We could not pay rent, we had to make employees take compulsory leave during off-season because we could not pay salaries, and the worst part was having to take public transportation. It is the most humiliating thing in Nigeria, to not be able to afford company vehicles", Dr. Yusuf says. "Everyone left. Even my sisters and brothers abandoned me. I was termed as a failure. It was only my senior director who believed in what I was doing". Even with almost no one standing by his side, he knew that farmers in the Northeast needed the productivity jump. He had faith in his products.
"That is when RRA came in", Dr. Yusuf recounts. RRA organized a series of agricultural input fairs in three states of the Northeast, inviting various stakeholders from farmers, and aggregators to input sellers. Albit & Agro participated and marketed their products to farmers and extension service providers. At the fair, Albit & Agro's booth was filled with participants interested in their products and services. "When I saw so many people interested in our products, I had mixed feelings. I could not believe it, I thought people were just there to please me", says Dr. Yusuf. "Until I got a call from a farmer who increased his production from 3 bags of rice to 30 bags because of our seed and fertilizer".
Through partnership and co-investment with RRA, Albit & Agro was able to establish two new branches in the Northeast with plans to open one in Yobe State and Gombe State and reached more than 13,500 farmers in Northeast Nigeria, giving them access to their high-quality inputs and capability building on sustainable climate-smart agricultural practices like composting.  Dr. Yusuf told us that RRA was the one friend who believed in him to keep going when no one else did. "When RRA came, they gave us the equipment and told us 'Let's go mining diamonds'. You can imagine the joy now that we have our first diamond in our hand", Dr. Yusuf shares with a smile on his face. Since the input fair, they have met record-high demand from farmers. Albit & Agro's employees' count started at four at the beginning of the partnership but now has grown to 20.
"In Europe, they produce 10 tons of grain per hectare. In Africa, specifically in Nigeria, we only get 1.8 tons per hectare of maize. Africa has the potential to increase agricultural productivity", says Dr. Yusuf. He believes that quality inputs like his seeds and organic fertilizer, along with sustainable practices like composting, will play a key role especially as climate change poses imminent threat to farmers. "Many things happen because of hunger. It (agricultural productivity increase) has the potential to address not only hunger, malnutrition but through that, also youth unemployment and even conflict in the Sahel region", Dr Yusuf tells us with a sense of conviction in his eyes. Dr. Yusuf's quest to spread sustainable and productive climate smart agricultural practice is far from being over.
Interested in learning more about the Rural Resilience Activity program?