Aisha's story
How BRICC helped me restart my groundnut business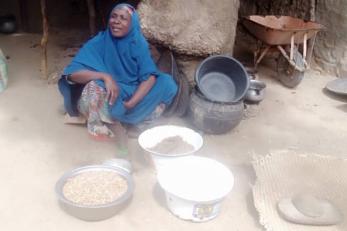 December 15, 2021
Geidam, a border town in Yobe state and the headquarters of Geidam LGA is known for numerous economic activities which include trading, farming, and fishing. It is one of the major markets situated in the town, that attracts a large number of people within and outside Yobe State.
Aisha Abdullahi, a 50-year-old housewife to her 70 years old husband and mother of 7 children was a petty trader. She was engaged in local groundnut oil processing (on a small scale, buying groundnut on credit and paying back after the sale of the products) as her source of livelihood in support of her husband, who is a farmer prior to the insurgency.
Aisha Abdullahi and her family were amongst the over 150,000 residents of Geidam who were displaced internally as a result of the activities of the Armed Opposition Groups (AOGs) in Geidam, making them Internally Displaced Persons (IDPs) struggling for survival as they fled and left all the little resources they had acquired over time.
Aisha and her family returned to Geidam as returnees to build their lives in Bololo Kolori ward of Geidam, a once peaceful, vibrant, and happy town they know as home. Having lost virtually everything, she is grateful to be alive with extended members of her family. However, she lost several relatives, neighbors, and friends to the insurgency; a traumatic event she wished was a dream but continues to remain a sad reality, reflecting on her family's journey into destitution.
Rebuilding her life and her once growing business was more like a dream as Geidam has been constantly attacked by AOGs, making life more difficult with the continuous fleeing for safety with her entire family and the absence of essential basic needs like food, shelter, clean drinking water, clothing, etc. Aisha's worry for her family was compounded by the inaccessibility of farmlands for farming activities and the shutdown of the once vibrant Geidam market, as a result of increasing insecurity incidences (spade of bombing and invasion by the AOGs). All these increased the vulnerabilities of Aisha Abdullahi and her entire household who depended on aid for survival because of the continuous displacement as a result of the heightened insecurity in Geidam and surrounding towns.
In the month of October 2019, Geidam market was reopened for economic activities by the state government after 10 months of closure. Aisha received the news with mixed feelings with the hope of re-starting her petty trading but at the same time a feeling of despair as there was no hope of raising the needed capital for re-starting her business.
In the year 2020, Aisha Abdullahi's household was selected and enrolled into the Government Single Registry of Poor and Vulnerable Households (PVHH) through the community-based targeting process in Geidam LGA. Through the collaborative work of the BRICC program and government, Aisha Abdullahi's household was validated to benefit from 6 tranches of Unconditional Cash Transfers (UCT) of 5,000 NGN per month.
Aisha was filled with joy when she received her first tranche of 5,000 NGN as this was used to buy food for her family for that period. With the assurance that this cash transfer of 5,000 NGN will continue for the next five months, Aisha discussed with some of her friends who were also program participants on the BRICC program to engage in rotational savings with a portion of the monthly cash transfers for the remaining five months with the goal of raising money for starting a business.
Aisha and her friends agreed on setting aside the sum of 2,000 NGN every month for their rotational savings activities. BRICC program supported the setup of savings groups in the community (Savings and Investment Associations) and Aisha was selected as the box keeper of the savings group she belonged. She saved 2,000 NGN monthly in the group with the hope of raising capital for her small business activity.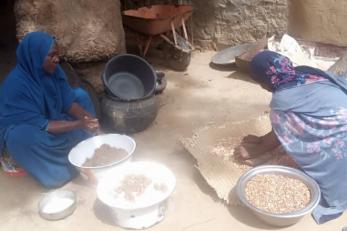 Aisha's hope of re-starting her groundnut oil processing business was rekindled as she received investment capital from her group to kick start her business. She used the money to buy the needed items for her small business. Her source of livelihood has been restored, she now supports her husband with meeting the needs of her family without fear of thinking of when and from where will her family get their next meal, which used to be the case during their days of fleeing for safety. Furthermore, Aisha not only restarted and expanded her local groundnut oil processing business of which she sells the products which included groundnut oil and groundnut cake, but she has also empowered her children as well as many community women by training them for free on local groundnut oil processing. This has helped in enabling these women to also start their own businesses thereby making them self-reliant and supportive of their families.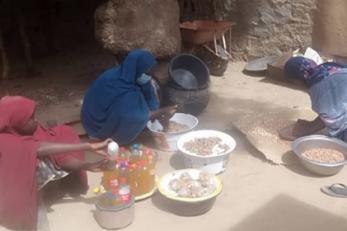 Aisha Abdullahi said with a smile on her face, said "my family lost everything, and we were seeking help and assistance, but I thank God and this organization, as I now have a source of livelihoods to provide for my family and I also provide help to other people. I used to buy groundnut on credit and pay back after I must have sold the oil and the groundnut cake, but now I use my own money to buy the groundnuts, I also now have workers working for me in my business."
To sustainably move many vulnerable conflict-affected households from poverty, we call on the Government of Yobe State to approve the draft policy on social protection for Yobe State, and to expand the State Single Register (SSR) to enable more poor and vulnerable households like Aisha Abdullahi to be identified, registered and empowered to meet their basic needs with dignity thereby becoming more resilient to the shocks and stresses of crisis as a result of insecurity in Yobe State. 
About BRICC
The Building Resilience in Complex Crisis (BRICC) is a European Union funded program implemented jointly by Mercy Corps, Danish Refugee Council (DRC), and Cooperazione Internazionale (COOPI). The program aims to build the adaptive resilience capacities of 26,875 households (6,719 men, 6,719 women, 6,719 male youth, and 6,718 female youth) identified as vulnerable members of 30 target communities in six LGAs (Damaturu, Potiskum, Geidam, Yunusari, Gujuba, and Gulani) of Yobe State by increasing their ability to cope with the shocks and the stresses of conflict, climate change and complex crisis, and their ability to transform the underlying causal dynamics to reduce the risk of future conflict for a period of three years (April 2019 – April 2022). In addition, six vocational skills centers, financial institutions, government actors, 30 community resilience groups (CRG), 600 community leaders, 248 savings and loan groups, 248 farmer's associations, and 2 local civil society organizations will benefit from the action.
Stay connected to our work.