Leveraging agric insurance for enhanced resilience capacities in Northeast Nigeria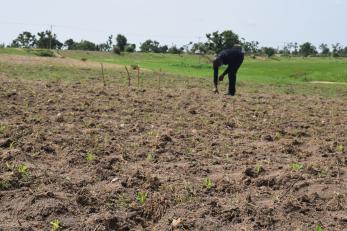 May 02, 2022
Does agric insurance improve farmers' resilience capacities in the face of risks?
If yes, why is the uptake uniformly low in rural parts of Africa?
How can development initiatives change the narrative by intervening differently in the agric insurance market?
Change is a constant in the lives of rural people in Africa. Change may be climate driven or amplified by other challenges, such as poverty, population growth, underperforming markets, poor infrastructure and service provision, large scale conflict and weak governance systems. Millions of rural people know that these changes could be permanent and also escalate uncertainty and suffering. How we reduce the negative impacts of the changes on lives and livelihoods is an everyday question.
This is a challenge for development initiatives—how to sustainably and systemically support people, communities, businesses, and markets to adapt to the interaction of new and old, large-scale problems highlighted above. Since change is a constant, sustainable and systemic interventions can only be achieved if actors and markets are resilient.
To achieve this in Northeast Nigeria, the Feed the Future Nigeria Rural Resilience Activity adopts a resilience lens to enhance the capacities of people, businesses and markets to manage change proactively and positively, in ways that contribute to a world that is livable and free from extreme vulnerabilities.
The activity hypothesizes that capacities need to be enhanced to achieve resilient development outcomes, thereby reducing vulnerabilities of people and the economy of Northeast Nigeria in spite of protracted conflict and uncertainties amplified by climate related risks.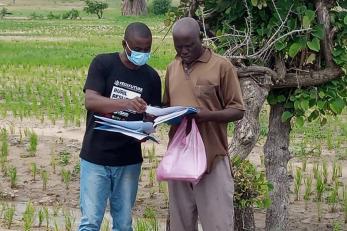 To respond to the overarching question, it's important to explain the activity's thinking on resilience capacities in the humanitarian nexus. From a resilience viewpoint, capacity has three closely overlapping dimensions—absorptive, adaptive and transformative capacities.
Absorptive capacity takes a shape of deliberate protective actions to cope with known risks. Adaptive capacity is about making deliberate incremental adjustments in anticipation of, or in response to change that will expose people and markets to risks. It strives for ways that create more flexibility in managing future risks. And transformative capacity is the ability to make deliberate change to stop or reduce the causes of risk and vulnerabilities. All the three capacity dimensions underscore the need to be deliberate and intentional.
Thus, in response to our opening question, we will go beyond the "yes, agric-insurance improves farmers' resilience capacities in the face of risks". The second part of the question of "how-to" is perhaps the most important part of our discourse.
In the context of Northeast Nigeria, the activity understands the complexities and amplified risks that farmers face—inter and intra community conflicts, protracted insurgency, conflict over natural resources, climate change, etc. In a country of more than 200million people, we understand the ever increasing need to invest in agriculture from end-to-end, be it for food, income and job creation. With increased climate risks, the need for investments to make farmers more resilient is now more important than it has ever been.
As a development project, the activity appreciates the important challenge to address systemic risks through agric insurance, as a risk management mechanism, alongside other mechanisms for lowering production and agric trade costs, enhancing production and productivity, and facilitating a well functional agricultural markets in Northeast Nigeria.
The activity views agric insurance as strategically important for reducing vulnerabilities and boosting shared prosperity. It also addresses the "how-to" build a commercially viable agric insurance market that will reinforce the absorptive, adaptive and transformative capacities of the people and the economy of the region.
We approach the market by solving systemic problems in demand and supply of agric insurance services. After thoroughly understanding the drivers of underperformance of the market, the activity partnered with some leading and innovative agric insurance providers to introduce and accelerate growth in the region. With a knowledge of potential risks that may slow the growth of a new product in a new market (e.g. low awareness of insurance), the high cost of premiums, farm-level loss assessments and long claim settlement processes could restrict farmers' uptake and malign market growth.
Our partnerships with growth-hungry market players and agric insurance innovators offer ways of overcoming some of these challenges. Together, we are re-engineering how to overcome information asymmetries, poor data availability, inadequate government support and ineffective distribution channels.
In partnership with Pula, one of the fastest growing and leading innovators in agric insurance services, the activity is:
piloting new agric insurance products in Northeast Nigeria;
digitizing agric production, allowing for traceability and transparency of the supply chains;
introducing and scaling e-extension by providing effective and faster ways to disseminate information to farmers using mobile technology; 
creating new jobs by hiring local youths as digital entrepreneurs;
creating opportunities to work with local insurance companies. This builds technical capacity in the industry, and retains more premiums in the economy; and
increasing agric insurance penetration at scale. In partnership with the Rural Resilience Activity, Pula is increasing the penetration of innovative agric insurance services in Northeast Nigeria.
Our resilience approach requires us to move away from low hanging fruits such as subsidizing insurance cover to addressing the underlying problems. We avoid a temptation of simply looking at what an individual, household, or system has, and we recognize and enhance what people, businesses and the markets can do. We reinforce an agency centered approach to addressing market problems.
In whatever we do, we try to make sure that our activity leaves behind strengthened agency and enhanced absorptive, adaptive and transformative capacities. Our agric-insurance intervention is designed to address the three capacity issues. 
These resilience capacities create a sense of agency that includes the capacity to understand and consciously engage in long-term change process that shifts power, beliefs, values and ways of thinking and behaving, to supporting greater levels of risk management and equity.
Written by: Dongnaan Swomen and John Rachkara
Stay connected to our work.