Achieving common development objectives in Borno State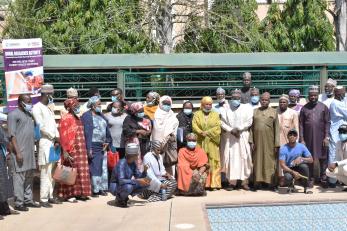 November 05, 2021
The need for coordination in Borno State
The benefits of coordinated humanitarian and development efforts cannot be overestimated, particularly in Borno State, which has about 172 registered organisations, including INGOs, NGOs, civil society groups and CBOs, providing humanitarian and development support.
Borno State is the second largest state in Nigeria, with a land size of 57,799 Km2 and an estimated population of 6 million (2016) inhabitants. The state, which shares boundaries with Cameroon, Chad, and Niger Republic, was contributing about $5.18 Billion in GDP (2007) to the Nigerian economy through the production and exportation of farm products (including livestock).
However, these great economic assets and potential were negatively impacted by the decade long conflict which began in 2009. The impact of the devastation created by the conflict led to the creation of coordinating agencies such the Borno State Ministry for Reconstruction, Rehabilitation and Resettlement (MRRR) and the Agency for Coordination of Sustainable Development and Humanitarian Response (BACSDAHR) amongst other coordination efforts by the Borno State Government and development partners to ensure that aid is targeted to achieve a common goal.
Borno State development plan
In November 2020, Borno State Government launched its 25-Year State Development Plan (SDP) to drive stabilization, boost recovery efforts and stimulate growth across all sectors in the state. The SDP was launched alongside a 10-Year Transformation Strategy that sets out key priorities and action plans for the short, medium and long term.
With these efforts in place, the government aims to transform the state into a leading regional agri-business and commercial hub anchored on prosperous people and sustainable development. This bold vision of the government of Borno State has been categorized into nine (9) transformative pillars to which INGOs and other registered organizations contribute. Borno SDP pillars include Human Capital Development, Leadership in Agriculture, Healthy Citizenry, Sustainable Environment, Regional Trade Hub, Reconstruct, Rehabilitate and Resettle, Purposeful Infrastructure, Accountable Governance, and Peace & Security.
Aligning with the State Development Plan
To appropriately align the USAID-funded Feed the Future Nigeria Rural Resilience Activity's workplan with the Borno State 25 Years Development Plan, the Activity organized a high-level stakeholder engagement in Maiduguri, the state capital, on 14 October 2021, to outline aspects of the nine pillars of the SDP where its interventions fit, map out the stakeholders and government agencies responsible, and discuss areas of collaboration with the stakeholders.
The event was attended by a range of stakeholders which included senior government officials, community leaders, private sector organizations, and civil society groups.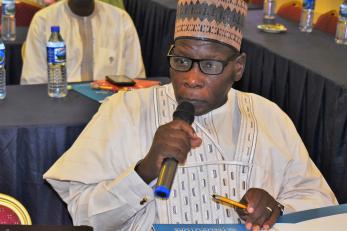 Speaking on the need for alignment of interventions, the Executive Secretary of the Borno State Government Agency for Coordination of Sustainable Development and Humanitarian Response (BACSDAHR), Alhaji Bunu Monguno said, "If we are to achieve the overall development objectives of the 25-year State Development Plan, we all have to move towards the same direction. What we have in that plan are the aspirations and needs of the people of Borno State. A lot of resources are required to implement that plan, so every partner who comes in to implement a project must ensure that it fits into the overall objectives of the plan."
Alhaji Monguno added that, "Food security is critical at this time; we are talking about a situation where farmers have not gone to their farms for the past seven years. We are talking about a situation where people have not been farming until this year's raining season. In order to break this challenge, all of us must be working towards achieving the same goal in respect of food security."
"In an insurgency or an emergency, the two most basic things are shelter and food security, which must be followed by livelihoods, economic activities that people do to keep their lives going. These have been destroyed by the conflict. So, whatever we are doing now must be the kind of things that will jumpstart the livelihoods of the people, that will ensure food security, provide good shelter and living environment to our people."
Rural Resilience Activity in Borno State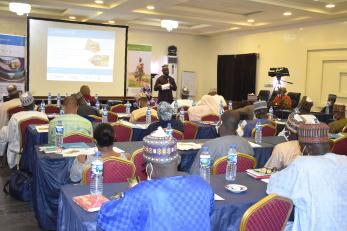 The Rural Resilience Activity currently works in five Local Government Areas (LGAs) in Borno State – Biu, Kwaya-kusar, Hawul, Jere and Maiduguri Municipal Council (MMC). The Activity interventions in Borno State, like other states in the Northeast, include facilitating access to financial services for smallholder farmers and savings groups, building the capacity of extension workers and farmers on good agronomic practices and safer use of agrochemicals through demonstration plots, facilitating the establishment of farmers' field schools to promote the participation of women in the provision of extension services and in promoting access to good agronomic practices for female farmers, raising young commercial agriculturist through the Agripreneurship Program, among other interventions including support in conflict mitigation.
The intervention of the activity aligns with pillars two and nine of the Borno State Development Plan - Leadership in Agriculture and Peace & Security.
Stay connected to our work.