Easing access to finance for Kwami residents through savings groups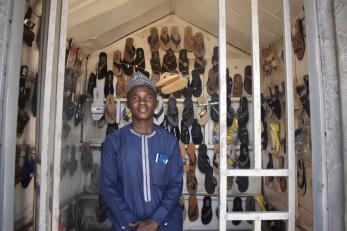 May 03, 2022
Kwami people embrace the savings group model
Safiyanu Adamu prides himself as the number one volunteer for improving access to finance through the Village Savings and Loan Association (VSLA) methodology in Kwami town, Gombe State. As an unemployed university graduate, exploring opportunities for work while seeking formal employment, he became a champion of the methodology shortly after coming in contact with Salome Samuel, the Village Extension Agent assigned to Kwami Local Government Area (LGA), by the Centre for Microenterprise Development (CMD), one of the Enterprise Investment Fund (EIF) partners of the Feed the Future Nigeria Rural Resilience Activity.
Safiyanu was already a farmer and business man before he met Salome, who introduced him and other Kwami residents to the VSLA methodology. VSLA, a pro-poor, community-managed savings-led approach to access financial services has a long and successful history in Asia and Africa. It is one of the effective ways for grassroots people, who have been excluded from formal banking, to access credit, have savings and pay back with very minimum interest rates.
Like Safiyanu Adamu, many residents of Kwami town, which has an estimated population of 267,200 people, are farmers, traders and artisans. They have had their livelihoods affected by the secondary impacts of the COVID‑19 pandemic. They have faced challenges of high prices of food, low purchasing power, reduced earnings and reduced willingness of financial service providers to lend due to increased risk of default.
"Kwami here is not urban but a rural place. I asked myself, what can I do to keep sustaining myself, I started the business of buying and selling rice, maize and Dusana Awaki (goat feed), which I keep for some time before selling," said Safiyanu Adamu, who has been farming maize and groundnut for three to four years.
The VSLA intervention by the Centre for Microenterprise Development
In November 2021, CMD through its Village Agent, Salome, began working with participants in Kwami town. She established 18 savings groups, provided a series of trainings on group and business management as well as financial literacy, and conducted biweekly visits to inspect their financial records and provide advisory and mentoring services.
In an interview with the Rural Resilience Activity team, Salome said, "I help them to know the benefit of saving a little out of their VSLA savings, how they share the money, how they give out the loan to the borrowers in the groups. I ensure they stick to the duration for giving out the loans, and the loan percentage of each group."
"For the farmers, CMD have trained them how to predict risks that could be associated with the different crops that are grown. For instance, we help them to understand the crops that can survive in erosion or drought prone areas," added Salome.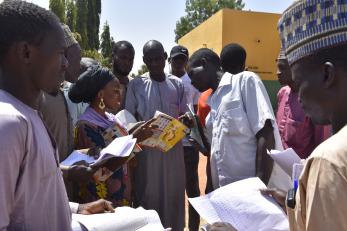 Effective VSLAs providing access to finance
Thanks to the Rural Resilience Activity's savings group model and to CMD's Village Extension Agency model, farmers and microenterprises in Kwami town now have access to savings and credits mobilized through their groups.   
One such group is the Sangari Multipurpose Group formed by Safiyanu Adamu on November 8, 2021. The group which comprises 25 members saved N275,000 in its main accounts in four months and disbursed loans ranging from N50,000 - N70,000 to seven members, some of whom have paid back the loan with interest.  
Saminu Adamu is one of the members who have paid back their loans. He is a fashion designer who could not provide services due to an erratic power supply and inadequate sewing machines. Saminu applied for a N50,000 loan in December and painted his shop, bought a manual sewing machine and a power generator.  
"Before I got the loan, I was practicing tailoring, but I didn't have enough machines and materials to continue my business. That's why I collected the loan. In December, they gave me N50,000. Before the end of February, I gave them 53,500. I bought a new machine in addition to the industrial sewing machine, which I couldn't use because the power was bad. I also bought a power generator which supplies constant electricity, and I increased the cost of sewing ladies' wears from N1,500 to N2,000."
Saminu says he now has more customers and increased income because he could provide regular services to customers. He and his brother Safiyanu are both grateful to the USAID-funded Rural Resilience Activity, CMD and Mercy Corps. 
"We Kwami people are very happy with the coming of Mercy Corps and the Rural Resilience Activity in Kwami town. They have made us to interact with our people and know our problems. The Coronavirus made our business to go down. Because of that, we started contributing money and we are helping ourselves. We are praying that Mercy Corps will come and help us too, because we still need help," said the President of Sangari Multipurpose Group, Safiyanu Adamu, who was also a beneficiary of the group's credit facility.
"I bought shoes and palm sandals worth N50,000 from Jos, and I distributed them. Some of them paid me back in installment. My money is almost complete. They (the group) gave me N70,000 as a loan and I paid back N73,500," he said.
About the Enterprise Investment Fund
The USAID funded Feed the Future Nigeria Rural Resilience Activity's Enterprise Investment Fund (EIF) is a $6 million fund that supports small, medium and large-scale enterprises operating within or directly benefitting from the Activity's targeted areas in Borno, Adamawa, Yobe and Gombe states. The fund provides matching grants and technical assistance to sustainably improve the enterprises' performance and strengthen the overall market systems to benefit smallholder farmers and microenterprises.
EIF leverages local and foreign capital for investments in a range of market development activities that improve market linkages, generate employment, and increase financial inclusion with the goal of increasing incomes and enhancing resilience to climate change.
CMD is an EIF partner using Village Extension Agents to promote the Activity's savings group model, which adopts the VSLA methodology to improve access to finance for pro-poor communities.
Stay connected to our work.